Listings
COVID-19 Update
People are advised to adhere to advice from Public Health England about social distancing, wearing protective masks and NHS advice on safety and hygiene. Customers should also comply with restrictions that apply to each particular venue and event.
Listings
Mondays
Every Monday: Afternoon Jazz at The Paris House, Brighton 2pm-5pm Free

Every Monday: Jazz at Saint James Tavern, Kemptown, Brighton 8pm Free
Every Monday: Jazz at The George Payne, Hove 8pm Free
Every 2nd Monday of the month: Guest + Jam, The Lewes Road Inn, Brighton
Mon. 25th April: Mammal Hands at Chalk, Brighton
Tuesdays
Every Tuesday: Paul Richards Quartet with Guest at The Brunswick, Hove. 8pm Free
Every Tuesday: Jazz at The Hare & Hounds, Worthing. 8:30pm Free (c) Check website here.
Tues April 5th Geoff Mason
Tues April 12th Greg Heath
Tues April 19th Simon Savage's Grooveyard
Tues April 26th Terry Smith
First Tuesday of the Month: Jazz Hastings
Tues. 5th April Trish Clowes and My Iris
Wednesdays
Every Wednesday: Paul Richards and guests at Southern Belle, Waterloo Street. 8pm Free
Every Wednesday: Jazz at The James at The St James Tavern, St James Street, Brighton 8pm Free

Every Wednesday: Chris Coull Quartet at Speakeasy above The Wick, Hove 8pm Free
Wed. 13th April: Roger Beaujolais and Neal Richardson Trio at The View, Seaford. 7pm
www.wegottickets.com/splashpointjazz
Wed. 27th April: Sue Richardson Quintet – Bird at Fishermen's Club, Eastbourne. 8pm
www.wegottickets.com/splashpointjazz
Thursdays
Every Thursday: Jazz at The Thomas Kemp, Kemptown, Brighton. 8pm Free.
Every Thursday: Jazz Jam at The Verdict, Brighton. 
Thurs. 21st April: Charlotte Glasson Band at The Ropetackle, Shoreham. 8pm £14.
Fridays
Every Friday: In Full Swing at The Better Half, Hove. 2:30-5pm Free
Fri. 1st April: Harry Strutters Jazz and Blues Band at Steyning Jazz Club. Doors open at 7.15pm for 8pm. Entry £7 Members, £12 Non-Members
The Verdict, Brighton. See The Verdict website for details.
Fri. 1st April: Hexagonal
Fri. 8th April: Paul Booth Quartet
Fri. 15th April: Emma Rawicz Quintet (New Generation Jazz)
Fri. 22nd April: Laurence Cottle Trio
Fri. 29th April: Alex Hitchcock Dream Band
Fri. 8th April Charlotte Glasson Band at Chichester Jazz Club. 7:45pm start. £8 members, £15 non members.
Saturdays
Every Saturday: Jazz at The Paris House, Hove. 4-7pm Free
Sat. 9th April Lawrence Jones with Terry Seabrook and Paul Whitton
Every Saturday: The Blue Cafe Duo (Magdalena Reising  & Shane Hill) at The Emerald Lounge, Brighton. 8pm Free.
Every 2nd and 4th Saturday: Duke of Wellington, Shoreham. Jazz from 4 till 6:30pm. Free.
The Verdict, Brighton. See The Verdict website for details.
Sat. 16th April: The Soul Immigrants
Sat. 30th April: Son Guarachando
Sundays
Every Sunday: Hotclub Sundays with Amuse Manouche at The Bootlegger, Brighton. 4-6pm Free
Every Sunday: Swing Time Sundays at the Old Albion, Hove. 5-7pm Free
Every Sunday: Jazz at The Monarch Bar, Brighton. George Trebar and guests 6:30-10pm Free
Every Sunday: Paul Richards and guests at Stirling Arms, Hove. 7pm Free
Every Sunday: Jason Henson & Friends at The Hand in Hand, Kemptown. 7pm Free
Every Sunday: Jazz at The Paris House, Hove. 7-9pm Free
The Fabulous Red Diesel (acoustic duo form) Residency 17th April at The Grapevine champagne and Jazz bar, 1 Conduit Hill, Rye TN31 7LE. 8pm-11pm https://thegrapevinerye.com/
Sun. 24th April: Court and Spark at The Brunswick, Hove. Doors 7:30pm Music 8pm. Tickets £10
Further Afield
13th April: Ola Onabule with Nic Meier at The Guildford Pavilion Woodbridge Road
 28th April: Alan Barnes at The Guildford Pavilion Woodbridge Road
More information and tickets for both gigs from available at http://guildfordjazz.org.uk
On The Horizon
The Verdict, Brighton
Fri. 6th May: Ray Gelato/Enric Peidro 5
Sat. 7th May: Luna Cohen Brazilian Jazz
Fri. 13th May: Jim Mullen Trio
Sat. 14th May: Yolanda Charles Project PH
Fri. 20th May: Nicholas/Beebee Quartet
Fri. 27th May: Brandon Allen – The Stanley Turrentine Project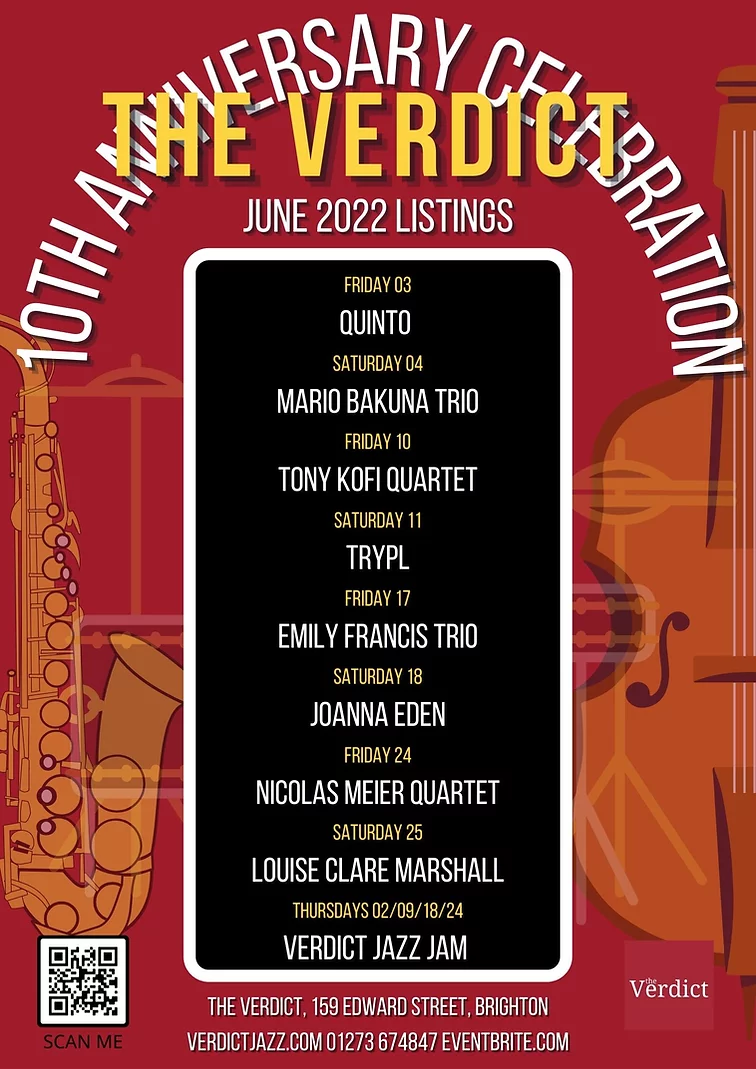 Love Supreme Festival 2022
Glynde Place on 1st – 3rd July 2022
Erykah Badu, TLC, Tom Misch, Lianne La Havas, Ezra Collective, Sister Sledge, Charles Lloyd feat. Bill Frisell, Candi Staton, Mulatu Astatke, The Brand New Heavies, Franc Moody, Gary Bartz & Maisha, Matthew Halsall, emma-Jean Thackray, JulianLage, Nala Sinephro, MF Robots, Sarathy Korwar, Isaiah Sharkey, Rudresh Mahanthappa, Soccer96, Bel Cobain, Georgia Cecile, Fergus McCreadie, Joe Stilgoe & The Entertainers, Michael Janisch, Ife Ogunjobi, Rob Luft, Corto.alto, Matt Carmichael and others. Details here.
Chalk, Brighton
Friday 3rd June: Jacob Collier
Live Streams
The Verdict: Lockdown Sessions
Watermill Jazz Club – Listening Sessions
Jazz Re:Freshed
Jazz Re:Freshed website here
Jazz Re:Freshed YouTube Channel here
Regular Live Streams
Buster Birch, Virtual Jazz Club, every Friday at 8pm tickets here
Cecile McClorin Salvant, daily on her Facebook page
Elsa Nilsson, on YouTube
Emmet Cohen Trio, daily on Emmet's Facebook page
Fabulous Red Diesel, Weekly Livestream from February, every wednesday at 9pm on The Fabulous Red Diesel page https://www.facebook.com/FabRedDiesel Ms Kitty from the FRD plays a 9 song set of original acoustic tunes and a bit of chat
Fergus McCreadie, every Tuesday at 8pm on his Facebook page
Fred Hersch, 6pm daily on his Facebook page
Gabriel Latchin, 7:30pm every Tuesday via Facebook
Jay Phelps, Saturday evenings on his YouTube channel
Kansas Smitty's, live at 5pm "almost daily" here
Liam Noble via his Twitch
Mike Pappenheim, virtual busking session every Saturday evening on his Facebook page
Peter Martin, solo piano, every Friday at midnight GMT, on his YouTube channel
Sam Carelse & Jason Henson, regular livestreams on Sam's Facebook & Jason's Facebook
Splash Point Jazz with Neal Richardson, returning 3rd September on YouTube, details via Splash Point website
Yoko Miwa, daily on her Facebook page
Happy Hour Zoom Hangs
New York's The Jazz Gallery presents Zoom concerts
5pm Eastern Standard Time
$15, limited to 10 people
Artists include Ben Williams, Aaron Parks, Orrin Evans, Melissa Aldana, Kris Davis and more.
Jazz Live Streams (Facebook Group)
You can also check the Jazz Live Streams Facebook group for more events.
Town Hall & Symphony Hall, Birmingham
Facebook Watch Parties every Friday at 5pm, on THSH Facebook page here
91 Living Room: The Lockdown Sessions
Website here. YouTube channel here.
New Generation Jazz Cinematic Live
Jackson Mathod, Sudo, Sultan Stevenson Trio, Yadasofi, Mark Kavuma and the Banger Factory
Free to view, via New Generation Jazz Facebook Live and YouTube
Jazz South Radar Sessions
Session recordings featuring Randolph Matthews, John Martin, Alexander Hawkins, Hannah Jacobs, Robert Mitchell, Josephine Davies, Rebecca Nash, Nick Walters and Run Logan Run are available to watch via the Jazz South Facebook page and the Jazz South YouTube channel here
*****
Venue List
All Saints Church, The Drive (corner of Eaton Road), Hove BN3 3QE www.allsaintshove.org
Bacall's Bar, Rialto Theatre, 11 Dyke Road, Brighton BN1 3FE www.rialtotheatre.co.uk
Bannatyne Spa Hotel, Battle Road, Hastings TN38 8EA www.bannatyne.co.uk/spa
Bar Broadway, 10 Steine Street, Brighton BN2 1TE
Barney's Cafe/Bar, 46-56 Portland Rd., Worthing, West Sussex BN11 1QN 
Boutique, 2 Boyces Street (off West Street), Brighton BN1 1AN 
Brighton Railway Club, 4 Belmont, Brighton BN1 3TF www.narcbrighton.co.uk
Cafe du Jardin, 15 Malling St, Lewes BN7 2RA
Casablanca Jazz Club, 3 Middle St., Brighton BN1 1AL 
Chalk, 10 Pool Valley, Brighton BN1 1NJ
Chapter 12 Wine Bar, Hailsham, East Sussex BN27 1BJ 
Charles Dickens, Heene Road, Worthing, BN11 3RG 
Chequer Mead Theatre, De La Warr Road, East Grinstead, West Sussex RH19 3BS 
Chichester Jazz Club, Pallant Suite, 7 South Pallant, Chichester PO19 1SY www.chichesterjazzclub.co.uk
Chichester Cinema at New Park, New Park Road, Chichester PO19 7XY
Coach and Horses, Arundel Road, Worthing BN13 3UA
Concorde 2, 286A Madeira Dr, Brighton BN2 1EN
Craft Beer Pub, 22-23 Upper North St., Brighton BN1 3FG
Crown & Anchor, 15-16 Marine Parade, Eastbourne BN21 3DX
Danny House, New Way Lane, Hurstpierpoint BN6 9BB
Deans Place Hotel, Seaford Road, Alfriston, Polegate BN26 5TW
Dorset Arms,58 High St. East Grinstead RH19 3DE
Exeter Street Hall, 16-17 Exeter Street, Brighton BN1 5PG www.exeterstreethall.org
FILO (First In Last Out pub), 14-15 High St, Hastings TN34 3EY
Forest Row Jazz Club, The Forest Row Social Club, End of Station Rd, Forest Row, RH18 5DW
Friends Meeting House, Ship St, Brighton BN1 1AF
Fudgie's Bistro, 196 Church Rd, Hove BN3 2DJ
Green Door Store, 3 Trafalgar Street, BN1 4FQ
Hand In Hand, 33 Upper St. James's St., Brighton BN2 1JN
Hove Cricket Ground (Boundary Rooms), Eaton Rd, Hove BN3 3AN
Hurstpierpoint Church, High St, Hurstpierpoint, Hassocks BN6 9TS
Idle Hands, 59 Queen's Road, Brighton BN1 3XD
Jazz Hastings, The East Hastings Sea Angling Association, The Stade, Hastings TN34 3FJ www.jazzhastings.co.uk
Knoyle Hall (next to St. John's Church), 1 Knoyle Road, Brighton BN1 6RB
La Fourchette, 6 Queen's Place, Hove BN3 2LT
La Havana Jazz Club, 3 Little London, Chichester PO19 1PH www.lahavana.co.uk
Leaf Hall, 51 Seaside, Eastbourne, BN22 7NB
Lion & Lobster, 24 Sillwood St., Brighton BN1 2PS
Mamma Putts, Kings Road, St. Leonards-on-sea
Martha Gunn, 100 Upper Lewes Rd, Brighton BN2 3FE
Martlets Hospice, Wayfield Avenue, Hove, BN3 7LW
Monarch Bar, 46-48 Kings Road, Brighton, BN1 1NA
Morleys Bistro, 42 High Street, Hurstpierpoint BN6 9RG
NUR Restaurant & Lounge, 13 Robertson St, Hastings TN34 1HL
One Church, Gloucester Place, Brighton BN1 4AA
Patcham Community Centre, Ladies Mile Road, Brighton BN1 8TA 
Patterns, 10 Marine Parade, Brighton BN2 1TL
PavAve Tennis Club, 19 The Droveway, Hove BN3 6LF
Pavilion Cafe, Chequer Mead Community Arts Centre, De La Warr Road, East Grinstead, West Sussex RH19 3BS 
Pavilion Theatre, Marine Parade, Worthing BN11 3PX 
Players Theatre, 147 High St., Hurstpierpoint BN6 9PU
Porters Wine Bar, 56 High Street, Hastings TN34 3EN www.porterswinebar.com
Queen Victoria, 54 High Street, Rottingdean BN2 7HF
Ravenswood Inn, Horsted Lane, Sharpthorne RH19 4HY
Rialto Theatre, 11 Dyke Rd, Brighton BN1 3FE
Robertsbridge Jazz Club, Village Hall, Station Rd., Robertsbridge TN32 5DG www.robertsbridgejazzclub.com
St. Bartholomew's Church, Ann Street (off London Road), Brighton BN1 4GP 
St. George's Church, St. George's Road (corner of Abbey Rd.), Kemp Town, Brighton BN2 1ED www.stgeorgesbrighton.com
St. John's Church, Knoyle Road (corner of Preston Road), Brighton BN1 6RB
St. John's Church, St. John's Rd., Meads BN20 7ND
St. Luke's Church,  Queen's Park Rd., Brighton BN2 9ZB
St. Mary de Haura Church, East Street, Shoreham by Sea
St. Mary in the Castle, 7 Pelham Crescent, Hastings, East Sussex TN34 3AF www.stmaryinthecastle.co.uk
St. Mary's Church (Rye), Church Square, Rye TN31 7HF
St. Nicholas' Church, Church St, Brighton BN1 3LJ
St. Paul's Arts Centre, 55b Chapel Rd., Worthing BN11 1EE 
Safehouse, at The Verdict, 159 Edward Street, Brighton BN2 0JB www.safehousebrighton.co.uk
Saltdean Lido, Saltdean Park Road, Saltdean 
Seaford Head Golf Club, Southdown Road, Seaford BN25 4JS
Shooshh, 214 Kings Rd, Brighton BN1 1NB
Smalls, at The Verdict, 159 Edward Street, Brighton BN2 0JB www.smallsjazzbrighton.com
Speakers' Corner, 44 George St, Brighton BN2 1RJ
Stanmer House, Stanmer Park, Brighton, BN1 9QA
Stan's Bike Shack The Old Farm Shop, Bines Rd, Horsham RH13 8EQ
Steyning Jazz Club, Steyning Centre, Fletchers Croft, Church St., Steyning BN44 3YB www.steyningjazz.co.uk
Teddy's Beach Diner, Azur Marina Pavilion, St Leonards on Sea TN38 0BU
The Albion 110 Church Road, Hove, BN3 2EB
The Ancient Mariner, 59 Rutland Road (off Portland Rd.), Hove BN3 5FE 
The Balcombe Club, Victory Hall, Stockcroft Road, Balcombe, Haywards Heath RH17 6HP 
The Basement, 24 Kensington Street, Brighton BN1 4AJ
The Beacon, 67-68 St Marys Terrace, West Hill, Hastings TN34 3LS
The Bee's Mouth, 10 Western Road, Brighton BN3 1AE
The Better Half, 1 Hove Place, Hove BN3 2RG

The Birch Hotel, Lewes Road, Haywards Heath RH17 7SF
The Birley Centre, Carlisle Road (corner of College Road), Eastbourne BN21 4EF 
The Black Lion, 14 Black Lion Street, Brighton BN1 1ND 
The Brunswick, 1-3 Holland Rd, Hove BN3 1JF
The Bugle, 24 St. Martins Street, Brighton BN2 3HJ 
The Bull Inn, 27 High Street, Battle TN33 0EA
The Chapel Royal, 164 North Street, Brighton BN1 1EA
The Church of the Annunciation, 89 Washington Street, Brighton BN2 9SR
The Circle Arts Centre, 55 North St, Portslade, Brighton BN41 1DH
The Constant Service, 96 Islingword Rd, Hanover, Brighton BN2 9SJ
The Craft Beer Pub, 22-23 Upper North Street, Brighton BN1 3FG 
The Crown & Anchor, 213 Preston Road, Preston Park, Brighton BN1 6SA
The Denton Lounge, Worthing Pier, Worthing
The Depot Cinema Café, Pinwell Road, Lewes, East Sussex BN7 2JS (right by Lewes Station)
The Dome, Church St., Brighton BN1 1UE (Concert Hall, Corn Exchange, Studio Theatre)
The Fishermen's Club, Royal Parade, Eastbourne, BN22 7AA
The Garden Bar, 324 Portland Road, Hove BN3 5LF
The George Payne, 18 Payne Avenue, Hove BN3 5HB
The Gluck Studio, Chantry House, Church Street, Steyning  BN44 3YB
The Good Companions, 132 Dyke Road, Brighton BN1 3TE (upstairs room) 
The Grand Hotel, 97-99 King's Rd, Brighton BN1 2FW
The Hare & Hounds, 79-81 Portland Road, Worthing BN11 1QG www.hareandhoundsworthing.co.uk
The Hassocks Hotel, Station Approach, Hassocks BN6 8HN
The Hawth, Hawth Avenue, Crawley RH10 6YZ www.parkwoodtheatres.co.uk/The-Hawth
The Hope, 11-12 Queens Road, Brighton BN1 3WA
The Hove Kitchen, 102-105 Western Road, Hove BN3 1FA 
The Independent Pub, 95 Queen's Park Rd, Brighton BN2 0GH 
The JD Bar, 4 Claremont, Hastings TN34 1HA
The Komedia, 44-47 Gardner St., Brighton BN1 1UN www.komedia.co.uk/brighton/
The Lamb, Goldbridge Road, Piltdown, Uckfield TN22 3XL
The Latest Music Bar, 14-17 Manchester St., Kemp Town, Brighton BN2 1TF www.latestmusicbar.co.uk
The Libertine Social, 46-56 Portland Rd, Worthing BN11 1QN
The Lord Nelson Inn, 36 Trafalgar St., North Laine, Brighton BN1 4ED
The Mad Hatter Cafe, 38 Montpelier Road, Brighton BN1 3BA 
The Mad Hatter Inn, 7 Rock St., Kemp Town, Brighton BN2 1NF 
The Mesmerist, 1-3 Prince Albert Street, Brighton BN1 1HE 
The Nightingale Room, 29-30 Surrey Street, Brighton, BN1 3PA 
The Office, 8-9 Sydney Street, Brighton BN1 4EN
The Old Market, 11a Upper Market Street, Hove BN3 1AS www.theoldmarket.com
The Palmeira, 70-71 Cromwell Rd., Hove BN3 3ES 
The Paris House, 21 Western Road, Brighton BN3 1AF 
The Plough, Vicarage Lane, Rottingdean BN2 7HD
The Prestonville, 64 Hamilton Road, Brighton BN1 5DN 
The Queen's Head, The Hollow, West Chiltington, Pulborough RH20 2JN 
The Real Eating Company, 18 Cliffe Street, Lewes BN7 2AJ 
The Red Lion (Arundel), 45 High Street, Arundel BN18 9AG
The Red Lion (Stone Cross), Lion Hill, Stone Cross, near Eastbourne BN24 5EG 
The Regency Tavern, 32-34 Russell Square, Brighton BN1 2EF
The Richmond, 33 Richmond Place, Brighton BN2 9NA
The Roebuck Inn, Lewes Road, Laughton BN8 6BG
The Roomz, 33 Western Road, St. Leonards TN37 6DJ 
The Ropetackle, Little High Street, Shoreham-by-Sea, West Sussex, BN43 5EG www.ropetacklecentre.co.uk
The Rose Hill, Rose Hill Terrace, Brighton BN1 4JL
The Round Georges, 14-15 Sutherland Road (corner of Canning St.), Brighton BN2 0EQ
The Shakespeare's Head, 1 Chatham Place, Brighton BN1 3TP
The Six Bells, The Street, Chiddingly BN8 6HE
The Snowdrop Inn, 119 South Street, Lewes, BN7 2BU
The Southern Belle, 3 Waterloo Street, Hove BN3 1AQ
The Tipsy Bear, 45 Preston Street, Brighton BN1 2HP
The Undercroft, Arundel Town Hall, Maltravers St., Arundel BN18 9AP
The Under Ground Theatre, (below the central library), Grove Road, Eastbourne BN21 4TL
The Verdict, 159 Edward Street, Brighton BN2 0JB www.verdictjazz.co.uk
The Village, 129 Islingword Rd, Brighton BN2 9SH
The Wishing Well, 7 Rock St, Brighton BN2 1NF
Theatre Royal, New Road, Brighton BN1 1SD
Three Jolly Butchers, 59 North Road, Brighton BN1 1YD
Tom Paine's Chapel, Westgate, 92A High Street, Lewes BN7 1XH
Trading Boundaries, Sheffield Green, Nr. Fletching, East Sussex TN22 3RB
Wagner Hall, Regency Road, Brighton BN1 2RT
Watermill Jazz Club, Betchworth Park Golf Club, Reigate Road, Dorking RH4 1NZ www.watermilljazz.co.uk
Westgate Chapel, 92a, High Street, Lewes, East Sussex BN7 1XH
West Hill Tavern, 67 Buckingham Place, Brighton BN1 3PQ
West Hill Hall, Compton Ave, Brighton BN1 3PS
Ye Olde House at Home, 77 Broadwater Street East, Worthing BN14 9AD
The Small Print
Big Band Listings
Big band listings are now integrated into the main listings. You can read more about local big bands in the monthly column Big Band Scene.
Details are assumed to be correct at the time of publication.
If you are traveling a long distance, contact the venue before setting out, in order to confirm that it is still going ahead.
Timings
The times listed are those given by the venue. This is normally the start time of the music so you will have to get there about 30mins beforehand to get a seat, a drink and settle down.
[R] = Residency
The listed performer plays there regularly (but may not be there every week) and may have special guests.
(c) = collection
Gigs listed as free will often have a collection where customers are asked to contribute money to the musicians.
otd = on the door
byo = bring your own refreshments
(?) = unconfirmed 
If you'd like your gig or concert in our listings then please email sjmlistings@gmail.com with the subject heading 'Listings'.
All listings in SJM are free of charge.