Big Band Scene January 2022
Happy New Year. As we go into what looks like being the third year of uncertainty and disruption over the Covid-19 pandemic. Hopefully there may still be a handful of big band gigs. For which, please consult the listings. But as I warned earlier, it is strongly recommended that you contact the given number beforehand, to check whether it is still on.
This month we say farewell to saxophone stalwart Steve Field who is moving to Borehamwood in Hertfordshire to be nearer family. Like many local big band musicians, Steve earned his living outside music. After graduating and spending several years in research he came to Brighton in 1971 to study for a postgraduate certificate in education before teaching Maths and Physics for 40 years. He has also worked for several examination boards and is presently Principal Examiner for one of them. I asked him some questions.
How did you get into music?
I have always played the harmonica, probably because there was so much harmonica music on radio and television. My first LP was Larry Adler playing 'Rhapsody in Blue' and my first trip to Ronnie Scott's was to see Toots Thielemans.
What got you interested in jazz?
While studying for mock O levels in the grim winter of 1962/63 my friends and I used to cheer each other up by meeting up and playing our LPs together.
Mine was Please Please Please Me by the Beatles. Someone brought along a Thelonious Monk album and when I heard the track Ruby My Dear I was knocked out by it and have listened to jazz ever since.
How did you become interested in Big Band music in particular ?
At university I lived in East London and it was easy to get into town, so I spent a lot of time at the 100 Club in Oxford Street.
My favourite band initially was the Alex Welsh Band but when I caught the Mike Westbrook Concert Band one night I was stunned by his compositions and the baritone playing of John Surman. Ronnie Scott had a nine-piece that I saw loads of times that had John Surman and Kenny Wheeler. It was a solitary existence because none of my friends were into the music. I once took a girl to see Westbrook at Ronnie Scott's Old Place. Half way through the first set she asked me when they were going to finish tuning up and start playing something!
Over the next few years which took me to Bristol and Birmingham I saw Basie, Ellington, Buddy Rich, Stan Kenton, Thad Jones-Mel Lewis and Francy Boland-Kenny Clarke. Down in Brighton, John Dankworth was a frequent visitor.
How, and when, did you come to take up the saxophone.
I got to know tenorman Danny Moss when he ran a jazz club in Worthing. In 1977 he introduced me to a musician who sold me a second hand Yamaha alto. I bought the Tune A Day book for saxophone and taught myself the fingering and how to read music.
A few years ago I asked Phil Paton for a lesson. He told to make up a tune and play it in all twelve keys.  Every time I see him he knows what I am going to say… "only another eleven to go".
When and how did you acquire the other saxes?
From 1983 to 1986, I was playing in Nightshift, a six-piece jazz funk band with a singer.  That is where I first met Phil. He and I were both on alto so I bought a new Yanagisawa soprano in 1984 to add a bit of variety. I helped to run a big band at the college where I was teaching and bought a new Yamaha tenor in 1999. Later on, two bands asked me to play baritone, so I went to Rupert Noble who did me a fantastic deal on a new Bauhaus Walstein bari.
Which other bands have you played with?
When I left teaching in 2010, I met up with John to watch Phil playing with the Paul Busby Band at The Brunswick. John invited me to join the Dave Masters Big Band (now the Brighton Big Band). Through BBB, I met Dave Eastman who asked me to join Downsbeat Swing Band, Dave Adkin who asked me to join Big Band Sounds and you, who asked me to join the Sussex Jazz Orchestra. Playing under Mark Bassey's inspirational leadership at SJO has been an amazing experience. All those individuals mentioned above have been a constant source of encouragement during that time.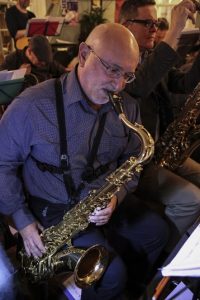 Pictured above: Steve performing with SJO, photo by Neil Garrett
Which bands have you played with most recently?
I joined those bands within a period of a few months and have played with them all, over the ensuing eleven years. Leading Downsbeat was a great experience with my limited musical knowledge and in recent weeks I have said tearful goodbyes to a lovely bunch of people in all those bands.
In addition I have depped for the Ronnie Smith Band and the Les Paul Big Band.
Have you any musical activity lined up for after your move?
Mark has given me a couple of contacts in London and I will be following those up as soon as I have unpacked my saxes. Also I will continue to participate in Mark's online courses.
Pictured above: Steve leading Downsbeat Swing Band at Ropetackle Arts Centre. Photo by Patrick Billingham
Next time:  Whatever news there is, assuming we're still out of lockdown.  If there is anything such as feedback on this column, that you would like me to include in forthcoming editions of Big Band Scene, please send it to me by Tuesday 25th January at g8aac@yahoo.co.uk.