Aneesa Chaudhry Interview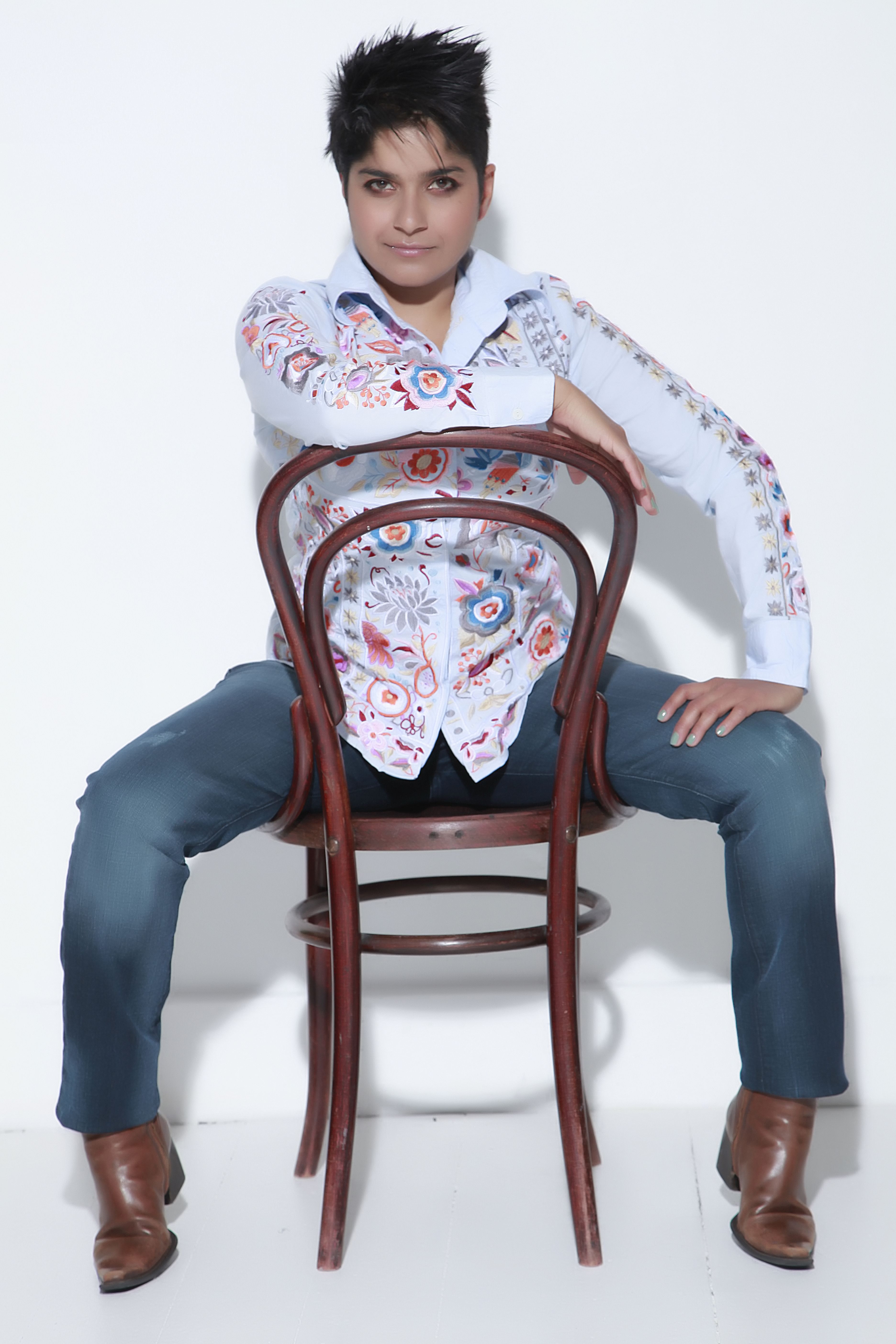 How did you first get into singing and jazz?
"As a British Asian child growing up in a typical but open-minded Asian household, my parents saw music, drama and sports as being the safe alternative to me and my siblings drinking and smoking at the park with our school peers. It was honestly one of the best gifts they gave me in life! Singing is something I've always had for myself and there's nothing like the feeling of singing your heart out and being surrounded by juicy harmonies in a choir. I turned professional in 2002, after training to become a barrister, when I started to get paid for gigs. I knew that I could sing a very high soprano but wanted to explore the other end of my voice and jazz appealed to me so I put myself onto a course in San Fransisco with Madeline Eastman at Berkeley Jazz School and on my return to the UK began intensive lessons and courses, eventually parting from the legal world to concentrate fully on becoming a professional jazz musician and educator. I continue to keep my knowledge & skills up to date, regularly having one-to-one lessons with my mentors and collaborating with the best musicians the UK has to offer. This has included working with Anita Wardell to learn the craft of be-bop & scat; interpretation & jazz singing with Claire Martin, Lianne Carol, Ian Shaw, Lea Delaria, Lee Gibson & Pete Churchill; jazz harmony and aural training with Sara Dhillon and thinking as an instrumentalist with Anita Wardell and rhythm with Trevor Tomkins."
"Taking a very traditional route of jazz gigs and repertoire I have given sell-out gigs at Pizza on the Park and worked with several big bands including The London Swingfonia. I have performed at numerous jazz festivals and venues around the UK including: Isle of White International Jazz Diva's Festival, Ealing Jazz Festival, City of London Jazz Festival, Birmingham International Jazz Diva's Festival and given numerous performances at the National Theatre Music Pitch."
Tell us about all the different projects that you're involved in.
"Inspired by the music of the big band era, I set up my own eight-piece Mini Big Band and recorded my first big band album '4 inch heels, lipstick and a frock'."
"In 2005 I began a wonderful collaboration with one of the UK's finest latin jazz pianists John Crawford and Uruguayan Andres Ticino and established my Jazz-Asian Fusion 'Eastern Flavours Band' and recorded my Duende album. This beautiful collaboration brought together a mix of rhythms, modes and vocals from all of our backgrounds."
"More recently I have been working with two of Slovenia's top musicians: pianist Mojca Monte and flautist Jana Cadez Amali. We formed a band, 'BLISS ART' which is a culmination of Eastern European flavours and treatments of covers as well as writing original material for our past two albums: On The Edge and Hold On."
"I have had some of my songs made into dance tracks with the late James Winchester of No Prisoner Records and have also made some solo albums, Going Solo and I've Got a Woman, all available on Soundcloud, iTunes and as actual CDs from my website: www.aneesachaudhry.com"
How would you describe your approach to teaching music?
"I try and create a safe environment where my students feel empowered to be daring. I aim to teach the fundamentals in a fun way."
"When I work with a student or client on their voice I coach them on everything, ranging from building vocal confidence in public speaking and performance to precision in their delivery, breathing, dynamics, phrasing etc. At the same time I want them to develop their own style and reach their own potential. We are all different and we all have a light to shine!"
"Upon meeting a new student I give them a consultation and ask what brings them to me. To start with I'm not interested in them sounding brilliant but more in the colour of their voice. Did you know that most women can sing from soprano down to tenor and even top bass! I peel back the stereotypes and work with what is rather than what was. I have also been working for more than two years with trans voices and clients who are changing gender, both in my community choirs and private clients. I love learning and teaching what I am learning and take pride in taking care of my students so that they are equipped, be it to work within the music industry or present in a court of law or as CEOs in top companies around the world."
What can listeners expect to hear at your gig at The Brunswick on 7th December?
"Familiar standards as well as some unusual arrangements of songs and hopefully vocals that will make you melt and your heart smile! In addition to popular jazz songs that will get your toes tapping there'll be a little black coffee for anyone with the blues. There will be some uplifting swingers as sung by the greats such as Sarah Vaughan and Ella Fitzgerald such as Time After Time and Whatever Lola Wants, Lola Gets with an Aneesa spin on them! A hint of eastern flavour will pour into my arrangement of My Funny Valentine and Shankar's Rest In Peace. There will also be a special guest appearance from BLISS ART to send your head spinning into a whirlpool of highly energised sounds, both original and covers! In particular songs which are becoming ever more popular are our original songs; Guappa Chica, Sappho's Bossom, It's Alright, Hold On, Tango Crush, On The Edge and Gypsy Woman. We particularly enjoy performing Joni Mitchell's Black Crow, like you've never heard it!"
The Aneesa Chaudhry Band perform at The Brunswick in Hove on Sunday 7th December.
For more about Aneesa, visit www.aneesachaudhry.com