Big Band Scene (Sept. 2019)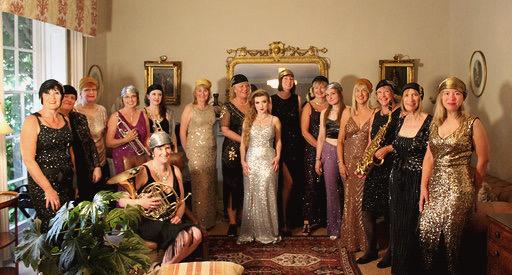 Some Like It Hotter
     Some Like It Hotter is an 18-piece predominantly female swing band founded in September last year by baritone saxophonist Jody Wood, who moved from London to Bexhill in 2017. Her love of bonkers, OTT glamour didn't quite translate to East Sussex. She was also surprised by the dearth of women in lead chairs locally.  She has assembled an oestrogen-heavy line-up including two French horns who add a smooth groove to the sound.
     Men are welcome too. They just have to wear dresses! (Think Tony Curtis & Jack Lemmon in the film Some Like It Hot.) 'Antonia' and 'Nicola', the burly drummer and bass trombonist are stalwart members. 
     Some Like It Hotter are carving their unique niche with an upbeat pad; a young, tattooed singer; a splash of burlesque and a large dollop of self-deprecating humour. Starting from scratch meant no money in the kitty. However, they're still going strong after nearly a year of hard work and are hopefully here to stay. 
They made their debut at The Powdermills in June and helped raise £2.2k for the Macmillan charity. Since then, they've played at a private party and The Great Gatsby in Bexhill. 
The next gig is in the evening of Friday 13th December  at Bodle Street Green village hall for an Xmas Xtravaganza complete with a gender-bending stripping Santa – all in the best possible taste. Further details in the December listings.
     Jody is always looking for gigs and deps. The band rehearses on the 4th Wednesday of the month in Herstmonceaux.  If you fancy playing with the wildest new outfit in East Sussex get in touch. Boys will need to bring their own fake boobs. Ladies – just bring your 2X chromosomes.   Contact details: 07545 305690, jowood01@gmail.com
     As an antidote to the general unpleasantness associated with Brexit, I start with some good news.  The South Coast Big Band has found a new venue. The Fishermen's Club, Royal Parade, Eastbourne, East Sussex BN22 7AA, where they are booked for the second Sunday of each month. See the listings for details.
     Due to my own gigs, workshops and holidays away, I have been unable to see Terry Pack's Trees recently. So it was a special treat for me to hear them last month as part of the regular Big Band @Brunswick Sunday evening programme.
     As well as a selection of the familiar tunes associated with Trees, there were some delightful fresh ones. I particularly liked Hilary Burt's arrangement of Lennon & McCartney's Eleanor Rigby. This was the most compact version of the band that I have so far encountered. Fifteen musicians, with keyboard and trumpets absent. The brass section of trombone, bass trombone and tuba provided an authoritative lower end, balancing the flutes and voices, with the saxes occupying the centre ground, complementing the rhythm section of bass, drums and guitar to provide a balanced sound, still with harmonic depth. As ever, there was excellent soloing distributed throughout the band.
     Trees are back at The Brunswick next month. The Sussex Jazz Orchestra is also booked for the last Sunday. And this month, Big Band Sounds occupy the usual first Sunday slot. 
Next month: Hopefully another band profile, and more news about big bands based in, or appearing in, the county. If you would like your band featured, and I have not already contacted you, please get in touch.  Anything else, such as gig news, or feedback on this column, that you would like me to include in October's Big Band Scene, please send it to me by Friday 13th September. My email address is g8aac@yahoo.co.uk.
Patrick Billingham
(Photo of Trees at Love Supreme by Lisa Wormsley)