Bjorn McAteer Dahlberg Interview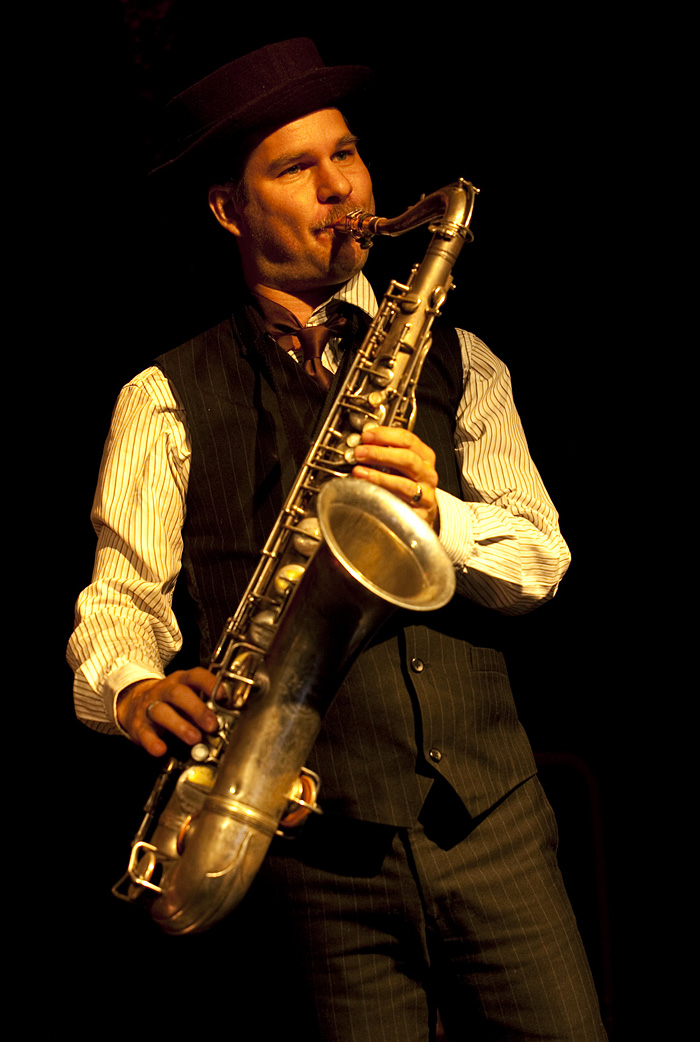 Saxophonist Björn McAteer Dahlberg is currently appearing in the stage play My Friend Lester at The Dukebox Theatre. He met with SJM editor Charlie Anderson at The Bee's Mouth.
After seeing Björn in the play My Friend Lester, I arranged to meet him at The Bee's Mouth pub in Hove. As we walked down in to the dark basement of the pub I was reminded of his wife's other play, The Bee's Mouth, in which two people are trapped inside the basement of…The Bee's Mouth. As we sat down I recognised the film showing on the big screen: the Guy Pearce thriller Memento. The perfect backdrop for Björn to share his memories (although our conversation was interrupted by the occasional fight scene).
"My uncle was a musician who played zydeco music from New Orleans on the accordion. My grandmother was a flamenco dancer so I had those different kinds of influences. My grandfather played Swedish folk music on the violin. But then I found this single in my parents' record collection: Take Five with Paul Desmond and Dave Brubeck and that just blew my mind. From then on I wanted to play jazz and I was also fascinated with playing in odd meters. I'm forty years old now and I was maybe 12 when I heard that record so from then I really wanted to play jazz."
Without prompting, Björn was keen to discuss the wide range of influences in his musical life. "Definitely Paul Desmond. He was a really big influence when I started out. I started out on the clarinet, that was my first instrument, and the piano. Then I fell in love with Wayne Shorter and Jan Garbarek and Branford Marsalis, which meant that I had to get a soprano sax. Then I slowly added to my collection and now I have all the clarinets and all the saxophones. I enjoy playing all of them. For the show My Friend Lester it's all tenor saxophone playing but I really enjoy playing all the different horns. The thing with Lester Young. I started from the Fifties then I guess, then on to the Sixties with Wayne Shorter, then Seventies and Eighties fusion type jazz, then I went back and had a deep Coltrane era, then a deep Sonny Rollins period and these older guys were always looming and I heard people talking about them but I didn't really study them and then I started getting into it, I think, through playing with Harry's Tricks. There's something so beautiful. Like Lester Young, especially now that I'm doing the play, I really dug deep into his music. You can really hear the future coming. If I listen to Lester Young I can hear Charlie Parker in there. If you speed it up then you have Charlie Parker. And you have Stan Getz and all those cool jazz players. There's so much inventiveness and very beautiful melodic playing that's such a contrast to a lot of scale-based playing and pattern-based playing in later styles. But to go back to the originals, going back to the melody and the old swing has really done wonders for the rest of my playing. It just feels like I'm more able to express myself in the idiom much more honestly now than I did before. At the same time there's my grandfather's folk music and bits of flamenco and zydeco. Because it was there when I grew up it just tends to come out."
Having seen the play My Friend Lester a few days before, I was curious about how the play came about. "It's really the story of the relationship between Billie Holiday and Lester Young which has been a grand old mystery since the time it took place. People have been speculating over whether they were a couple or not and they gave very, very strange answers to interview questions about it. People come up with different ideas. Some say it was just a platonic relationship, some say it was something more, but never turned into anything. They both had other partners."
"Basically, my wife wrote about her idea of what she thought was going on, based on the songs that Billie Holiday sang. And she plays Billie Holiday and I play Lester Young, even though I'm from Sweden and I don't really look like Lester Young and I don't play like Lester Young either. She doesn't sing like Billie Holiday so we try to take our own spin on it while keeping it in that Thirties swing vibe."
"It's a two-hander down at the Dukebox Theatre at The Iron Duke. It's live sax and live singing in the show but we've done some background music where I play piano and other horns with Simon Russell on bass, Daniel Clark on guitar and Dimitris Moudopoulos on trumpet to give it a bit more colour."
"It's actually the fourth run we're doing of it. We did a very short one at the Jive Monkey (when that existed) two and a half years ago and then a few months after that we did a couple of shows at the Marlborough Theatre and then we did it for the festival last year at The Dukebox and then this year again. It's gone really well and we got really nice feedback. It seemed to touch people. People want to hear the story. I think we bring something different to the story of Billie Holiday. There's always the very tragic and a focus on the drugs and the abuse which of course is part of her life but we try to focus on a different aspect of her."
As Björn has been a regular fixture on the Brighton jazz scene for the past few years, I was keen to ask him why he chose to live in Brighton. "I do have another dark side to my music career. I play Benny Anderson in an ABBA tribute act as well where I play piano. I actually really enjoy that. It's a very, very different thing. It's made my piano skills get a lot better than they used to be. So I had to brush up on the piano and it brings out my actor side I think. I get to perform a bit, and dress up in lycra, which is always lovely."
"I met my wife here in Brighton when I was over here touring with that ABBA show, so that's how I got here. We fell in love and I thought "This seems like a lovely place" so I moved here six years ago. I went to all the jam sessions around the area. We're in the Bee's Mouth now, I went to the one here and the one at The Brunswick, trying to find all the different places where I could find jazz musicians to play with."
"There's also another side. My wife Maria's father was a jazz saxophonist. He was from Trinidad and a calypso and jazz musician at the same time which I guess is similar. He wrote a song for Shirley Bassey called Kiss Me Honey Honey Kiss Me. I have these amazing photos of him playing with Monk and Sonny Rollins. And he was a friend of Pannonica [The Jazz Baroness] so she knew him from London and brought him over to New York to meet all of these players. That, I think, brought Maria to want to explore more of the jazz side of things. It's been a really amazing experience."
This seemed like an appropriate time to ask Björn about the other projects that he's been working on. "I play with Harry's Tricks band, which is Mike Potter who has a weekly gig at the Seven Stars every Sunday from 4-7pm. That's also focused on Thirties swing. Apart from that, I play with a number of different bands, quite a few. I play a lot with MynieMoe which is more like a rock act with improvisation and lots of jazz elements. There's also the The Magic Number, that's another swing band. and The Adventurists which is completely improvised music but with a pop feel under it all. We come up with lyrics and sing songs. We've done that with theatre groups where they improvise a play and we improvise a soundtrack. It's called Made Up and we did that at the Soho Theatre last year. Those are like random gigs that come in now and again. I play with Paul Richards, we do some Brazilian music. I play clarinet and he plays acoustic guitar."
"Really, I play for whoever wants me. I'm freelance and I'm a hired gun. I love to play all different kinds of music. Jazz is my home territory but I really enjoy exploring other aspects of music and other kinds of music as well."
"I'm probably going to record the first album in my own name this summer. I've been putting it off. I have a Swedish jazz quartet called Nybakat that play from time to time. I want to do something that has my name on it. There are so many amazing musicians in Brighton so I hope to be able to do something really nice with that and to focus more on my own compositions."
My Friend Lester is at The Dukebox Theatre on 11th and 25th May and 1st June, 2014.
My Friend Lester
Website: http://myfriendlester.com
For bookings:
http://boxoffice.brightonfringe.org/theatre/6294/my-friend-lester
The Dukebox Theatre
The Dukebox Theatre is part of The Iron Duke, 3 Waterloo St., Hove BN3 1AQ
Website: http://www.irondukebrighton.co.uk
Björn Dahlberg
Website: http://www.bjorndahlberg.se
The Bee's Mouth
The Bee's Mouth is at 10 Western Road, Hove and regularly screens movies in the basement, along with hosting a jazz jam session every Monday evening.
Mini Review of My Friend Lester
Seeing the play My Friend Lester made me appreciate the emotional aspect of the enigmatic relationship between Billie Holiday and Lester Young and made me want to revisit the classic recordings that they both made. The intimate venue adds to this personal approach making it the ideal setting. I would recommend it to both jazz fans and non-jazz fans alike.
Charlie Anderson