Laura Baker Interview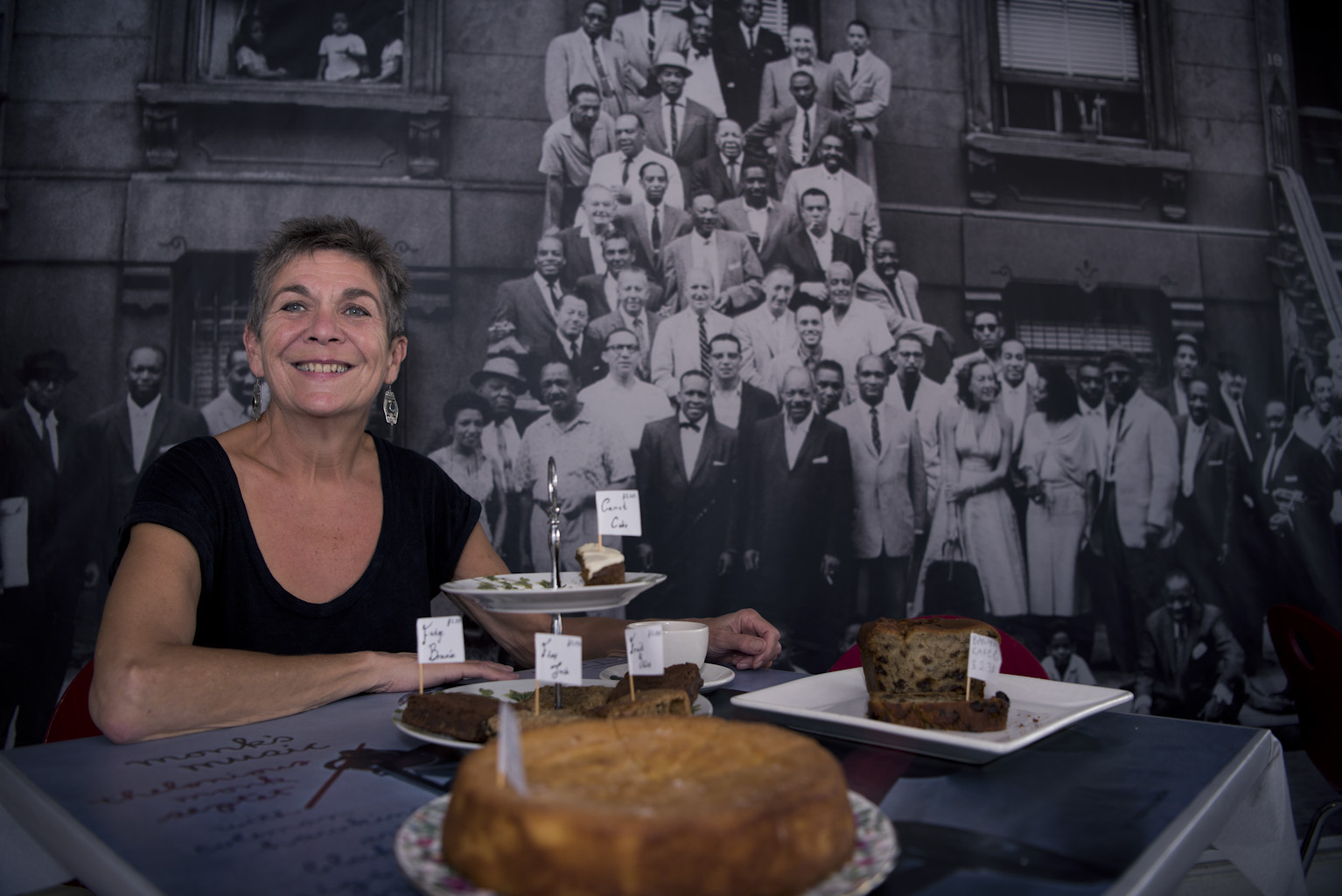 After a new refurbishment at The Verdict jazz club in Brighton, SJM editor Charlie Anderson sat down to talk to new café manager Laura Baker.
How did you get into jazz?
My parents were huge jazz fans. But of course, going back, that was something that I reacted against. My dad was a big fan of Dave Brubeck, Don Ellis and various people, my mum was a huge Frank Sinatra fan.
I was living in London and my mum (who'd come and stay with me fairly regularly) rang me up and said 'Laura, I'm coming up at the weekend of such-and-such, Ian Shaw is at the 606 Club'. I think at that point I hadn't even heard of the 606 Club or Ian Shaw. But she would listen to the radio and every jazz programme she could find, so she was always ahead of the game, in a way. And so we went to see Ian Shaw and fell totally in love with him. And became almost groupies, really. Every time he was performing at the 606 or the Vortex, she would come and stay with me. And I became a member of the 606 and lived so close, because I lived in Holland Park. My only regret about leaving London, really, is leaving behind the 606.
So then, of course, after having moved to Brighton in 2008, I discovered The Verdict. It's not quite up to the 606's standards in that there isn't quite jazz on every night of the week but I don't know that Brighton can support that, really. Obviously, we're not the only venue that puts on jazz.
What have been the challenges and the sorts of things you've had to overcome?
Working alongside the refurbishment works. It's more than a refurbishment really because we've moved the serving counter from just inside the door to across the back. So many people walk in now and say 'there's so much more space' and it's weird because it feels like there's more space for customers and more space behind the counter. From the 26th June I had just been serving drink and hot food on gig nights.
Trying to keep my head above water between June, July and September was quite challenging and Andy, bless him, has been working very, very hard to complete the refurbishment and redecoration.
We're nearly there. We've now been open as a cafe, well this is day 7, our second week of being open Monday to Friday, 8-4pm serving sandwiches, coffee and cake, as well as gig nights. As we go into the autumn, I'm more likely to be in four nights a week. So I'm working quite hard at the moment.
Tell us a bit about some of the gigs that you're promoting.
Joss Peach was here last month. He would very much like to play once a month I think. And he's here again on Saturday [30th September] with Nigel Thomas and Milo Fell.
There are quite a few bookings. Dennis is organising his Smalls gigs, every other Thursday and Andy normally takes charge of Fridays. So I've been looking at Saturdays. We had Chris Coull last Saturday which was a very exciting evening, with Sara Oschlag, Dan Sheppard, Dave Trigwell and Tim Wells.
Coming up we've got the man who started it all off for me, Ian Shaw. He's here on 14th October. A couple of other exciting ones for me are Sarah Moule and Simon Wallace who have recorded fantastic interpretations of Fran Landesman's poetry. They're here on 4th November and then the following week on the 11th is John Horler, fabulous piano player. He's here with Chris Laurence and Chris has asked to bring his quartet down, probably January/February. I've also been in touch with Polly Gibbons, Christine Tobin, Clare Teal, all of whom I know from the 606 and The Vortex. It got to a point where I was like 'oh, goodness, I can't really fit anything in this side of Christmas', which is very exciting in terms of the new year.
Do you have a particular policy or preference in terms of who you're going to book?
I don't think so. I must admit I'm quite fond of singers. That's the other end of the spectrum from Andy [Lavender] who is not a great one for singers but then again I've booked John Horler and Chris Laurence, who are instrumental all the way. And I love it.
What plans do you have for the future?
Well, one idea is to open on a Sunday morning, not too early, obviously. For a jazz brunch and have acoustic jazz up in the cafe whilst people have a brunch, which would be quite a nice thing to do. But I'm probably not going to take that on just yet, because it's already quite a steep learning curve.
Until the 6th of June, I'd never ever pulled a pint or even poured a pint from a tap. I've never worked in a bar. I've never used a coffee machine! But, of course, it's all about the people that you employ. So I've got some fantastic baristas. My son taught me how to pour a decent pint. 'Angle the glass, mum!'.
Obviously I'll also be offering the space for private hire and catering for private functions. One of Andy's ideas, which I think is a very exciting one, is to see if we can get permission to have a jazz festival in Dorset Gardens, next summer, which would be really great fun. There are lots of possibilities, but I shall try walking before I try running.
Is there anything else that you'd like to talk about?
I think everybody who knows The Verdict knows that the tickets are on sale at WeGotTickets or I'm perfectly happy for people to ring up and reserve and then pay on the night. I just want to get as many people in as possible, enjoying the jazz and eating my food. We're going to have such a variety that the audience will change and develop and expand.
Tell us about the food.
Well, I started off working really, really hard and offering four choices on gig nights. And they would vary. But this has now given me a lot of insight.
All the food is cooked here by me, although that of course might change. But I'm pretty keen to show my staff what I do and how I do it, 'this is the recipe, this is how I want it done'. I've had lots of compliments about the food. I've whittled it down, in a way, to about a dozen dishes that will be on offer more or less every Friday and Saturday night with the odd special if there's something at the market that I like. So there's a good variety of vegetarian options such as butternut squash and chick pea curry or squash and aubergine tagine. And meat dishes like moussaka and beef lasagne are very popular. Thai red and green chicken curries always go down very well.
I think one of the keys to cooking delicious food is knowing how to pick your recipes. There was a time when I had 40 or 50 cookery books but I have now whittled that down to about a dozen (because they are the most beautifully presented – such as the Roux Brothers on Patisserie). I might, after trial and experiment – and getting friends round to give their opinions – revert to Claudia Roden's recipes, but then, sharing food with friends is half the fun.
The Verdict Café, 159 Edward Street, Brighton is now open for business.
Interview conducted by Charlie Anderson.
Photo by Lisa Wormsley.