Live Review: Joe Armon-Jones at Patterns
Joe Armon-Jones
Patterns, Brighton
Sunday 9th February, 2020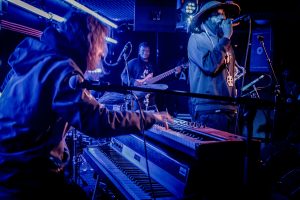 The wave of new young jazz artists flooding out of South London and into the media's jazz Overton window seems to have eased as its vanguard move to consolidate their advances, but in the meantime Joe Armon-Jones has been unobtrusively but persistently touring the country (when breaks from his numerous other commitments allow, not least with the mighty Ezra Collective) spreading  the word for his own unique take on the jazz-funk-fusion legacy. Persistence pays off, word has spread, and even on a dark Sunday night with Storm Ciara raging outside there's a sizeable and enthusiastic crowd of devotees waiting for his latest appearance here at Brighton's Patterns to promote his Turn To Clear View release.
First we're treated to a warm-up from the preternaturally self-assured teenager Isabelle Brown. Accompanied by her bespectacled bestie on the ubiquitous Nord keyboard, her warm, clear, direct singing is a real treat, free of the over-wrought stylings that mar many of her contemporaries' interpretations of soul, and her engaging personality brings everyone forward to listen. One to watch out for.
Armon-Jones ambles onstage, face hidden in his hoodie, and pitches straight in to a reverb-drenched keyboard riff, building up tension until the band enter with a heavy steppers dub. Bassist Mutale Chashi's licks and fills add the necessary versatility to bridge the gap between reggae and fusion while keeping the groove locked, and Chelsea Carmichael sails above on tenor sax, her attractively rough-edged tone complementing the hoarsely soulful power of Niles 'Asheber' Hailstones' voice. Asheber is a thoroughly convincing frontman, his imposing figure under his Fulani hat seeming to reach up to the low ceiling: his impassioned baritone is strong enough to rise over the declamatory twin tenor-sax attack of Carmichael and Binker Golding and versatile enough to match the band's diverse dub-to-cosmic- jazz/funk stylings, now recalling U-Roy, now Leon Thomas as the occasion demands.
The benefits of a busy touring schedule are evident: the band sound well played in, able to take risks and make them pay off, stretching the groove-based formulas of tracks like Gnawa Suite to incorporate the kind of rhythm and texture based group improvisations that Armon-Jones has perfected with the Ezras. Material from both records is played at a more intense, urgent level. A new tune based on the venerable Kunta Kinte Dub provides space for a blistering solo from Golding: the crowd are sufficiently jazz-friendly to greet extended solos from both Chashi and powerhouse drummer Marijus Aleksa with enthusiastic acclaim, and Armon-Jones' own playing demonstrates repeatedly that beneath the mild-manneredly baked-abstracted exterior lies a razor-sharp creative musical intelligence. He's convincingly staked out a claim to an unlikely but somehow logically arrived at area of common ground between dub and jazz-funk, and the crowd respond to both with equal approval. He's also an engagingly modest host. "I'm so lost in the music that I've forgotten all about what time it is and where we are…which is the point!" he says before the finale, and everyone seems happy to agree.
Eddie Myer
Photo: Anya Arnold