Sax Shop Interviews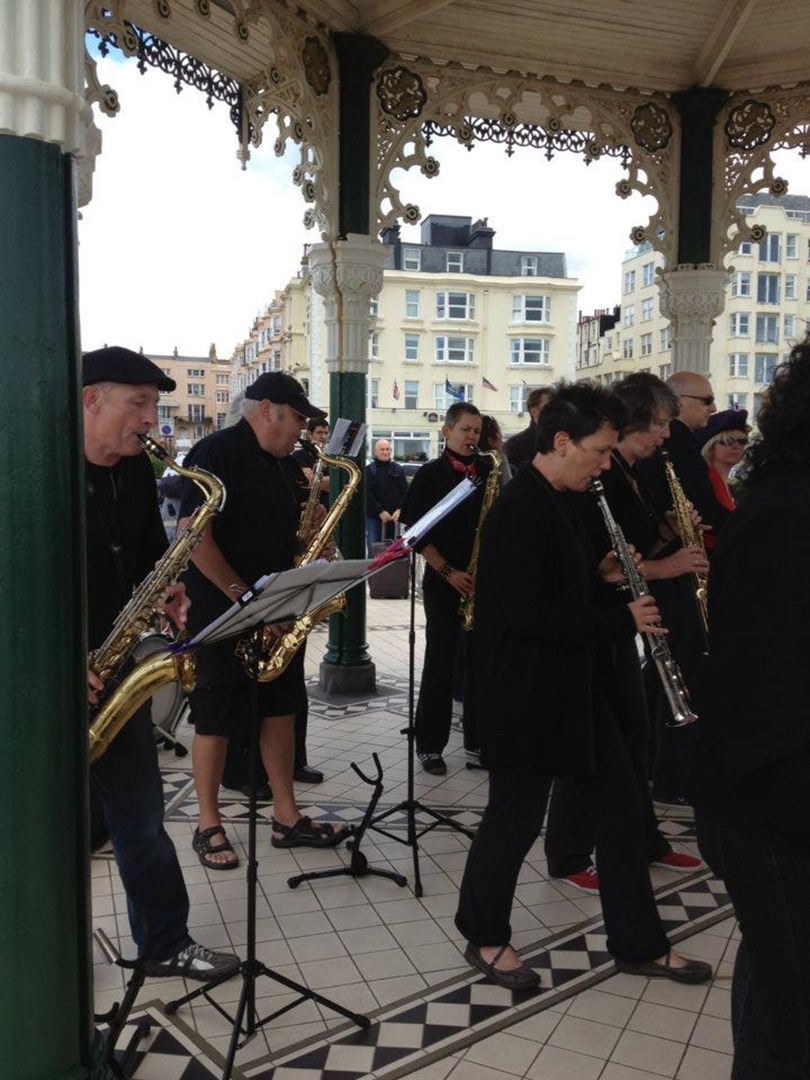 Saxshop is a community saxophone ensemble based in the Brighton & Hove area formed by Simon D'Souza in 2003. Now led by saxophonist Beccy Perez Rork and trombonist Mark Bassey, the ensemble features players of all levels and backgrounds (including a retired bank manager, a welder, teachers, a contract negotiator and a vet) performing on a variety of saxophones from soprano to baritone.
Last year they celebrated their tenth anniversary and this year are taking part in the tenth anniversary of 100 Saxophones, an outdoor event involving…100 saxophones.
Whilst they prepared for their end of term concert at The Brunswick in Hove, The Sussex Jazz Mag spoke to Saxshop regular Jill Southall and tutor Beccy Perez Rork.
Jill Southall
How long have you been in Saxshop?
"Since 2004. I joined just after it first started."
What was it like when you first started?
"When I first started coming I was amazed by what a wonderfully inclusive, welcoming group it was. I couldn't play more than about four or five notes and all these years later I sometimes feel as though I still can't play more than four or five notes! But we have a huge amount of fun
We've got two brilliant leaders, Becky and Mark, who do the most special arrangements to meet the needs and levels of all of us, individually, and without that we would be lost."
"We rehearse at term time and have this gig at the end of each term. And it does give you a purpose to keep going, having the gig at the end of term. And we get out and about and play a few things in parks and bandstands."
"We do quite a lot of charity stuff as well. At the moment, our major fundraiser is for Simon D'Souza, who founded this fabulous group in 2003. He sadly isn't well, with a brain tumour so the key focus of our fundraising and what we're fundraising for today is The Brian Tumour Trust."
"One of our regular gigs is a big community event, The Lilac Lark in Withdean Park. It's a complete community-awareness event for that lovely park. We mostly do gigs at The Brunswick. We have members from all around Sussex. We do welcome new members in but I think we've all developed really lovely friendships through this group as well. It's very valuable for all of us, not only to keep us playing our saxophones but also as a community group and the friendship and fun that it provides for all of us."
Beccy Perez Rork
How did Saxshop come about?
"Well, originally Simon D'Souza started Saxshop in 2003. He ran it on his own to begin with, as two groups, and I got involved depping for him when he was away and then we ended up running a group together. He asked me to join so we could have two groups at the same time. That was back in early 2005. We ran it together until Simon started working at Chichester College, when Mark Bassey came on board."
"We've always run it as a community group. We do a 10-12 week term and then do a gig together at the end of it with a rhythm section. We've done various events, the Peace Picnic, Burning of The Clocks and all sorts of different events, as well
as the three end of term gigs at The Brunswick.
It's designed to include people of different levels and reading ability so it's quite a broad spectrum of players.
Are you open for new members to join?
Absolutely!
What sort of repertoire do you cover?
We've got about 100 songs in our arrangements book. We tend to do new ones each term so we do between three and five every term, over ten weeks. It's a mixture of jazz, ska, the odd pop thing, the odd funk thing, latin. It's a broad mixture and things that lend themselves to big band arrangements. We've done I Feel Good as a funky thing and various Perez Prado treatments of latin numbers, jazz ballads, real-book standards. Today, for example, Just A Gigolo, a Lou Reed tune, Funky Man and Ballad of The Fallen [by Charlie Haden], which I'd never heard before.
You always do an end of term concert?
Yes, we do one in December, one in March and then we usually do one in the summer but that's usually an outdoor gig in the Pavilion Gardens or somewhere. This year we're doing 100 Saxophones, which I'm sure you've heard about, which is in May so that's the next big thing. That'll be revisiting some old numbers and also a new number that Mark [Bassey] has written specifically for the event. We're planning to do four numbers for that event and that's really open to all levels as we only have three rehearsals to get it together! We're trying to get 100 saxophones but other instrumentalists are welcome as well, such as brass and woodwind.
That's great Beccy. Thanks very much.
You're welcome.
'100 Saxophones Rides Again' takes place on Sunday May 25th, 2014 outside the Unitarian Church, New Road, Brighton from 2pm onwards.
For more information on Saxshop visit their website: www.saxshop.org