The Column: Eddie Myer – Hat and Beard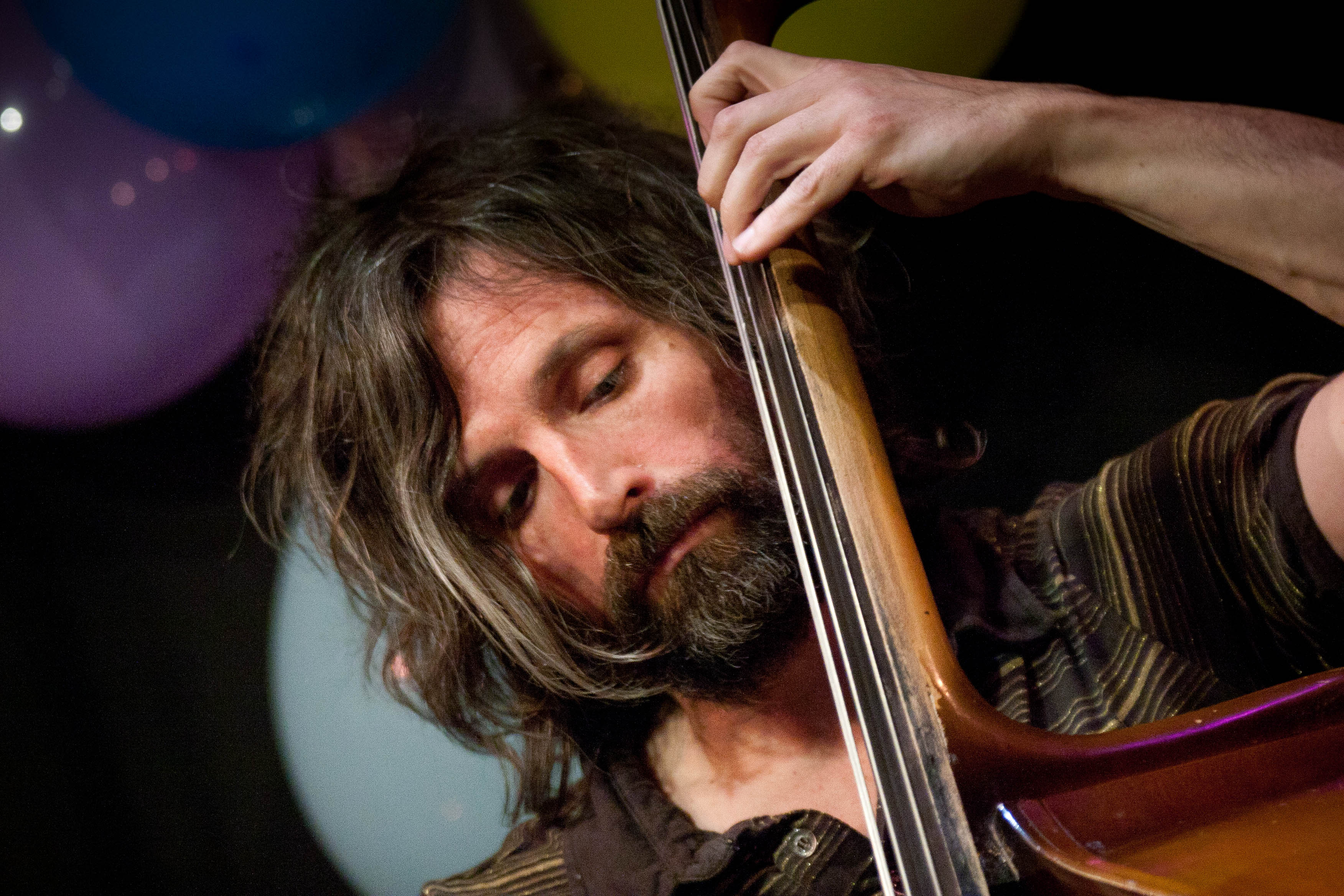 This year would have been Thelonious Monk's 100th birthday, and the plethora of tributes from critics, musicians and fans alike have been ample evidence of his continuing importance on the contemporary scene. It's interesting to compare his current stature with that of his contemporary, Dizzy Gillespie, also born in 1917. It could be fairly said that Gillespie's career was more successfully managed than Monk's, and his reputation more consolidated, during his own lifetime – both started out being labelled as bebop rebels, yet Gillespie managed to move into the mainstream while simultaneously gaining the lion's share of the accolades as bebop's founding father, while Monk, despite his Time magazine cover and long-standing contract with Columbia, struggled financially throughout his career. Yet this year's EFG London Jazz Festival accorded Gillespie a single concert in tribute, while Monk's celebrations spread over two whole days, cumulating in a re-creation of his legendary 1959 Town Hall concert with a specially-convened big band of foremost UK players led by Strata-East kingpin Charles Tolliver. Jazz musicians return again and again to Monk's repertoire; he holds the distinction of being the second most recorded jazz composer after Duke Ellington, but while the Duke's composing credits run into the high hundreds, Monk's entire output consists of around 70 tunes. Once seen as an eccentric outlier, as known for his fancy headgear and bizarre behaviour both on and offstage as his artistic output, he has moved closer and closer to the centre of jazz's core identity as the years have passed, as each succeeding generation of musicians finds themselves drawn to try and interpret the musical conundrums he set up.
Monk's life and legend alone are enough to fascinate; as more details emerge of the man behind the myth, so do the contemporary resonances in his story. As a black man in America, he suffered from police harassment and racial discrimination, as still sadly evident in today's USA; his eccentric behaviour is now interpreted as a consequence of mis-diagnosed and mis-treated mental illness, possibly bi-polar disorder, reflecting our own contemporary willingness to acknowledge the often unseen prevalence of such issues. His biographer Robin Kelley mentions possible prescriptions for Thorazine (an amphetamine) and Librium (a depressive), and his son T.S. Monk has also confirmed his father's struggles with mental health. In contrast to the very masculine world of 20th century jazz, Monk's life story was dominated by women, from the Harlem neighbour who taught him stride piano to the un-named evangelist whose tent show provided his first experience of touring, to his early mentoring by Mary Lou Williams, to his wife and lifetime companion Nellie, and the Baroness Pannonica who gave him shelter in his final years when he withdrew into silence and isolation. He was a musical rebel who never altered his vision to suit contemporary tastes, a proud black man who refused to knuckle under, a self-contained mysterious presence who gave few interviews; yet also a hardworking, jobbing musician and family man, who sustained his marriage, shared hands-on childcare duties, and put his children through private school; a loyal friend who sheltered the vulnerable Bud Powell from drugs charges by taking the rap himself; and a sly, humorous joker who wasn't averse to acting up for the cameras when it suited him.
Monk's piano style is as hedged around with legend, conflicting opinion and contradiction as his personal life. Early critics thought he sounded heavy-handed, clumsy and wrong, and criticised his supposedly limited ability. At the EFG Centenary concert in Cadogan Hall, longtime Monk aficionado Jonathan Gee's interpretations of classics like 'Blue Monk' and 'Rhythm-a-ning' were spiced with the smooth, fluidity of touch, and the lush extended chord voicings that have become the standard language of jazz piano, deriving from Debussy and Ravel by way of the timeless mastery of Bill Evans. Monk's own playing, full of awkward pauses, unexpected intervallic jumps and stark root-position chords delivered at sledgehammer intensity, is far harder to assimilate; you can here echoes of it in the playing of Stan Tracey, but tellingly his nearest stylistic twin is Ellington, whose own unorthodox voice on his instrument is often overshadowed by his importance as a composer. To ears accustomed to the immaculately poised performances of the post-Evans school, Monk's hesitant, crashing solo recordings sometimes invoke comparisons with the deliberate ham-fistedness of Les Dawson, and many contemporary critics – in particular the acidic anti-modernist Philip Larkin – assumed that he simply couldn't play properly. Yet this was a man who at thirteen was apparently banned from the legendary Harlem Apollo talent contests because he always won, who was equally able as a teenager to perform works by Rachmaninoff, and mastered the demanding stride style of James P Johnson and Teddy Wilson early in his career. Biographer Kelley refers to rehearsal tapes in the possession of Nellie and Baroness Nica, which document how Monk methodically and laboriously practiced his ideas, deliberately developing his stiff-fingered, hammer attack, stripping out more and more notes from his voicings to arrive at his unique creations of ordered space and dissonance. Even the basic details are contested – Leonard Feather claimed that Monk's technique was due to his unusually large span, Kelley speaks unequivocally of his 'small hands' .
If Monk's piano technique remains as difficult to quantify and unapproachable as the man himself, the continuing fascination of his compositions endures and deepens as their deceptive simplicity continues to reveal layers of depth and relevance. You can hear intimations of the next 60 years of jazz in everything he wrote, from the modal explorations hinted at in the bridge of Monk's Dream to the challenges of complex form in Criss Cross and the rhythmic displacement in Straight No Chaser and the deliberate challenge in his embrace of angularity, straining at the boundaries of conventional harmony. Even at his careers' height, Monk always seemed like an outsider – as time goes by the centrality of his legacy becomes ever more apparent.
I must admit to a certain prejudice in favour here, as the first jazz record I ever bought was by Monk. It was the Columbia issue Monk from 1964, with Charlie Rouse, Larry Gales on bass and the sadly recently deceased Ben Riley on drums, and had been misfiled in the reggae section of the Notting Hill Record and Tape Exchange. The black and white cover photo featured Monk smoking a suspiciously hand-rolled cigarette and fitted in neatly between the Peter Tosh and Burning Spear records. The music inside was a revelation; in the overcast monochrome musical climate of the post-punk early 80s, it was like a refreshing shaft of light breaking through the clouds. Here was a joyful embrace of melody allied to a tough, assertive musicality; a confident, self-contained hipness worlds away from the shouty orthodoxy of the time; a sense of virtuosity borne lightly, committed yet nonchalant at the same time; and above all, a glorious flexible rhythmic dexterity. At the time, my acme of musical sophistication was the rambling mono-chordal prolixity of Frank Zappa, or the elephantine, self-important galumphings of King Crimson's '21st Century Schizoid Man' – Monk's music seemed at once lighter in spirit but deeper in meaning. His 60s Columbia output isn't generally reckoned to be his best, but it's deserving of re-evaluation, not least because the recording quality makes them an easier listen than some of the harsh-sounding Blue Note and Riverside issues, and Rouse has been consistently under-rated – after all, it's hard not to suffer by comparison when you're in a chair previously occupied by both Coltrane and Rollins. Monk's music seems to me to contain the very essence of what makes jazz so special, and his continuing relevance is tied in with the enduring appeal of the music.
Eddie Myer