The Column: Eddie Myer – The Wisdom of Phronesis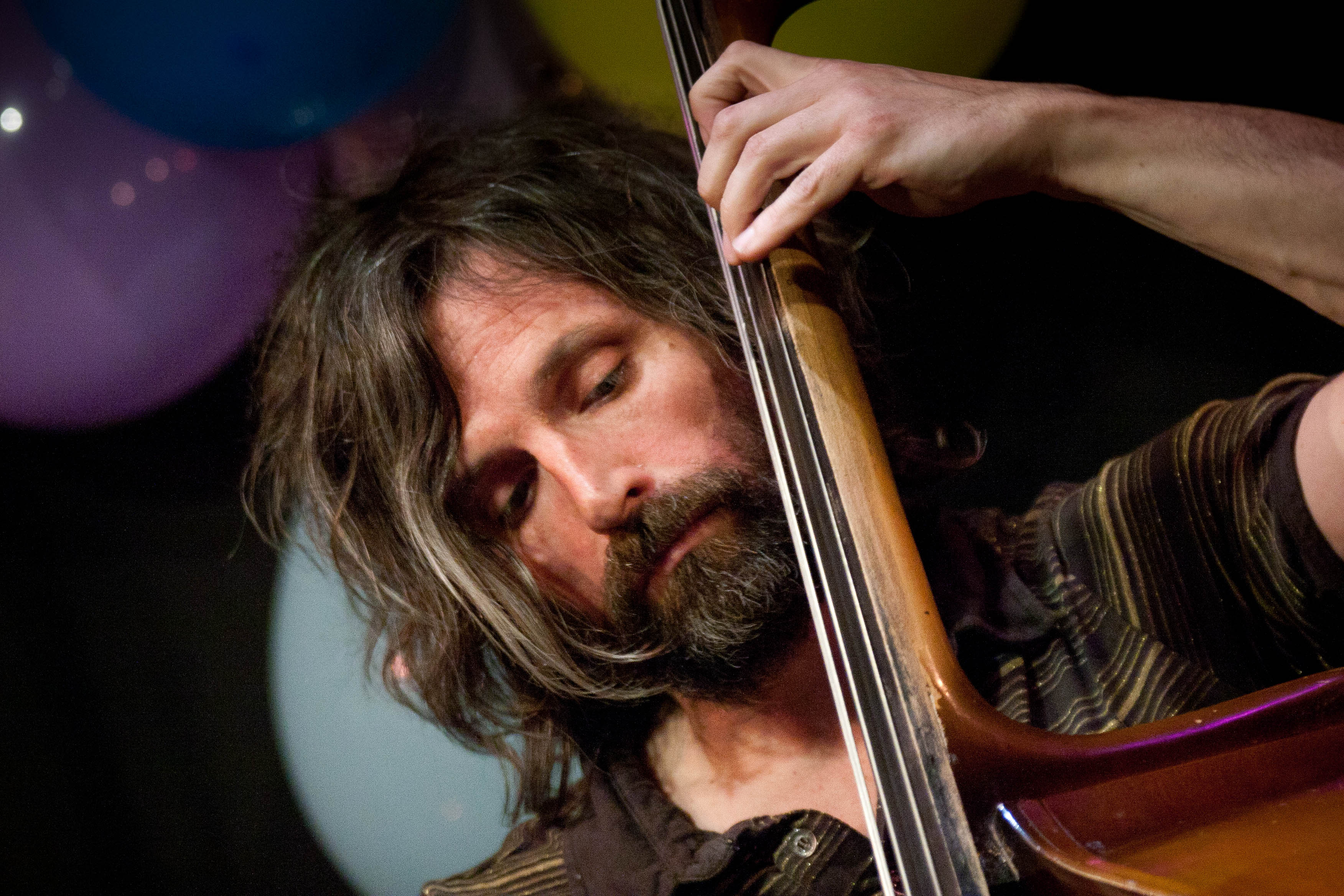 The Brighton Jazz Club ran at the Komedia for a number of years before rising charges forced them out, to the welcoming sanctuary of the Verdict. One of the last gigs I saw before the move was Jasper Høiby's redoubtable Phronesis. They started right off the bat with a furious yet utterly controlled intensity that hardly abated over the course of two hour-long sets. Echoes of the work of Avishai Cohen and Ari Hoenig were clearly audible, as well as a certain austere rigour to the compositions which seemed to me to derive more from the ECM school of euro-jazz, and before that from the european art music tradition, than the Afro-American sources usually ascribed (by Wynton Marsalis and Stanley Crouch in particular) to jazz-and-related-musics. It certainly felt very far away in time and space from Satchmo singing Tin Pan Alley, and my own sources tell me that Høiby has disavowed any interest in the Ellington/Basie tradition as a source of inspiration. The prominent devices used here are long, convoluted unison lines, fast unswung 8th-note patterns in odd-number signatures, long solos over bass ostinatos punctuated by off-beat accents; all devices typical of 70s fusion à la Mahavishnu – in fact, if you replaced double bass and piano with bass guitar and synths you'd have something sounding very like prog-rock. What places Phronesis in the jazz tradition is their background and their adherence to classic piano-trio line-up, with Høiby sticking firmly to the double bass to demonstrate his formidable technical skills – electric instruments, in a curious twist, just aren't as hip as they used to be 20 years ago.
Phronesis are undoubtedly somewhere very close to the cutting edge of modern jazz practice, where the torch of innovation is being carried forward in the field of rhythm rather than harmony. They're being placed by promoters and their record label firmly in the jazz arena, supporting elder statesman and living repository of jazz history Wayne Shorter at the Barbican earlier in the year. But the qualities identified by many listeners with jazz – swing, soul, funk, however you define those intangibles – seem to be absent from much of their music, as they do from the music of highly touted players like Vijay Iyer. The latter's award of the prestigious and very valuable MacArthur prize has provoked some heated discussions in the US jazz community, to judge from Kenny Drew Jr.'s Facebook feed. All these artists play with matchless skill and passion, their standards of performance speak of a fanatical dedication to their art, and all of them seem personally warm, charming and funny people. Yet their music shares a certain unapproachable quality, an aura, even if undeserved, of being consciously pitched above the heads of the average listener, and the emotional intent of their compositions can be difficult to determine. Of course, since the Bebop 40s a certain element of jazz has sought to place itself outside the cultural mainstream. Even the unimpeachable John Coltrane could be said to have compounded the difficulties of the music by deciding to solo, for half an hour at a time, over a single chord, or endlessly improvise over an extract from "The Sound Of Music" while high on LSD; a state of affairs that led directly to Rufus Harley releasing a jazz version of "Chim Chim Cheree" on the bagpipes, at which point a large section of the audience got up and left, never to return. A lot of the jazz audience still seems to find that the current new wave challenges more than it rewards the listener, which may partly explain the resurgent popularity of the jazz singer.
From Harry Connick to Kurt Elling, Madeleine Peyroux to Norah Jones, then onwards to Melody Gardot and Gregory Porter, the profile of the singer within jazz has grown and grown. Of course, many would question the jazz credentials of some or all of these artists, as they questioned Sinatra's, and the likes of Michael Bublé may not cut much ice with a purist crowd, who may also wince at Rod Stewart or Bryan Ferry's stabs at the genre. In the case of Norah Jones, it's chiefly the presence of the upright bass and acoustic piano that identifies the music as part of the jazz continuum, these instruments being as much signifiers of a tradition for her as they are for Phronesis. Gregory Porter may sound at times closer to Bill Withers than King Pleasure or Jon Hendricks, but he gets a lot of press and sells records while identifying strongly as a jazz artist, and using great jazz players on his recordings. It seems as if vocal jazz, by maintaining its adherence to the song, has kept a lot of the qualities that instrumental jazz, with its rejection of the song, has left behind. In the world of Jazz Academia, and the opinions of the more high-minded critics, vocal jazz may be out on a bit of a limb, but in terms of audiences it's possibly the healthiest sub-genre out there. And without audiences, where would the music be?
Eddie Myer