Tony Kofi Interview
Saxophonist Tony Kofi studied at Berklee College of Music in Boston, performed in The Jazz Warriors and worked with Andrew Hill and Sam Rivers. On his debut album, All Is Know, he recorded the music of Thelonious Monk. In 2010 he recorded an album with Jamaladeen Tacuma and jazz legend Ornette Coleman.
Here he answers questions from SJM editor Charlie Anderson.
You play the whole range of saxophones. Which is your favourite?
"I first started on the alto saxophone and then added the soprano, baritone and lastly tenor saxophone. When I was on tour in Japan in 1994 I went into Tower Records looking for new music. I heard this track which turned out to be Donald Byrd live at the Half Note. I heard this baritone solo and was totally knocked out. It turned out to be Pepper Adams. I promised myself that I'd buy myself one when I got back which I did, and I've never looked back. I have a deep and natural love for the baritone. So I have to say the baritone saxophone. It's one of those instruments that tends to get lost in large ensembles and big bands which I must admit I do a lot of, but I dare to throw it into the pit as a lead instrument in a quartet or trio setting because I have my own voice on it, plus I need people to know that it's not just an instrument in a supporting role."
I really liked your Thelonious Monk album, All Is Know with your quartet. You've spent a lot of time learning, rehearsing and performing Monk's music. What do you like most about his music?
"Monk's music for me was like going back to school, it taught me melody, harmony, rhythm, arranging, form, technique, and total self confidence. John Coltrane once said, studying to play Monk's music was like falling down a dark empty lift shaft and not knowing where you were going to land, and also said that was where his real musical education began. I never quite understood that until I had studied all his music. I spent around 5-7 years studying Monk's music before even venturing out to play it in public. I learnt so much about myself as a performer and wasn't too concerned about making mistakes, Monk's music gave me lots of different variations on how to approach music melodically. By the time I came to performing his complete works for the 2003 and 2007 London jazz festivals, I played his music they way I felt it. That was also the same way I approached it when I recorded my debut album All Is Know."
You're also performing some Mingus tunes with Finnish jazz band Tonight at Noon (5th May at The Brunswick, Hove). Tell us about that.
"Well, last year I was invited to perform the music of Monk as a soloist in Helsinki Finland and used a trio of local musicians. The drummer André Sumelius and I connect really well because of his amazing love and knowledge of Monk's music. I was totally knocked out by how much he knew as a drummer which is very rare. The cat knew them all, and I mean knew them all. So we've kept in touch and he's asked me to join his band on tenor which is quite a recent find for me–I debuted on it four years ago on a Jamaaladeen Tacuma album featuring Ornette Coleman. I'm looking forward to stepping into new grounds with André's group."
What was it like playing with Ornette Coleman?
"Playing, rehearsing and recording with Ornette Coleman was a frightening, uplifting and amazing experience all rolled into one, and also a high point of my musical career. I met Jamaaladeen Tacuma in 2006 when I was invited to join The World Saxophone Quartet and he was playing bass with them on a project titled the Jimi Hendrix Experience. We connect right away and he told me that he'd like to use me for a new project he had in mind called Coltrane configurations which was playing the music of John Coltrane with a harmonic/melodic flavor. That project started in 2008 and by the time 2009 came along I'd learnt so much from him musically and connected beautifully with his group that we'd recorded two live albums and that's when he talked of a new recording project which would be a homage to his teacher and mentor. At the time I didn't know if two altos would work and Jamaaladeen never said anything more than he'd let me know when. He contacted me in the spring of 2010 and told me that the recording was to go ahead in New York and I was to perform it on tenor to which my reply was I've never played tenor nor do I own one! His very short and sharp reply was: Get one. It was April and I had until June 19th to get it together. This was more than serious because not only was I going to New York to record, but I was going to record with one of the greatest jazz musicians of the 20th century and a forerunner of the free jazz movement which created a new generation of musicians after Charlie Parker."
"Well, to cut a long story short, the rehearsal took place at Ornette's huge loft apartment with no visible music in sight, everything was done by ear and had to be committed to memory. On the day of the recording Jamaaladeen put me and Ornette in the same recording booth and told us all that this is a one take recording and that every mistake will be accounted for and that it's something we have to live with forever."
I was quite nervous and Ornette knew I was a little uneasy so he told me a few jokes to take my mind off the outcome and be in the moment, and then he said this beautiful quote which was kept and put on the album: "Hey fellers, forget the note and get to the idea". Wow, it was so beautiful that I can honestly say that as soon as the engineer hit the record button I went into conscious sleep mode –subconscious mode. By the time I'd woken up it was done and it was over. I never heard it back until I was sent a copy of the album. Now that was a musical journey I'll never forget and will hopefully tell my grandchildren about."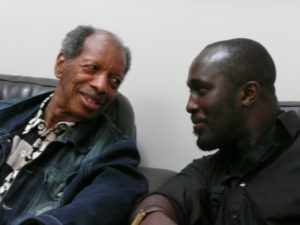 Above: Ornette Coleman and Tony Kofi.
You're also playing a couple of gigs at The Verdict (18th April, Tony Kofi & The Organisation and 9th May, Basil Hodge Quartet). Tell us about those gigs and how they're different.
"The Organisation is a new venture which started when I was asked to dep with two days' notice when original member Jim Heart had to leave to attend the funeral of drummer Martin Drew. I was asked to step in at the last moment by guitarist Simon Fernsby. At the time I was having a lot of problems with my alto so I took my baritone saxophone as backup. Most of the gig was done on bari. We all connected instantly and knew it because it was the sound they'd been looking for. It was the first time I'd met organist Pete Whittaker and drummer Pete Cater who play amazing. The rest is history and we continue to create as good as you'll hear."
"Myself and Basil go way back and I was the first musician to play his new compositions, and because I double on alto, bari and soprano I was his first choice. Basil is a great composer in the style of Horace Silver and a style of his own. I like the way he approaches the piano, in a way he also reminds me of Monk because his touch on the piano makes it sound a little off key."
"Both of these groups have very different sounds with the Organisation's combination of the Hammond, bari and guitar giving it a more bluesy sometimes funky in the pocket sound and Basil's group giving it a totally individual sound of its own, leaning to the 60s hard bop jazz era."
You do a lot of composing. What's the process that you go through when you write a tune?
"I love to compose, my process for composing is very simple and effective. By way of elimination I hear a sound or melody and let it play in my head all day without even writing down a note or even recording it onto a recording device. I'll go to bed and sleep on it, and if I wake up the next day and can still remember it then it's definitely worth keeping and then I'll put it onto paper. If I can't remember it then it was never worth keeping and gone forever. This is why most of my compositions are quite strong melodically. So far I've written a whole body of compositions that will cover four to five albums. I love to compose this way. I'll never change this because it feels natural this way."
Thanks for your time, Tony. Much appreciated.
"I'm really looking forward to coming to play in Brighton on the 18th."
Tony Kofi's albums are available on the Specific Jazz label.
For more on Tony Kofi: http://www.tonykofimusic.com
For more information on Ornette Coleman's musical philosophy Harmolodics: http://en.wikipedia.org/wiki/Harmolodics