Words…Charlie Anderson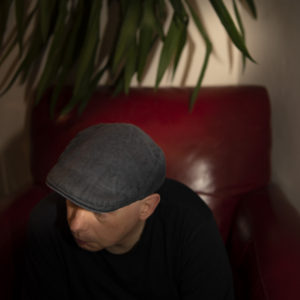 My earliest memory of hearing jazz was around the age of 6. It was a memorable sound, very distinctive. It was Count Basie.
My dad took me to jazz gigs and festivals from when I was a toddler. He'd regularly take me to a pub called The Goat in St. Albans which had jazz once a week, often with a young guitarist, Martin Taylor.
My parents were born in Glasgow during the war. My dad was raised in tenement housing, on the south side. He put himself through night school, studying accountancy. After passing his exams, they moved away, to live in Paris and London in the 60s, eventually settling in St. Albans.
One of the most memorable gigs I went to was Art Blakey's Jazz Messengers in Brighton in 1988 when I was 17 years old. I can still remember the line up of Peter Washington and Benny Green with Philip Harper, Javon Jackson and Robin Eubanks.
I went to Glasgow Jazz Festival every year for ten years (1989-1999) and saw artist's such as Miles Davis, Dizzy Gillespie, Modern Jazz Quartet, Chick Corea & Gary Burton, and in 1995 Roy Hargrove Sextet with Christian McBride and Jesse Davis.
When I moved to London it was difficult getting work as a jazz bassist due to the competition, plus the difficulty of covering living costs on a bassist's earnings. So I basically became a factotum within the record industry, doing little jobs such as changing a light bulb for Steve Lillywhite and hooking up Damon Dash's laptop (enabling his ego in showing a video all about himself, to Def Jam execs)…whilst studying for a music degree at Goldsmiths.
When I did the jazz diploma course at Chichester College in the early 90s I contributed to a jazz magazine that was set up by Nigel Slee (now Creative Director at Jazz North). That was my first experience of interviewing jazz musicians and working on a magazine. After that I briefly worked as a press assistant at Universal Classics and Jazz, which gave me a good insight into the music industry. I moved down to Brighton in 2011 to care for my dad full-time, so whilst here I started going to jam sessions and jazz gigs around Brighton. I began to realise a need for a platform about the local jazz scene. New residences were popping up all over the county, Brighton in particular, but few people knew about them.
So, after going to the first Love Supreme Jazz Festival, I thought it would be good to start a magazine. Since starting it, I've done more than 200 interviews with the likes of Dave Holland, John Scofield, Carleen Anderson, John Surman, and John Taylor, as well as a lot of up and coming musicians, such as Zara McFarlane, Moses Boyd, Joe Armon-Jones, Shirley Tetteh and Camilla George. I've now been to more gigs in the last 5 years than in all the years leading up to that point. I started printing the magazine this year, and will continue doing that, as well as looking forward to watching, enjoying, and writing about the new explosion in the UK jazz scene.
Words: Charlie Anderson
Photo: Lisa Wormsley