Agnes Keplinger Interview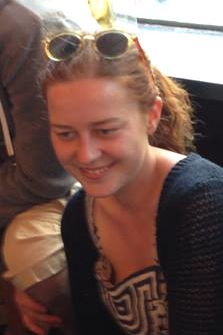 Agnes Keplinger, a youthful cellist from Austria, has only recently become interested in learning the double bass. She started learning the cello at the age of six and was classically trained at the Bruckner Konservatorium in Linz, Austria.
She was about 14 when a guitarist friend of hers first introduced her to Django Reinhardt, who she still loves to this day.
"I wasn't exposed to a lot of jazz in my childhood so I didn't discover bass-oriented jazz until a lot later. In February 2012 my violinist housemate insisted I join Brighton Jazz School. Although even the idea to improvise was, and still is, so hard for me, I couldn't give up on it."
"Recording with a few bands in Brighton and particularly playing with Brighton Jazz School got me back into music, reminding me how creative music playing can be. Being involved with jazz I soon started admiring the bigger upright string instrument. Finally, a few months ago I started learning the double bass."
When asked why she chose the double bass Agnes said that she fell in love with the sound of the instrument.
"I also admire its role in jazz, providing part of the 'foundation'. I would love to accompany as well as solo and I am hoping it will give me a deeper understanding of this music. Of course the similarity to the cello is a convenience too and helps me to pick it up faster."
On her future plans, she says "I want to keep learning and growing, as a musician as well as a person. Jazz has taught me so much more than just playing music and I am hoping it will be a lifelong affair."
Agnes also runs her own business Fuzzy Folk: www.fuzzyfolk.co.uk.
This interview was first published on Sunday 1st September 2013 and appeared in issue 1 of The Sussex Jazz Mag, available here.