Album Review: Dave O'Higgins & Rob Luft – O'Higgins & Luft Play Monk & Trane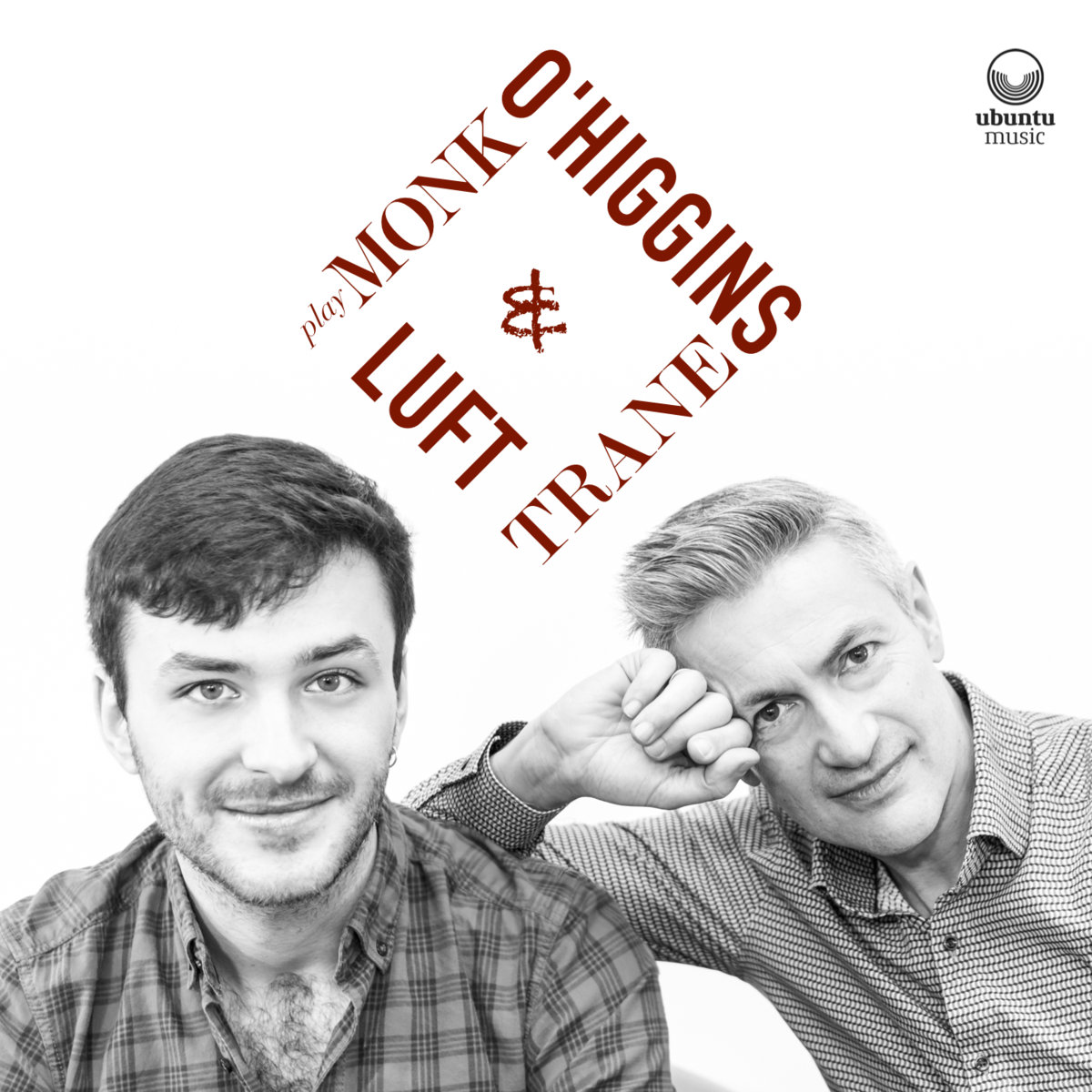 Dave O'Higgins & Rob Luft
O'Higgins & Luft Play Monk & Trane
(Ubuntu UBU0029)
Monk and Trane still bestride the music like a pair of colossi. Monk's reputation as a composer has continued if anything to grow in the decades since his death, and a working knowledge of Criss Cross and Trinkle Tinkle are now de rigueur for any serious young jazz student. Trane's compositions are perhaps by comparison rather overlooked, or regarded as etudes or blowing vehicles, but he took his writing very seriously and created plenty of certified classics as well. What neither of them ever did was record with the typical 60s Blue Note organ combo, and this album provides a fresh take on the legacy by enlisting Belfast-based Flanigan to add that distinct Hammond flavour.
The band are all well suited – Luft's precise articulation and impeccable timing and phrasing are mirrored in O'Higgins' crisp clear sax lines, and the band fly along on boppish numbers like Jackie McLean's Little Melonae and Tommy Flanagan's Minor Mishap. A calmly meditative take on Monk's Locomotive sees the frontmen trading lines to emphasise how sympathetically matched they are. Flanigan is rock solid in the engine room and serves up some tasty solos of his own when called upon to do so, and Rod Youngs on drums is subtle and discreet in support, though he drives the band powerfully to up the temperature from JC's original 1958 take on the standard Spring Is Here, adding an Elvin Jones inspired intensity that Trane himself wouldn't benefit from til later in his career. O'Higgins is well known and respected as a player who's very at home incorporating some of the post-Brecker harmonic adventurism into a mainstream jazz approach, and continues to demonstrate that he's got the chops and the imagination to deliver every time, but the revelation for many here will be Luft: known perhaps for a more contemporary take on the music, he simply tears into this classic material and seems gifted with an inexhaustible supply of fresh, tasteful ideas, whether on the uptempo numbers, the affecting ballad I'll Wait And Pray or the moody Like Sonny. Naima provides an opportunity for him to deploy some spacious reverbs but otherwise his tone is clean and rounded, with none of the stringy bite of the classic 60s organ guitarists. If there is any criticism to be made, it's one of omission rather than commission. Where Monk's own recordings still crackle with edge-of-the-seat manic energy, as though a collapse into chaos is only just being averted by the impeccable swing of the participants, and Coltrane's performances on the tritest of standards burn with a fierce questing passion, on this record while the performances are uniformly excellent there is an overall air of tasteful restraint that while it may be true to the letter of the compositions might be felt to miss something of the spirit. It will be interesting to see how this plays out live: a tour of epic proportions is underway and should not be missed.
Eddie Myer
Dave O'Higgins, tenor sax; Rob Luft, guitar; Scott Flanigan, organ; Rod Youngs, drums.