Big Band Scene (Dec. 2015)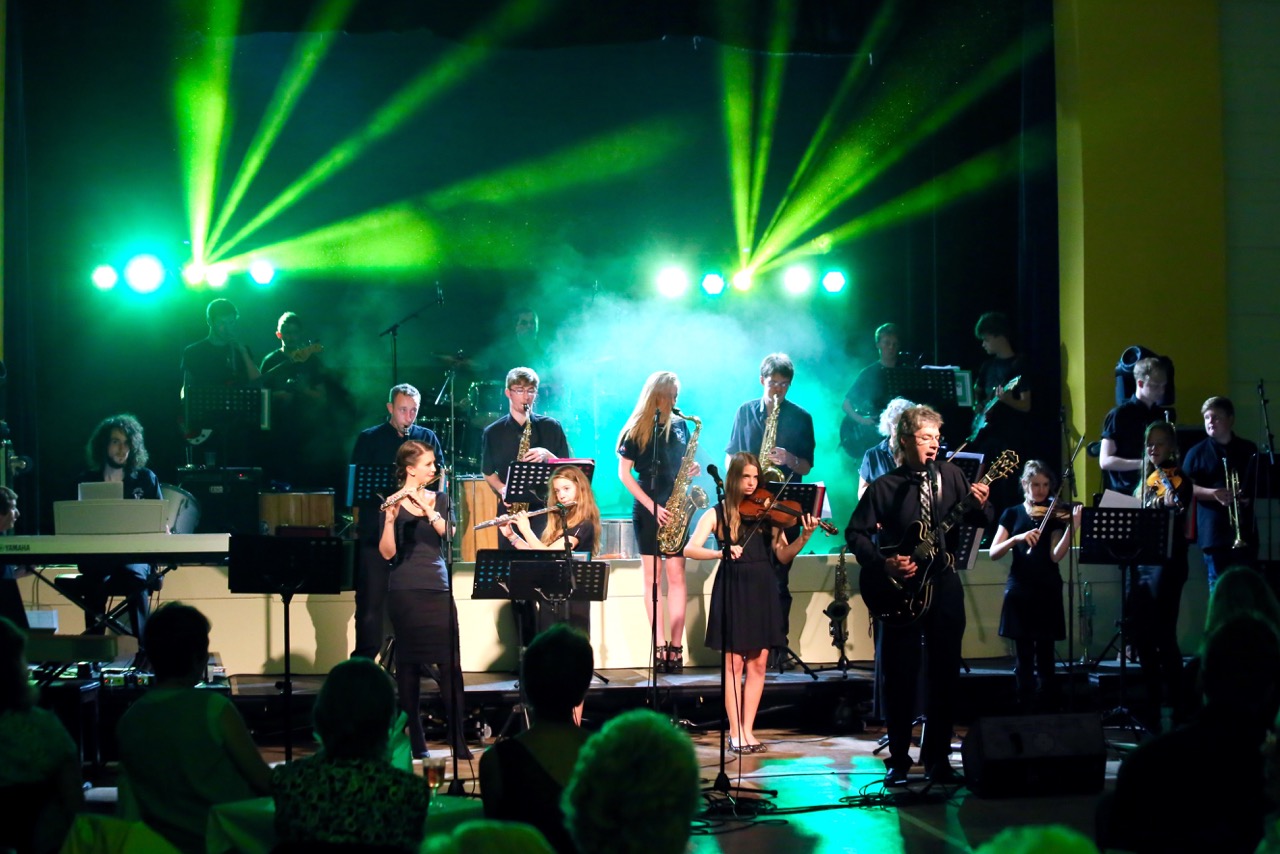 Saxophonist Patrick Billingham continues his monthly
column with a look at The Seaford Rock & Jazz Orchestra and
Saxshop.
The end is nigh. Of 2015, that is. Bands are preparing for the festive season. Christmassy charts not played for the best part of twelve months are dusted down for their annual appearance. After all that, January can be something of an anti-climax, with few gigs on the horizon, and the busy Summer season seeming a distant future prospect. Until now, that is.
2016 has something to offer right from the start. What appears to be a routine gig in the listings below, January 3rd 7:30-10 pm, is anything but. It is the first event of the new monthly Big Band @Brunswick programme.
As readers of this column will be aware, there are many excellent big bands in and around Brighton drawing on the large pool of talented jazz musicians from the area. Several of these have residencies at various venues in the county. But there has not been a 'go to' place to visit; to see these amazing ensembles performing on a regular basis…. until now!
Straight No Chaser Big Band leader Alex Bondonno has established a new regular slot for big bands to perform at the local Brighton music venue, The Brunswick. OK, I know it is in Hove, actually, but it is still a key feature of the 'Brighton' jazz scene.
This new performance slot will feature a different big band every month with the aim of developing a regular audience at the venue. "The standard of musicianship with these bands is amazing," says Alex, "but their performances often don't get the following the musicians deserve! The aim of the new Big Band @Brunswick sessions is for the local big band leaders to work together to build a large local following for this music."
The Brunswick Pub is the ideal venue for this new venture. It has enough space to fit the musicians (just!) but is intimate enough for the audience to be a real part of the music. And of course has already built up a great jazz following of its own.
The schedule for the first half of the year has already been drawn up. More details next month.
This month we feature two community bands. These do not conform to the conventional big band line-up of five or so saxes and eight or so brass in the horn sections. But they are included because of their size (at least seven horns) and they play the styles of music performed by regular big bands.
The Seaford Rock & Jazz Orchestra
This band was created in 2010, morphing from two youth orchestras, Seaford Young Musicians and Seaford Head School Band. The majority of members are young, but the band can draw on a pool of 40 local musicians with ages ranging from 11 to 65. (The range can be greater on occasions; this septuagenarian has depped with them on a gig.) The band welcomes new members, any instrument, any ability, any age.
The line up contains vocalists, strings, woodwind, reeds, brass, guitars and a rhythm section. The repertoire is a mixture of rock, jazz, pop and boogie standards, both familiar and unfamiliar. All played and sung big band style with panache and enthusiasm with plenty of scope for soloing. The overall aim is to have fun making music, and to transmit this enjoyment and enthusiasm to their audience.
This band does not have a schedule of regular rehearsals. But in the run up to a gig they get together on a Sunday afternoon to prepare for the performance. The majority of gigs are in and around Seaford, and are a significant feature of the cultural life of the town. Playing at various events such as Armed Forces Day, Seaford Fun Day, Seaford Live Events and Summer Balls. In addition, they support charitable events. Their recent Cabaret Evening was in aid of the Rotary Clubs of Seaford and raised money for a children's cancer charity. The band has also played further afield, in France, Italy and Spain.
They can be booked for functions. If you would like to book the band, or to join it, or to find out more, contact Pat on 01323 897360, or visit the website www.seafordrockandjazz.co.uk
Saxshop
This band is featured in the Jazz Education section of the magazine, where you can find details of the rehearsal and performance schedule.
It was created in 2003 by the late, great, Simon D'souza and provides the nucleus for the 100 saxophones (SJM 40) events in the Brighton Festival. It is a mixture of community band and workshop, directed by Beccy Perez Rork and Mark Bassey. Some members join as novices to improve their playing and then move on, others stay with the band as an opportunity for public performance. About half a dozen have been with the band since its formation.
As you may guess from the name, the line-up is predominantly saxophonic. As few as fifteen in the past, but currently more than thirty, ranging from soprano to bass. For gigs the line-up usually includes at least one brass instrument and a rhythm section.
The repertoire is a mixture of standards and original compositions typically scored in five or six parts arranged by Beccy and Mark. There is a wide variety of styles but it tends to be on the jazzy side with funk, ska and pop sneaking in. Recent numbers have included The Chicken, Makin' Whoopee and The James Bond Theme.
Gigs are normally in December (see below) and April, usually at The Brunswick. Also, in July there is a gig, which may, weather permitting, be at The Pavilion Gardens in central Brighton. In addition the band has played at community events in and around the city, such as The Olympic Torch Relay, Burning of the Clocks and Lark in the Park.
For more information, visit the Website: www.saxshop.org.
To book the band, or to enquire about joining, contact http://www.saxshop.org/contact.html.
Or you can visit their Facebook page www.facebook.com/saxshopbrighton.
Next month: More band profiles and news. If you would like your band featured, and I have not already contacted you, please get in touch. Or if there is anything else, such as gig news, or feedback on this column, that you would like me to include in January's Big Band Scene, please send it to me by Wednesday December 23rd. My email address is g8aac@yahoo.co.uk. May I wish you all, dear readers, seasonal greetings and a swinging new year.
Patrick Billingham
Big Band Gigs for December 2015 – Early January 2016
(† means a regular monthly gig.)
Wednesday December 2nd.
†8:30 pm, The Fred Woods Big Band at the Horsham Sports Club, Cricketfield Road, Horsham RH12 1TE (01403 254628). £2 (Club members free.)
Sunday December 6th.
†12:45 – 3:00 pm, Sounds of Swing Big Band at The Horseshoe Inn Hotel, Posey Green, Windmill Hill, Herstmonceux, East Sussex BN27 4RU (02035 645225) Free entry.
2:00 – 4:00 pm, Saxshop at The Brunswick, 3, Holland Road, Hove BN3 1JF (01273 733984) Free entry with collection.
2 pm, The Brighton Dome Tea Dance with The Footloose Dance Orchestra at The Corn Exchange, Church Street, Brighton BN1 1UD (01273 709709) £14 (including tea and a slice of cake)/£96 for a party of eight.
Tuesday December 8th.
†8:00 – 10:30 pm, The Ronnie Smith Big Band at The Humming Bird Restaurant, Main Terminal Building, Shoreham Airport, West Sussex, BN43 5FF (01273 452300) Free entry with collection.
Friday December 11th.
†8:30 – 11:00 pm, The Les Paul Big Band (Family & Friends evening) in Patcham, BN1, £5. For further details contact Les (01273 558009) les@lespaulbigband.co.uk (Bring your own refreshments.)
Saturday December 12th.
5:30 – 8:30 pm, Michael Law's Piccadilly Dance Orchestra at the 80th Anniversary Tea Dance for the De La Warr Pavilion, Marina, Bexhill, TN40 1DP, (01424 229111) £27.50 including tea and cake.
Wednesday December 16th.
7:30 – 11:30 pm, The Johnny Spice Swing Orchestra Christmas Ball at The Wintergardens, Marine Parade, Eastbourne, East Sussex, BN21 4BP, (01323 412000) £26.50 including hot buffet/£16 dancing only.
Sunday December 20th.
7:00 – 9:00 pm, The Sussex Jazz Orchestra Christmas Special, with guests, at The Round Georges, 14-15 Sutherland Road, Brighton BN2 0EQ, (01273 691833). Free entry with collection.
Monday December 21st.
6:30 pm, Saxshop with The Euphoria Steel Pan Group participating in Burning The Clocks, starting at New Road, Brighton BN1, in procession to Madeira Drive. Free.
Sunday December 27th.
†12:30 – 3:00 pm, The South Coast Big Band at The Junction Tavern, 99 Station Road, Polegate, East Sussex BN24 6EB (01323 482010) Free entry.
Sunday January 3rd 2016
†12:45 – 3:00 pm, Sounds of Swing Big Band at The Horseshoe Inn Hotel, Posey Green, Windmill Hill, Herstmonceux, East Sussex BN27 4RU (02035 645225) Free entry.
7:30 – 10:00 pm, Straight No Chaser at The Brunswick, 3, Holland Road, Hove BN3 1JF (01273 733984) Free entry with collection.
Wednesday January 6th.
†8:30 pm, The Fred Woods Big Band at the Horsham Sports Club, Cricketfield Road, Horsham RH12 1TE (01403 254628). £2 (Club members free.)