Big Band Scene (Sept. 2015)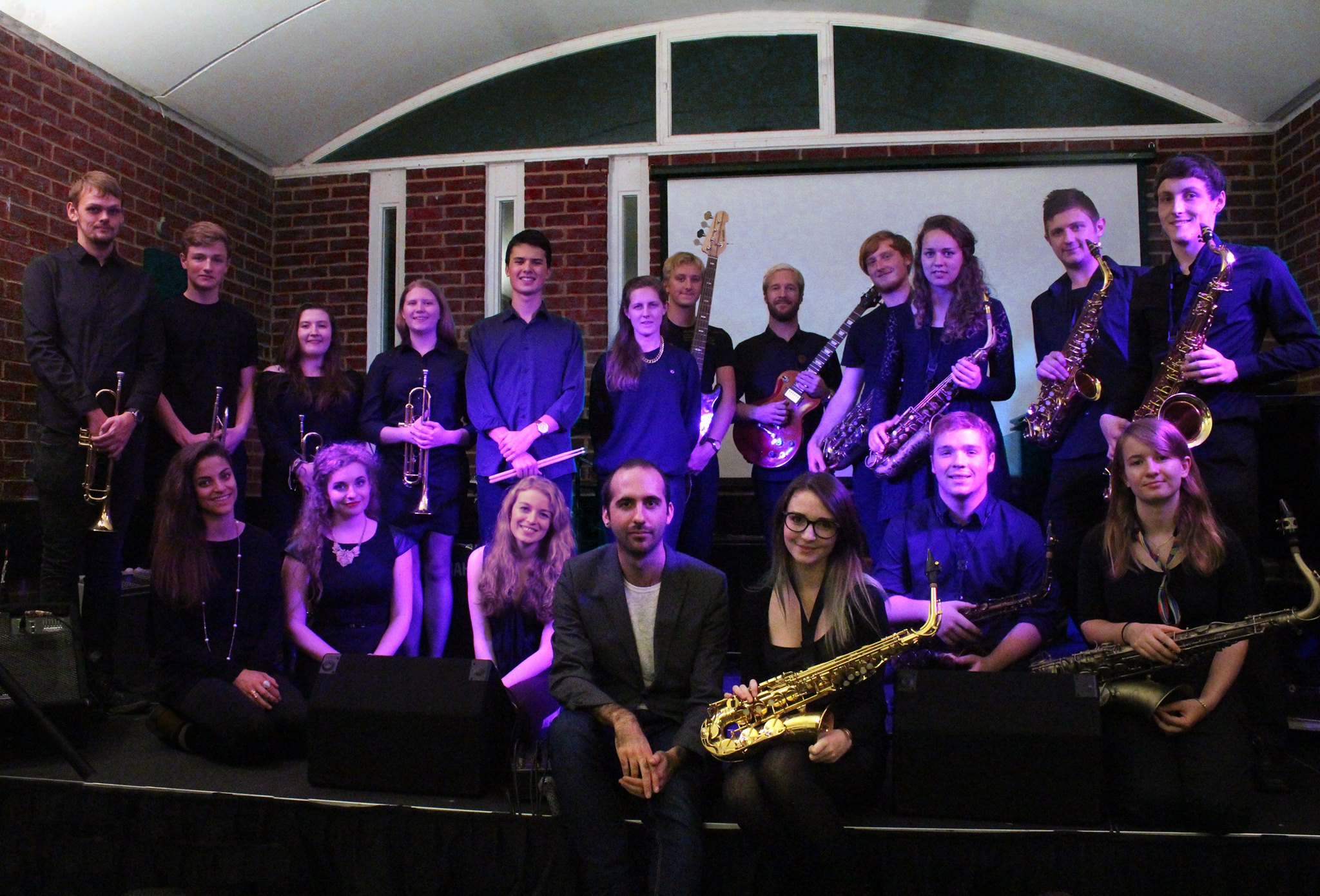 Saxophonist Patrick Billingham continues his monthly
column with a look at The Maestro Academy Players and The Sussex Universities Big Band.
Recent news reports have suggested that nightclubs are facing extinction in this country. Fewer than half have survived from 2005. Clubbing has ceased altogether in some towns. There is much speculation on the cause.
Suggestions vary from loss of licence due to complaints from the neighbours to the owners of the premises finding it more profitable to convert the building into luxury apartments for rent. Also less of an appetite from the young for all night clubbing. High student debt coupled with long, often unsociable, hours in multiple low paid employment has made it unaffordable and unattractive. I suspect another reason.
When I was young, more than half a century ago, the equivalent evening/night out was a dance. It was a good idea to master the basics of ballroom dancing. Where the attraction was close proximity to a member of the opposite gender. For those who have never encountered it, ballroom dancing has been described as "a public demonstration in the vertical, of intentions for later in private in the horizontal".
The normal procedure was to have a sequence of two or three dances of one type, with a short break between tunes while the band sorted their music. Then a break of a few minutes before the next sequence. This was a feature of dancing both to live music or records. And even when rock and roll emerged, and jive became respectable, there were breaks. It may have been loud, but it wasn't continuous. There was time to socialise.
A couple of months ago, we went to see a new band. We got there early to bag some of the limited seating. We didn't realise that, before the live music, there was to be an hour and a half of a DJ. Maximum volume with no breaks. So no hope of meaningful conversation. And making ordering and paying for drinks at the bar a very convoluted error prone procedure. The worst thing about it was looking at my watch and seeing that not ten minutes, not even five minutes, but only two minutes had passed since I last checked. That hour and a half was my most mind numbingly boring experience for years.
At long last the live music started. It was still quite loud. But there were gaps between numbers. Conversation was possible and drinks could be ordered and paid for without serious risk of misunderstanding.
And this is why I think clubbing, here in the United Kingdom, is in decline. Patrons have sickened of continuous ear aching, wall to wall noise, and have rediscovered the joys of dancing to live music. To bands big and small.
This month we feature two more big bands. Both formed in this millennium. Both subject to the perennial shortage of trombones.
The Maestro Academy Players
This Newhaven based band was set up by saxophone and clarinet teacher Paul 'Boz' Boswell about seven years ago. Initially it contained just saxes and clarinets. Later they found a trumpet player, then a trombonist, and it grew from there to include an excellent vocalist. The age range of the personnel is from the early teens to the late seventies.
Their repertoire, growing by the month, includes the standard Miller, Goodman and Basie big band favourites. There are also more modern charts such as Village People's Y.M.C.A. As far as they know they are the only band in the country to play the tune Twelve Cylinders, written by Bill Elliott in L.A. Paul heard it on the radio, contacted Bill and was sent the parts for a modest fee.
The band has performed at venues in and around Newhaven, including the Newhaven – Dieppe ferry. They have also played at events in France from Dieppe to Orleans.
For further information, or to book the band, contact Paul, on 01273 517999 or by e-mail, paul@maestronewhaven.co.uk
Or visit their Facebook page at https://www.facebook.com/pages/Maestro-Academy-Players/319021478233425
The Sussex Universities Big Band (SUBB)
Although the band is based at the University of Sussex, membership is open to students of the other universities in the area: Brighton University and B.I.M.M. Unlike other bands which have a large nucleus of long term members, this band, formed in 2004, has a high turnover. Auditions are held at the start of each academic year to find replacements for those who graduated in the previous year and have left. This may be as much as half the band. Most new students come from a background of school and county bands, so the sight reading standard is high. This means that after relatively few weekly rehearsals starting in September, the band is ready to play gigs from November onwards.
When the band was formed, it was intended to be a conventional big band with vocalists, playing big band standards. Since then, the repertoire has expanded to reflect the tastes of the succession of musical directors. As well as a selection of Miller, Basie and Ellington charts, there are Mingus originals and the challenging Gordon Goodwin library. In addition there are arrangements of contemporary pop charts, and students' own compositions written as part of their degree assessments.
The actual line up of the band depends on the availability of the instrumentalists. In a good year, there can be up to ten saxes including two baritones, five trumpets, four trombones and the four piece rhythm section with up to four singers. In lean years, former students can be called upon to make up the numbers for gigs.
Not only does the band try to wring out as much of the band's potential as possible, but, in their words "it's also just as much about having fun inside and outside of the rehearsal room." The band has regular social, non-playing events to build up a bond. With this aim in mind, a few years ago, the band had its first summer tour, a week playing gigs in Newquay. Since then there have been visits to Spain and Italy. And for the last two years the band has taken part in the Montreux Jazz festival.
To subsidise these tours, the band undertakes paid gigs both at public venues and at private functions. To book them, or for more information, visit their website, www.sussexunibigband.co.uk,
their Facebook page https://www.facebook.com/sussexunibigband,
or on Twitter https://twitter.com/SussexBigBand
Next month: Just the one profile. Terry Pack's unfeasibly (his words) big band Trees. If you would like your band featured, and I have not already contacted you, please get in touch. Or if there is anything else, such as gig news, or feedback on this column, that you would like me to include in October's Big Band Scene, please send it to me by Wednesday September 23rd. My email address is g8aac@yahoo.co.uk.
Big Band Gigs for September – Early October
(† means a regular monthly gig.)
Thursday September 3rd.
8:00 – 9:30 pm, The Johnny Spice Swing Orchestra on Eastbourne Bandstand, Grand Parade, Eastbourne, East Sussex BN21 3AD. Advance bookings (01323 410611) £5/£2.50, or on the night £7/£3.50.
Saturday September 5th.
7:30 pm, The Frank Sinatra Orchestra 'Sinatra – The Centennial Concert' at White Rock Theatre, White Rock, Hastings, East Sussex TN34 1JX. Advance bookings (01424 462288) £21 – £23.50 (+ £1 booking fee).
Sunday September 6th.
†12:45 – 3:00 pm, Sounds of Swing Big Band at The Horseshoe Inn Hotel, Posey Green, Windmill Hill, Herstmonceux, East Sussex BN27 4RU (02035 645225) Free entry.
Tuesday September 8th.
†8:00 – 10:30 pm, The Ronnie Smith Big Band at The Humming Bird Restaurant, Main Terminal Building, Shoreham Airport, West Sussex, BN43 5FF (01273 452300) Free entry with collection.
Thursday September 10th.
8:00 – 9:30 pm, The Swingshift Big Band on Eastbourne Bandstand, Grand Parade, Eastbourne, East Sussex BN21 3AD. Advance bookings (01323 410611) £5/£2.50, or on the night £7/£3.50.
Saturday September 12th.
3:00 – 5:30 pm, The Maestro Players at the Raystede Animal Sanctuary Tea Dance, Ringmer Village Hall, Lewes Road, Ringmer, East Sussex, BN8 5QH (07807 171175, 07938 563654) £8/£4.50 or £20 for a family of two adults & two children.
Sunday September 13th.
†12:30 – 3:00 pm, The South Coast Big Band at The Ravenswood, Horsted Lane, Sharpethorne, West Sussex, RH19 4HY (01342 810216) Free entry. Cancelled.
2:00 – 4:00 pm, The Sussex Jazz Orchestra at the Pavilion Gardens, New Road Brighton, BN1 1 UG (01273 730712), weather permitting. Free entry.
Friday September 25th.
†8:30 – 11:00 pm, The Les Paul Big Band (Family & Friends evening) in Patcham, BN1, £5. For further details contact Les (01273 558009) les@lespaulbigband.co.uk (Bring your own refreshments.)
Sunday September 27th.
†12:30 – 3:00 pm, The South Coast Big Band at The Junction Tavern, 99 Station Road, Polegate, East Sussex BN24 6EB (01323 482010) Free entry.
12:00 – 3:00 pm, The Sussex Jazz Orchestra at the St. Nicholas of Myra Church Musical Festival. Church St., off Dyke Road, Brighton BN1 3LJ (07746 198026) Free entry.