Big Band Scene (May 2015)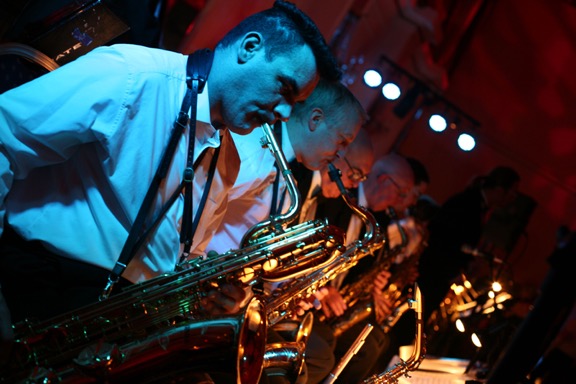 Saxophonist Patrick Billingham continues his monthly
column with a look at The Studio 9 Orchestra
and Straight No Chaser.
This month we feature two exciting regular Brighton based big bands, plus an overwhelming ad hoc ultra big band which, it is hoped, will become a regular feature of the May jazz scene in Brighton. But before that …
First of all, I apologise for being insufficiently familiar with previous issues of SJM before I committed fingers to keyboard in my April column. Both bands that I featured had already been mentioned in SJM No. 6 (Big Band Special).
Secondly, I apologise for errors of time and place in the gig list. Which may, if uncorrected, upset some people. Procedures, as they say, have been introduced to try to prevent this happening again. Now to the bands.
The Studio 9 Orchestra (S9O)
Previously featured in SJM No. 6, and in a Q&A session in SJM No. 12, The Studio 9 Orchestra was formed in 2011 by Scott Sheridan and Philippe Guyard, and is based in Brighton. There were already several big bands in the area, some of them very good, but they felt there was a place for something other, a band that could reflect a wider spectrum of the jazz orchestra repertoire, and play advanced charts.
Philippe recalls "There were really only two other bands that had a similar outlook, the Sussex Jazz Orchestra, organised more around a collective model, and the Paul Busby Big Band, focused on Paul's compositions. The band was formed very quickly and has been relatively stable since, though Scott left to work with the London Philharmonia and was replaced by Jon Brown as MD."
The ethos of The Studio 9 Orchestra is to have continuity in the personnel, and to focus on a small number of charts, but to really get into them as much as possible. Several of their pieces are quite orchestral and don't conform to the conventional big band formats. This has served them well in developing an audience with some who wouldn't normally go for 'jazz gigs'.
Their repertoire includes pieces by Maria Schneider, Dave Holland, arrangements of Radiohead tunes, Hendrix and others, as well as more straight ahead charts – all great arrangements you are unlikely to hear elsewhere. In addition they have a growing repertoire composed and arranged by members of the band, or by local musicians (they are planning a gig to showcase these). Last year they had quite a few gigs, but this year they have stepped back from that somewhat to focus on preparing a completely new set – they look forward to presenting it to the world very soon. Most likely at at the Basement, Kensington St., Brighton on Sunday June 14th. Details in next month's gig section of this column.
You can contact the band at their website www.studio9orchestra.com
Straight No Chaser (SNC)
Previously featured in SJM No. 6, Straight No Chaser is an ambitious and exciting jazz ensemble based near Brighton. Formed from the cream of the Sussex jazz community, its members share a love for jazz and improvised music.
SNC is known for its rhythmically tight playing, unafraid to perform a technically challenging repertoire. Although a "big band" line up, the band is keen to emphasise improvised musicianship and backs this up with its enviable concentration of highly capable jazz soloists. "We collectively agree to be a jazz band rather than a swing band," considers saxophonist Alex Bondonno, the band's leader, "we have a common interest in playing a style we enjoy listening to, which perhaps often means more modern or contemporary big band charts."
This interest in contemporary music is emphasised by recent performances of original music by local composers and band members. SNC's recent album Navigation is a collection of innovative compositions by musician, composer and educator the late, great, Simon D'souza, which create a musical world that draws on influences from jazz through time and around the globe. The band is currently promoting this new album with its series of performances in London and the South Coast, including an appearance at the Love Supreme Festival.
SNC also enjoy tributes to the greats and has attracted great interest with a recent programme of themed concerts, including a re-creation of the seminal album Atomic Mr Basie, tributes to Buddy Rich, and Brighton Composers' Night. The next in a string of collaborative projects with great performers from the national jazz scene, is with trombonist Mark Bassey in "Bassey Meets Basie" as part of the Brighton Jazz Festival. The band is always keen to help local talent and holds regular Sunday evening 'Vocal Nights' featuring up-and-coming jazz vocalists at SNC's residency at The Hassocks Hotel. Details of all the band's upcoming gigs are available on their website at www.bigbandjazz.co.uk or via their Facebook page.
The Return of 100 Saxophones
In addition to its generously populated reed section, this very big band has brass and rhythm sections. Its roots and traditions can be traced back to the early part of the century.
"100 Saxophones" was created by the late, great, Simon D'souza (obituary SJM 20), as an exciting part of the Carnival Encounter weekend in the Brighton Festival in 2004. His plan was to create the largest ever saxophone ensemble in order to get an entry in the Guinness Book of Records. Unfortunately, this was usurped by a group in the Bristol area with over 120 assembled a few days before, and on the day, the Brighton band contained fewer than 90. But, in a form of poetic justice, later in the month, over 900 assembled in Canada, to earn a mention. As far as I know, the current record is 1432 saxophones, set in Taiwan in 2011.
Last year in May, the 10th anniversary of this event was celebrated with "100 Saxophones Rides Again" (SJMs 18, 19 & 20), playing a variety of pop, ska and jazz tunes arranged by Simon, Beccy Rork and Mark Bassey, who collectively run the community saxophone workshop "Saxshop" (SJM17). Sadly, Simon died less than a week before the event after his long and courageous journey through his illness.
That event raised over £3250 for the Brain Tumour Charity who are currently funding pioneering research and clinical trials. The band has been re-formed this year under its new name to raise even more money for this charity. Generous sponsorship by www.sax.co.uk ensures that donations are not swallowed by expenses. They will be playing a selection of tunes arranged by Simon, Beccy and Mark, some new and some revisited. To find out where and when, look in the gigs section below.
If you want to take part, consult last month's column (SJM 39) or visit www.saxshop.org.
Next month: The Les Paul Big Band (SJM 6) and The South Coast Big Band.
If you would like your band featured, and I have not already contacted you, please get in touch. Or if there is anything else, such as gig news, that you would like me to include in June's Big Band Scene, please send it to me by Sunday May 24th.
Big Band Gigs for May – Early June
(† means a regular monthly gig.)
Saturday May 2nd.
7:00 pm to late, Sounds of Swing Big Band (Buffet Party & 1940s Dance) at Lewes Town Hall, High Street, Lewes, East Sussex BN7 2QS (01273 471469) £28 including buffet, tickets from Hugh Rae, 75 High Street, Lewes (07552 121233)
Sunday May 3rd.
†12:45 – 15:00 pm, Sounds of Swing Big Band at The Horseshoe Inn Hotel, Posey Green, Windmill Hill, Herstmonceux, East Sussex BN27 4RU (02035 645225) Free entry.
Sunday May 10th.
†12:30 – 3:00 pm, The South Coast Big Band at The Ravenswood, Horsted Lane, Sharpethorne, West Sussex, RH19 4HY (01342 810216) Free entry.
Tuesday May 12th.
†8:00 – 10:30 pm, The Ronnie Smith Big Band at The Humming Bird Restaurant, Main Terminal Building, Shoreham Airport, West Sussex, BN43 5FF (01273 452300) Free entry with collection.
Sunday May 17th.
7:00 – 9:00 pm, The Sussex Jazz Orchestra at The Round Georges, 14-15 Sutherland Road, Brighton BN2 0EQ, (01273 691833) Free entry.
Friday May 22nd.
8.00pm: Straight No Chaser (Bassey Meets Basie) at the Brighton Unitarian Church, New Road, Brighton BN1 1UF (£10.50/£8.50 via Fringe Festival box office, £12 on the door)
Sunday May 24th.
†12:30 – 3:00 pm, The South Coast Big Band at The Junction Tavern, 99 Station Road, Polegate, East Sussex BN24 6EB (01323 482010) Free entry.
12:00 – 3:00 pm, The Sussex Jazz Orchestra at St. Nicholas of Myra Church St. off Dyke Road, Brighton BN1 3LJ (07746 198026) Free entry.
Friday May 29th.
†8:30 – 11:00 pm, The Les Paul Big Band (Family & Friends evening) in Patcham, BN1, £5. For further details contact Les (01273 558009) les@lespaulbigband.co.uk (Bring your own refreshments.)
Saturday May 30th.
8:00 – 11:00 pm, The Brighton Big Band with Dave (Sinatra) Williams at Saltdean Community Centre, Saltdean Park Road, Saltdean, Brighton BN2 8SP (01273 888308) £6. Bar opens at 7.30pm. Free parking.
Sunday May 31st.
2:00 – 2.30 pm and 3:00 – 3.30 pm, Return of 100 Saxophones in New Road, Brighton BN1 1UF, outside the Unitarian Church. Free with a collection for the Brain Tumour charity.
Thursday June 4th.
The Phoenix Big Band at The East Preston Festival.
Sunday June 7th.
†12:45 – 15:00 pm, Sounds of Swing Big Band at The Horseshoe Inn Hotel, Posey Green, Windmill Hill, Herstmonceux, East Sussex BN27 4RU (02035 645225) Free entry.