Column: Pat Pascal – London Jazz Nights
Buster Mantis was alive yesterday celebrating 1 year of Champion Sounds – a weekly improvised groove-jazz session that happens every Wednesday. The energy felt in the packed room was massive and the brilliant line-up gifted us with a set of unforgettable real-time music-creation completely off the charts. The names are well known in the scene as some of the 'heaviest young musicians' around. Hugo Piper and Rupert Cox were stellar in their solos and showed great dynamic stability, knowing when to express in full and when to support the group during experimentations. The powerful and unique set-up of 2 drummers with Jack Robson and Zoe Pascal, lead the band into some highlights especially spiking the audience into a deeper level of interaction and shared creativity. But they all took turns in the driving seat. Memorable solos and unpredictable moments from Dylan Jones on trumpet, Quinn Oulton on sax and heavy rock/jazz guitar licks from Daniel Kemshell.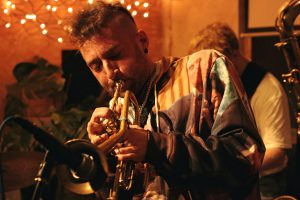 The fact that jazz improvisation is indeed the 'spinal cord' of this virtuosic group, explains how easily they can travel from one style to the other without hesitation, making the music more interesting, vibrant and raw. If you happen to be around Deptford on a Wednesday night make sure you catch the sessions. The entrance is free and will end your day on a high note. Sessions like this make the fabric of London's underground jazz scene.
Unprompted appearances from heavyweight musicians seem to be happening with more frequency outside the usual big club mainstream jam circuit. Just this week, Thundercat, well known American bass player, surprised everybody by attending Renato Paris's jam night, Straight Pocket in Brixton. Kamasi Washington was seen in 2018 playing at Buster Mantis during a Steam Down night. It seems to me they are looking to soak up some of the freshness this new generation is bringing to the game.
Get your pen out and make a note of some of the best music nights and jams, in London at the moment:
Mondays 
Renato Paris´s Straight Pocket at Pure Vinyl Records
Jam
Free
246 Ferndale Rd, Brixton, London SW9 8FR
Instagram: @straightpocketldn
Tuesdays
Kansas Smitty´s (Live music every day)
Jazz
Ticketed concert night presenting different bands
63-65 Broadway Market, London E8 4PH
@kansassmittys
Wednesdays
Champion Sounds
Improvised groove-Jazz nights with different line-ups every week
Free
Buster Mantis
3-4 Resolution Way, Deptford,
London SE8 4NT
Instagram: @champion.sounds
Thursdays 
The Banger Factory House band residency led by Mark Kavuma
Jazz
Free
The Prince of Wales
467-469 Brixton Road, London SW8
Facebook: @TheBangerFactory
Fridays and Sat
Jazz Lates
Concert night presenting different bands every week
Free with registration
Ninety-One Living Room
91 Brick Lane, London E1 6QL
Facebook: @91livingroom
Saturdays
Groove Science
Concert night with different line-ups every week
Free
The Standard
10 Argyle Street, London WC1H 8EG
Instagram: @groove.science
Sundays
Milestones
Concert night with different bands every week
A Sunday Jazzsession
Upstairs at Ritz
Free
Brixton Oval
Coldharbour Lane, Brixton
Instagram: @thecitizenbay
Other nights to look out for:
Overnight Oats presented by guitarist Tara Cunningham
Improvised jazz groove sets
Folklore
186 Hackney Road,  London E2 7QL
Ticket: £5
Instagram: @abigfatrat
GW Jazz concerts presented by
Gordon Wedderburn, known to introduce some hot new talent.
Free
Facebook: @gwjazz
Brave Poets present
"host astounding musical talent jamming live with freestyling lyrical poets, rappers, singers & vocalists. Cross-border and cross-genre contemporary ground-breaking talent."
Free
Instagram: @bravepoets
Jazz Jams for under 18s
Tomorrow´s Warriors Jazz Jam
at Richmix
Once a month
Free
35 – 47 Bethnal Green Road
London E1 6LA
Facebook:
@tomorrowswarriorsmusic
National Youth Jazz Orchestra Jazz Jam
at Foyles Bookshop (Charing Cross)
Once a month
Free
107 Charing Cross Road,  London WC2H 0DT
Facebook: @NYJOuk
Column by Patricia Pascal
Photo of Dylan Jones by Patricia Pascal