Jack Stephenson-Oliver Interview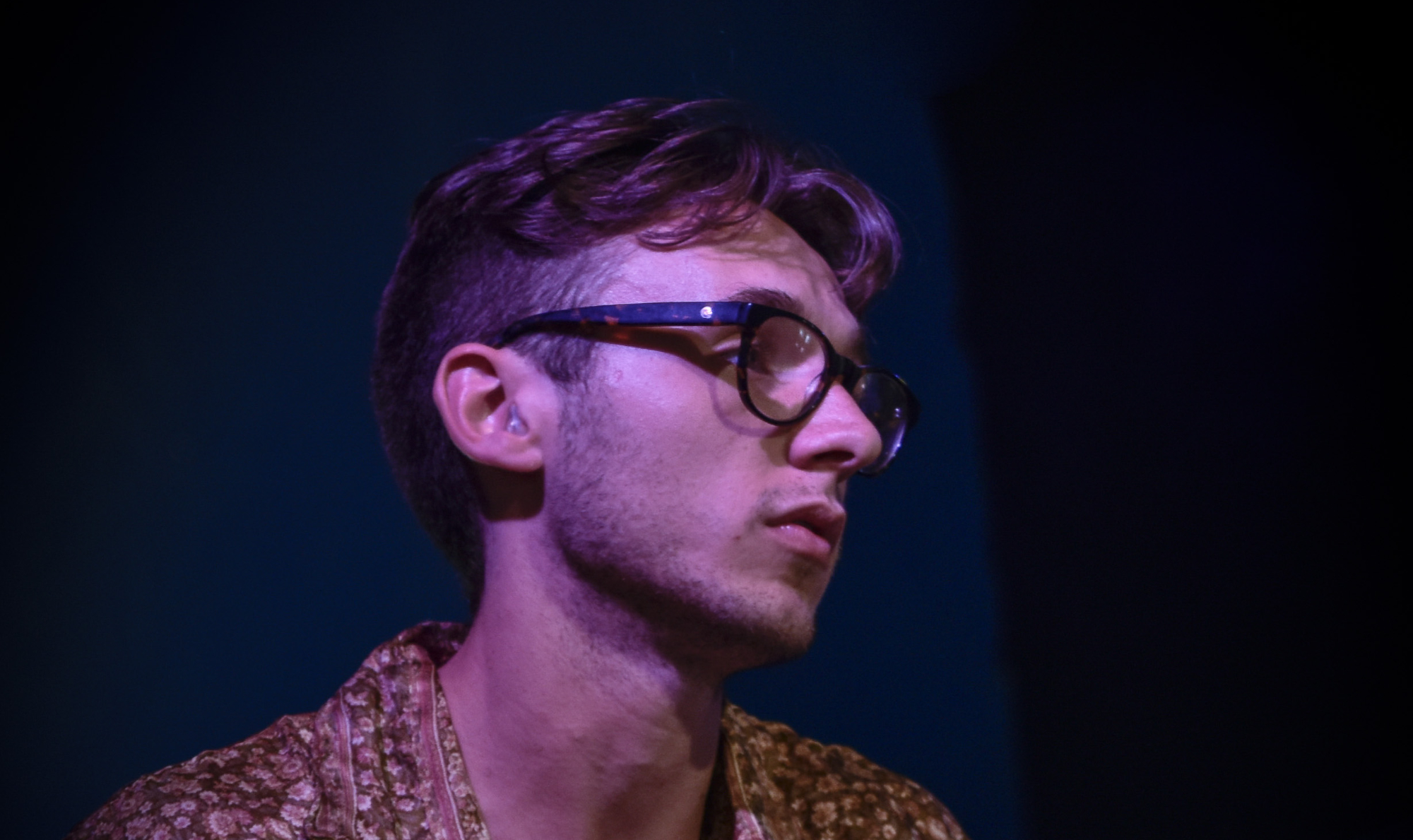 SJM editor Charlie Anderson spoke to pianist Jack Stephenson-Oliver ahead of his appearance at this year's Jazz Re:Fest with Vels Trio.
How did you first get into playing piano?
Five years ago, when I was living in Brighton, I was playing guitar at the time and started playing a bit of gypsy jazz. I'd always liked jazz and prog music and stuff like that. I started to get more and more into it the older I got. After seeing Robert Glasper at Love Supreme, I think that was five years ago. After seeing him, I remember seeing a video of Corey Henry when he was 20. It's called Corey Henry Blazin' on YouTube, he's in church and he just tears it up. It's the most amazing thing I'd ever seen. After the culmination of seeing that video and seeing Robert Glasper live, just the whole style of music that they were playing, the keys touched me a lot more than any guitar music I'd ever heard.
So I gave the guitar up and just started practicing keys. Eight hours a day for about a year or so. During that time I was working in a bar in the evening so I'd shed about 8 hours a day, go to work in the evening and wake up the next day…I did that non-stop for about a year. After that, just by the skin of my teeth I got into the second year of the jazz course at Middlesex University. Ever since then I've been practicing a shit-load, basically. I'm very aware that I need to catch up with all the people that have been doing it since day dot or when they were kids.
What did you get out of studying at Middlesex?
Having great teachers and just the facility to practice all the time. To meet people and play with people. I guess that's the thing: you learn by doing it. You can't sit in your room and practice all the time, you have to do both of those things. Just being surrounded by that environment made it really easy to soak stuff up. At the piano I was basically a bit of a sponge, trying to take in whatever I could. That environment was very good for learning. And the teachers are pretty spot on.
How did Vels Trio come about? Did you know the other guys already?
We met in Brighton. I met Dougal [Taylor] a few years before but we all came together in Brighton. The first gig the band did I was actually still playing guitar, so half of the songs were on guitar, half were on keys. It was a totally different set to what we do now. It actually came about because at the time when I was a guitarist I wanted to start up a prog band basically, whilst singing and playing guitar, having Dougal on drums. We initially had a different bass player who couldn't make that first gig so we got Cam [Dawson] on it as a dep, after that gig we had such a good time we thought 'maybe we should make this more of a thing'. Then I naturally gravitated towards playing keys. To be honest, I've actually been playing with Vels Trio since day one of me playing piano, so it's always been part of my musical journey, which is really nice.
How would you describe the music that you play with Vels Trio?
That's such a tough one…I would say it lies somewhere in between prog, jazz and electronic music. Where exactly, I don't know. The three of us have got so many different influences, we just get together and write songs. It's such a three-way process, it makes it quite hard to pin down, because it's not like it's any one of us who is really into one genre or whatever. We're all there to temper each other back a bit. Jazz is definitely part of it but it's just as much a part of it as electronic music or dance music or rock or prog. It's definitely a mix of lots of different things. It's a hard one to define and put into a genre box but I guess like a lot of new music that's coming out at the moment it's a blend of so many different things.
Tell us about the different keyboard instruments that you play.
In terms of my live set-up I've just got my main keys, which is a Nord and then I've got my Moog. I got rid of the old Moog and I've now got a more up-to-date one, a Moog Sub Phatty and a Juno 60 sound module that recreates classic sounds. So I tend to keep it kind of simple, live. Three keyboards is enough for me!
In the studio when we're recording, we definitely get on the production side a bit more. It's still got a live, raw vibe in there but it's also got stuff in there that's kind of like Flying Lotus or Thundercat. There's that production element to it as well, which ties in with all the other music we like. I've been really into a genre lately called Vapour Wave, it's almost like a new genre formed out of YouTube. People taking old Eighties pop tunes and slowing them right down and putting phat beats on them. It's really sick. I think our new song has definitely got a touch of that in it. It's all very electronic, produced stuff.
When you come up with pieces is the whole band contributing or is it mostly you?
When the band started it was initially me writing most of the songs, but as we've progressed we've definitely become more of a songwriting unit and usually me or Cam will come in with an idea, and just work on it for a long time, work it out at gigs, trying certain things out. Most songs have about 10 different arrangements by the time we come to record them. It's usually a process of one of us bringing something in and then we'll just work on it for ages until we're all really happy with it.
The other day I was listening to a recording of a gig we did, about 3 years ago. I think it was one of the first gigs we did in London, at Church of Sound. Some of the arrangements of some of our tunes are absolutely mental. I was listening to them and thinking 'what the hell is going on?' So we're always refining the songs themselves. Once they're recorded they're set in stone. But up until the point of recording it, we're always, all three of us, tampering with it and changing it here and there. So it's a pretty even split, I think.
Gilles Peterson has been playing you quite a bit and you've got some good coverage. Where are you planning on taking it?
Just as far as we can, really. We've got a new record, we're just getting it mixed and mastered, and going to be releasing that in the next few months, our new single is The Wad. Then after that I guess we're just going to gig a lot and start working on the actual album. We will have released two EPs at that point, so the plan over the next year is to get a proper, full-length album out and then gig as much as we can. That's what we love doing. I hope we can go to Japan, and to America and just have as much fun with it as possible.
Are you doing any festivals over the summer?
We're doing Jazz a Vienne and Montreux festivals, which are pretty big ones for us so we're pretty stoked about that. Then we're doing Dour Festival in Belgium, Ealing Jazz Festival and Boomtown. We're not doing a huge amount of festivals but that's just the way that it has worked out this year. Personally I'm a bit bummed out we're not on at Love Supreme, because for the three of us it feels like home turf. We've played there most years and we're there every year because it's our local thing but I guess there are so many other bands on the scene at the moment that we didn't get in there, amongst all the others, but next year…
So, who else are you playing with as a pianist?
I play with Poppy Ajudha. We've been playing together for about a year now. We're pretty good friends and we live together so it's a nice situation. And it's just cool to see how much she's growing and coming on. I've got pretty high hopes for her in the future.
I also play with Charlotte Dos Santos. She's absolutely wicked. I hear her music as a futuristic Minnie Riperton. I love playing with her. She's quite big in Norway so I get to go to Norway at least once a month and we were in Bulgaria last weekend. I get to do quite a lot of traveling with her so I really enjoy playing with her.
I do a lot of gigs as Musical Director for gigs at the Jazz Cafe. Apart from that I also do jazz gigs out and about. I still play at The Grand Hotel twice a month and at The Ned at Bank in London. I've got a few little residencies out and about.
As far as other artists go it's mainly Poppy Ajudha and Charlotte Dos Santos.
I like how I do three different things, the three main projects. It's nice to exercise that muscle of putting your brain in different musical mindsets, but at the same time, my favourite thing is just doing all the swing gigs. I get such a kick out of jazz trio gigs.
Is there anything that you do which isn't music related, like a hobby outside of music?
I probably sound like such a prick saying this but I'm big into my yoga. I try and do that every other day. Generally just spiritual stuff. I love cooking. It's tough because music definitely takes over. I like reading as well. I like good books. I'm definitely aware of where I need to branch out more as a human being, and not be so focused on music all the time, but because it's my job it's tough trying to find the time. And just being outside. I'm really into that.
Is there anything else you want to talk about?
I'm just pretty excited really about where music is headed right now. Jazz is definitely making a bit of a resurgence, obviously not in the same form of jazz as we all might think, it's a total new kind of jazz. It's exciting that the world's looking especially at South East London at the moment, or just London in general. The UK jazz scene is definitely much more of a thing and I think that maybe because of the internet or whatever, people are opening up a bit and hopefully developing palettes for the music they listen to. It's an exciting time. I just feel lucky to be a part of what's happening right now. I'm basically glad that I stopped playing prog and got more into jazz (even though Vels is still very much prog, so that's absolute bullshit)! That's pretty much it.
Vels Trio perform at Jazz Re:Fest at Brighton Dome Concert Hall on Sunday 22nd July and Jack Stephenson-Oliver performs with Pete Hill Quintet at Love Supreme Festival on Sunday 1st July (17:00 Bandstand).
(Photo of Jack Stephenson-Oliver by Lisa Wormsley, cropped from original)