Liam Byrne interview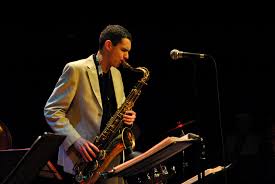 Which tenor saxophone players are you influenced by?
"My biggest influences are probably Lester Young and Ben Webster. Other favourites of mine include Al Cohn and Zoot Sims as well as the more bebop orientated tenor players such as Wardell Gray, early Sonny Rollins and Sonny Stitt."
Are there any saxophone players around at the moment that you like?
"Well, Scott Hamilton has been a big inspiration of mine for many years but out of the current crop of players I also particularly enjoy listening to NY tenorist Grant Stewart and an incredible alto player from Italy called Luigi Grasso. Of the British players I really like the playing of Alex Garnett and fellow Welsh tenorist Osian Roberts."
You perform a lot with trumpeter Jamie Brownfield (in BBQ and The Hot Six). What do you like most about performing with him?
"Jamie and I have been playing together almost 10 years now so we've developed a good understanding of each other's playing and we share a mutual affinity for straight ahead swinging jazz. He's a very natural player with a great ear for all styles of music and is also very easy going and happy to play whatever music I put in front of him."
You're based in North Wales. Tell us about the local jazz scene there.
"North Wales only has a very small jazz scene so I tend to play throughout the Northwest, Midlands and further afield. However, in North Wales we do have a local charitable organisation (for which I volunteer) called 'North Wales Jazz' which puts on weekly jazz concerts throughout the year. There is also an annual jazz festival held in Llandudno which hosts many of the leading British mainstream and modern jazz players."
For more information on Liam Byrne visit his website:
Liam Byrne performs at Smalls at The Verdict on Thursday 13th April with Jamie Brownfield, Jonathan Vinten's trio and Imogen Ryall.
The Llandudno Jazz Festival runs from 27th – 29th July, 2017.