Live Review: Brighton Alternative Jazz Festival at St. Luke's Church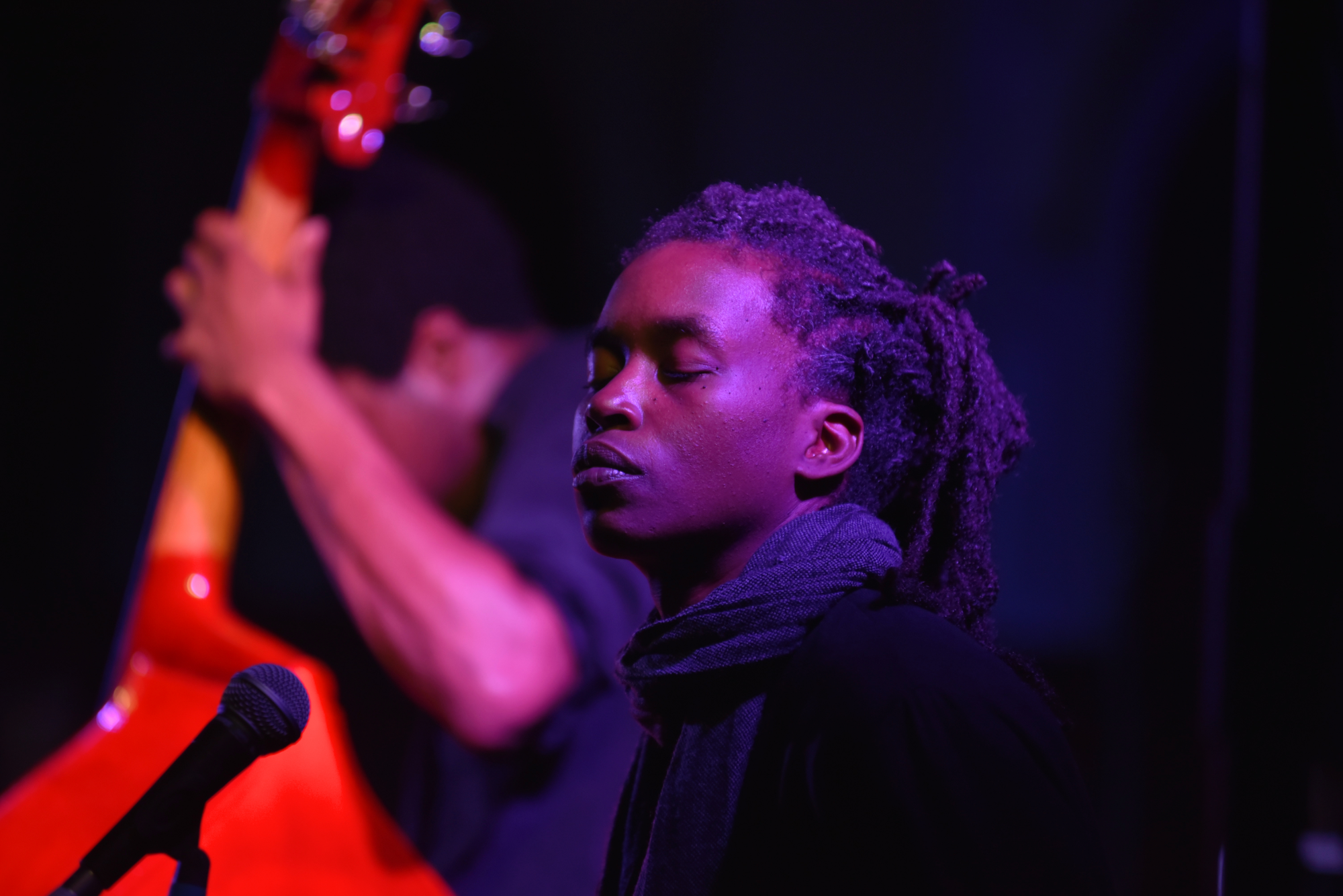 Brighton Alternative Jazz Festival:
Adam Fairhall, David Birchall/Andrew Cheetham/Julie Kjaer/Hannah Marshall, Laura Jurd's Dinosaur, Ivo Perelman & Matthew Shipp, Peter Brötzmann & Full Blast, Irreversible Entanglements
St. Luke's Church, Brighton
Saturday 13th October, 2018
Still illuminated from the previous week's performance of legendary composer Terry Riley, St Luke's Church had the enormous honour of hosting a whole day of music for yet another prestigious event of Brighton Alternative Jazz Festival. No less than six hours of music was performed by some of free and alternative jazz's biggest acts, including both strongly familiar and up and coming artists. It was received by an engaging and warming audience, who no doubt left the event feeling somewhat changed and anew.
A fairly new household name from the northern scene of Manchester was first to grace the stage. The playing of pianist Adam Fairhall was nothing short of electric as this virtuosic player gave his fresh interpretations of old tunes and medleys while throwing in a few originals here and there. One such example of this artist's finesse as an arranger was an open interpretation of an old ragtime classic Pork and Beans by pianist/composer Lucky Roberts, whose recording of the tune brought it to fame in 1946. Starting the piece off with its original ragtime feel, Fairhall quickly descended into new territory taking the tune on a journey through different feels, interpretations and styles. One moment saw graceful fleeting runs reminiscent of Chopin and Liszt, then to the free regions of Cecil Taylor where every melodic run is a new statement and journey in itself. All before taking us back in time through the styles of jazz's most significant pianists going from Evans, Monk, Waller, Tatum until we finally arrive back at the signature ragtime style of the tune's original composer.
Next up featured a lineup of stellar musicians who funnily enough have only performed once before as this group. As said by instrumentalist and organizer Daniel Spicer, "It's kind of become a tradition at this festival to get an act that haven't played together before". This certainly captured the moments of free jazz and true spontaneity at its best, as each member of this quartet brought ideas forward to be moulded into the flame of the moment. Hearing frantic plucked strings from cellist Hannah Marshall, melodic sweeps, whistles and growls coming from multi-reeds player: Julie Kjaer, electric blips and glitch tones conjured by guitarist David Birchall and skittering beats from the sticks and brushes of drummer Andrew Cheetham. The honest interplay and exploration between these players was made abundantly clear to the audience who sat waiting in anticipation for what musical thought might take flight next.
Third to contribute to this marvellous concert were London based Dinosaur, led by trumpeter Laura Jurd, whose debut album Together, As One saw the band nominated for 2017's Mercury Award for album of the year. However, this set saw Dinosaur performing tunes from their new album Wonder Trail released earlier this year. This exciting performance also included an all star lineup with one of London's leading pioneering composers Seb Rochford, of Polar Bear and Acoustic Ladyland, occupying the drum chair. Also accompanying this ensemble was another familiar face from the UK jazz scene, bassist Ruth Goller, who has participated in many notable projects (Melt Yourself Down and new world fusion trio Vula Veil to name a few). While taking their usual places in the band, pianist Elliot Galvin along with band leader and trumpeter Laura Jurd drove the ensemble through a set of newly established compositions. The tunes performed were a touch different from the band's debut, showing a new approach to composition. Their first album, Together, As One, had a sense of heavy attack with influences of both rock and free jazz, while the tunes that make up their sophomore, Wonder Trail, had a fresh sense of refinement and smooth exciting melodic passages, while still maintaining that sense of genuine freedom and interpretative playing. Overall an astounding performance by all.
Saxophonist Ivo Perelman and pianist Matthew Shipp took up the next daring performance. Both already big names in their own right, put together in their bare form of a duo, the entire set saw these musically colossal figures embraced in a flurry of chaotic communication, exchanging riffs and motifs and each musician showing the very spectrum of his emotion, ranging from dark to light. This was a journey of building tension with heavenly resolve and deep thought.
We also had the prestigious honour of being witness to the performance of free jazz pioneer and legend, saxophonist Peter Brötzmann. Responsible for such epic movements in music such as his 1971 release Machine Gun, a brave release of freedom and protest. One could even compare it to the majestic howls of Ornette Coleman's Free Jazz, a collective improvisation with firm salutes to Charlie Haden's Liberation Music Orchestra. But here we experienced Brötzmann in a more stripped down light, seeing the veteran musician slowly walk on stage and bring forth a wall of sound. Accompanied by his band mates, drummer Michael Wertmüller and electric bassist Marino Pliakas, under the unit name Full Blast, an aptly fitting title for the music that was played. Hearing soaring roars and dissonant runs from Brötzmann stretching his instrument and consciousness to their further most regions. Backing and exchanging with Brötzmann, Pliakas and Wertmüller more than held their own and even took the centre themselves with virtuosic chaos and perfect release. The rapid fast bass was executed nicely with a unique three finger picking style reminiscent of the late Niels-Henning Ørsted Pedersen, while Wertmüller's free and hard hitting grooves brought to mind glimpses of Elvin Jones; all this done while still remaining true to their own musical identities and voices.
Last to bless the centre stage of this amazing event was the new and wondrous free collective Irreversible Entanglements. These strong-minded musicians from Philadelphia, New York, and Washington DC brought to life a vast soundscape running across the spectrum of emotions to create a soundtrack to America, the world and its current political and ethnic injustice. This quintet, made up of the finest modern activist players, summed up the suffering and turmoil both past and present, with dissonant yells and wails from trumpeter Aquiles Navarro and saxophonist Keir Neuringer, whilst the rhythm section, comprising of drummer Tcheser Holmes and double bassist Luke Stewart, supported the forward moving unit with heavy-driven rhythms and frantic pulsating basslines. Over the top of this world of noise, the spoken word of poet and vocalist Camae Ayewa, also known by her pseudonym Moor Mother. Angry and harsh truths were spoken, felt and delivered to a captivated audience along with an undeniably genuine and strong sound that entranced the ears and minds of every audience member and attendant present. This truly was the perfect and only way to end such a beautiful day of free music and exploration.
George Richardson
(Photo: Camae Ayewa of Irreversible Entanglements by Anya Arnold)