Live Review: Carmen Souza at The Verdict
Carmen Souza
The Verdict, Brighton
Wednesday 13th November, 2019
Carmen Souza, a Portuguese vocalist of Cape Verdean heritage performed a spectacular tribute to Horace Silver (who shares a similar heritage) and performed a number of his tunes in the distinctive musical styles of Cape Verde, such as morna and funaná.
This wasn't, however, your typical Horace Silver tribute, as Souza uses unique and detailed high-pitch vocalisations, reminiscent of Bobby McFerrin's falsetto, combined with her warm low register which produces a vocal sound that you won't hear anywhere else.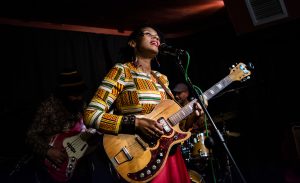 Silver's classic compositions were present including The Jody Grind, Song For My Father and Soul Searchin', while a highlight was the beautiful Kathy by Brazilian composer Moacir dos Santos, a tune covered by Horace Silver on his album In Pursuit of the 27th Man.
Horace Silver's Cape Verdean Blues provided the basis for vocalisations about grogue, the national alcoholic beverage of Cape Verde.
Souza's second set provided the audience with energetic and upbeat material that saw everyone dancing.
Charlie Anderson
Carmen Souza, vocals, guitar & percussion; Ben Burrell, piano; Theo Pascal, bass; Elias Kacomandis, drums.
Photo by Lisa Wormsley.