Live Review: Ezra Collective at Patterns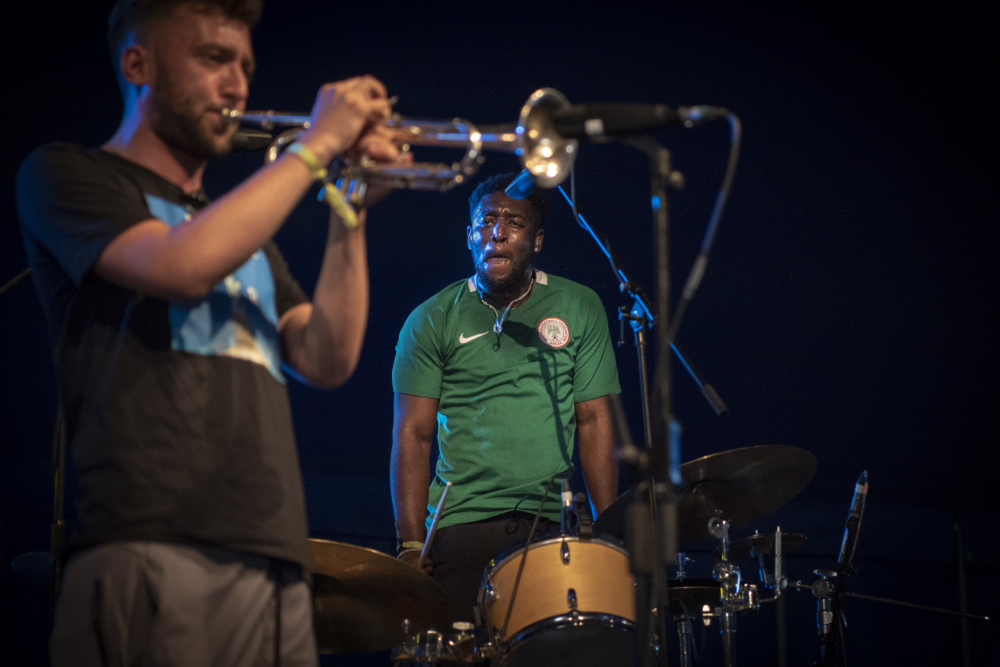 Ezra Collective
Patterns, Brighton
Wednesday 14th November, 2018
"This is about joy and happiness and celebrating everything that's good" proclaims Femi Koleoso. "There's no boundaries to how you express yourself – dance, shout, be mad quiet and stare – but let's lose the barriers, we ain't superstars or nothing". He's talking about the crash barriers around the stage but he might as well be talking about barriers musical, cultural or social, as from the word go it's one big sweaty inclusive party here in this seafront nightclub. Juan Pablo from their eponymous debut gets things started – a ferocious Afrobeat assault, with Femi flailing at the drums like a man possessed and his brother TJ on bass, a massive presence centre stage, leaning into the beat as the twin horn frontline punch out riffs and the close-packed crowd start to move.
Ezra have come a long way since their Brighton debut in the tiny Verdict jazz club as part of the New Generation Jazz programme three years ago – sell-out shows, international touring, JazzFM awards and Femi's appearance as star of the Champions League TV ad campaign all contribute towards a sense of boundless confidence. The energy seems inexhaustible as the album tracks are extended and sped up into high-octane workouts over pulsing urban-afro grooves, and though Femi insists "this ain't just jazz" the band's instinctive grasp of dynamics and interplay adds a level of depth to the music. There are real conversations taking place onstage, most notably between Femi and keys man Joe Armon-Jones as they toss accents and displaced metrical figures back and forth to each other without ever impeding the flow of the rhythm.
But ultimately it's all about delivering the message to the people through the music. There's a sense of relaxed, impromptu camaraderie between the band members; like his contemporary Yussef Dayes, Femi has a habit of downing sticks and prowling around the kit mid-song, before leaping back on to drive the groove even harder. TJ abandons his bass guitar to treat us all to some impromptu dance moves; the horns wander off and onstage and the road manager appears at intervals to dispense towels, send hand signals to the sound man or bump fists with the band. Appearances are deceptive however – Ezra have learnt how to put on a show, with Femi as the preacher leading his congregation and all the band playing their parts. There is a real sense of pace, with nicely judged solo spots for each member which never drag into indulgence. Tenor man James Mollison's fluent, creative feature leads into a version of Sun Ra's Space Is The Place and the audience respond by demonstrating that new phenomenological development at jazz gigs attended by the under 25s – singing the wordless melody back to the band in a raucous ragged unison. Dylan Jones on trumpet has a soulful excursion that shapes itself into the old chestnut Pure Imagination – elsewhere he demonstrates tough chops and enough power, precision and imagination to really fly over the inexhaustible updraught of energy from the rhythm section.
This is a band really in their element; facing a room packed full of their diverse peers who dance, scream their approval, film on their phones and jostle for position in the most good-natured way possible. With a fair smattering of greyer heads also among the crowd, it's a truly mixed demographic, reflecting back the sense of positivity and inclusion emanating from the stage. The finale sees the whole club get down low on the floor before rising up to a real hands-in-the-air moment. As Femi exhorts us to "study what the prophet says and use it to move forwards", Ezra Collective seem like a band determined to do just that – if they can harness this vibe in all its magnitude in the studio and send it out across the world, they could be set for big tings indeed.
Eddie Myer
Photo: Ezra Collective at LSF by Lisa Wormsley.