Live Review: Joe Armon-Jones at The Eagle, Brighton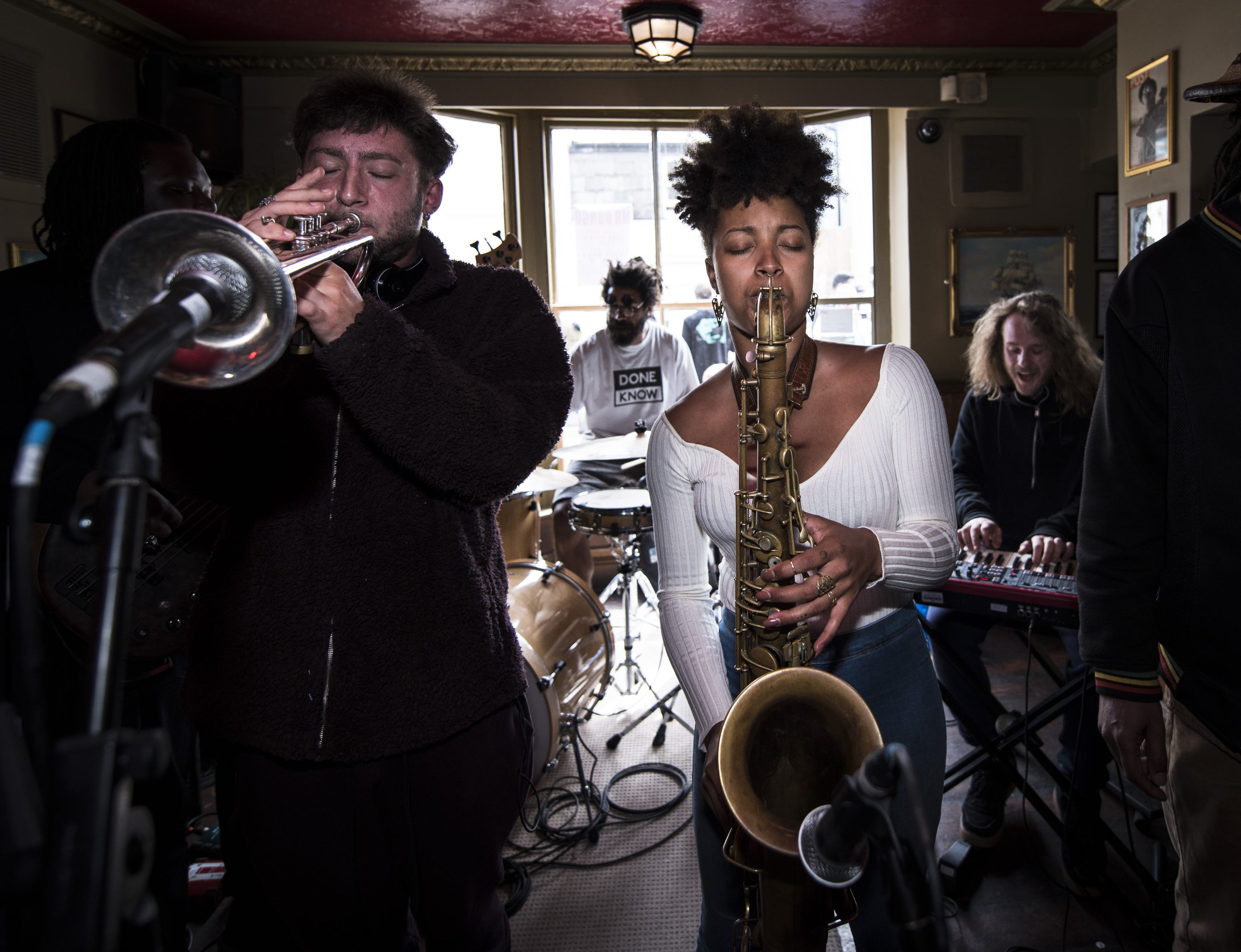 Joe Armon-Jones
The Eagle, Brighton
Friday 18th May, 2018
Mr. Bongo presented an afternoon of live music at The Eagle pub, the highlight of which was an astonishing performance by young pianist Joe Armon-Jones.
Throughout, Armon-Jones conveyed a freshness and honesty that typifies the current new generation scene. Opening with a relaxed trio piece, this established the laid-back nature of his approach and allowed bassist Mutale Chashi to lock into a groove with drummer Kwake Bass.
Armon-Jones then invited the horn players to the stage: Ezra Collective trumpeter Dylan Jones and star saxophonist Nubya Garcia to perform Mollison Dub, from his new album, Starting Today. With echoing organ lines and vocal stylings from Asheber, the deep grooving bassline drove the music forward. Nubya Garcia knows how to find a motif and develop it with increasing intensity. Her solos have a story arc, where they develop and grow, resolving to a climax with every note carefully considered and played with conviction.
The tune Ragify began like another laid-back keyboard feature before drummer Kwake Bass entered with a complex drum beat that stated the backbeat and announced that this would be something different. The horns punctuated the melody before Joe Armon-Jones performed an extraordinary solo that combined gentle melodies, fast lines, rhythmic stabs and sonic swirls using the full-length of the keyboard. His solo faded out to allow Kwake Bass to intensify the complex patterns he had already laid down, resulting in a drumming tour de force.
Ending the set with the title track of the new album, Starting Today, Joe Armon-Jones allowed the drums and bass to set up the groove before adding Wurlitzer chords and cueing in vocalist Asheber. Fellow Ezra Collective member Dylan Jones excelled during his trumpet solo, bringing brightness and warmth with esoteric lines and carefully chosen spaces.
Charlie Anderson
Joe Armon-Jones, keyboard; Niles 'Asheber' Hailstones, vocals; Dylan Jones, trumpet; Nubya Garcia, tenor sax; Mutale Chashi, bass guitar; Kwake Bass, drums.