Live Review: Jonny Mansfield Elftet at The Verdict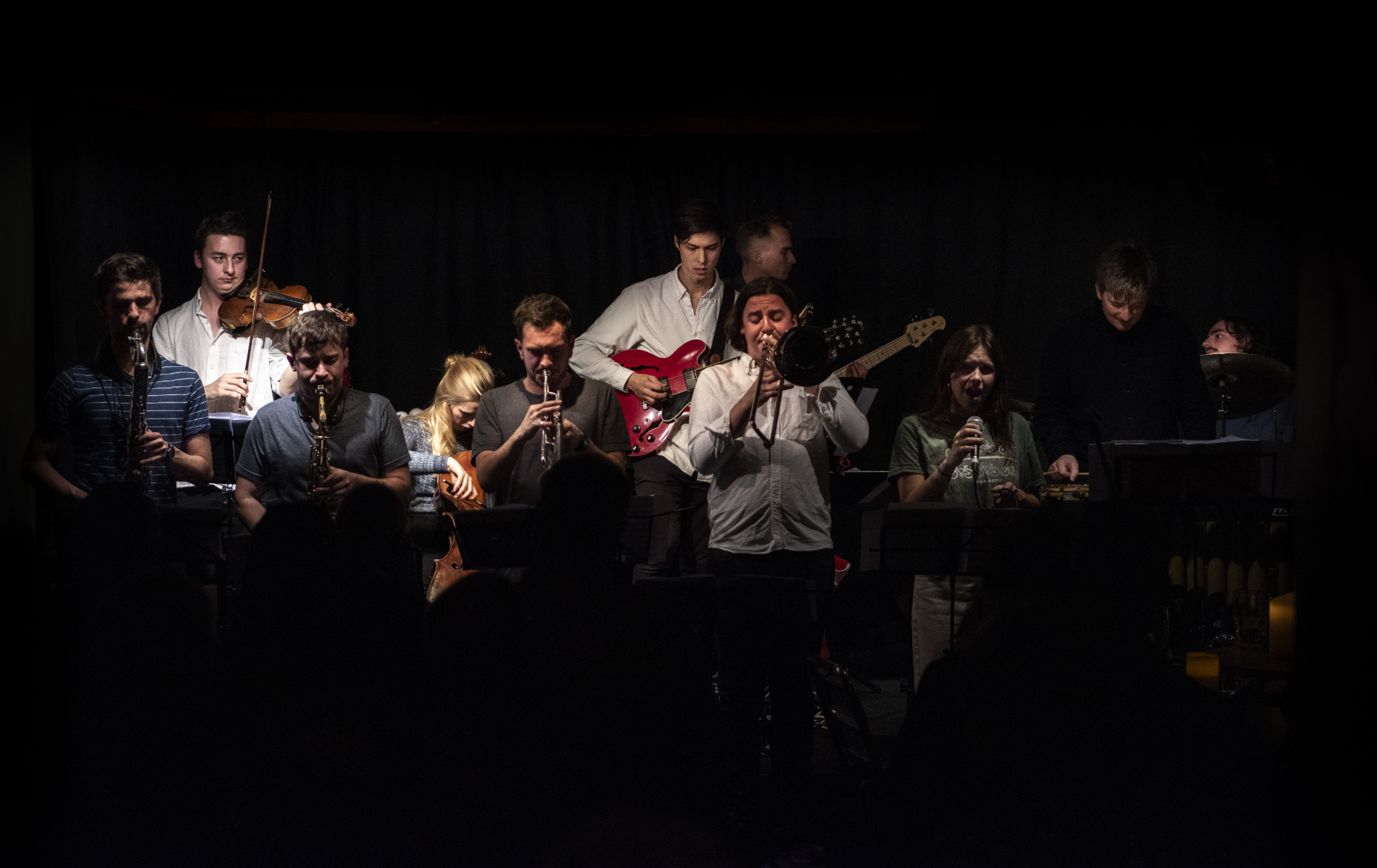 New Generation Jazz: Jonny Mansfield Elftet
The Verdict, Brighton
Friday 7th December, 2018
Vibraphonist Jonny Mansfield, a graduate of the Royal Academy jazz course, and the most recent recipient of the Kenny Wheeler Prize, brought his ambitious eleven-piece project to Brighton, combining strings, brass and woodwind with vocals, guitar and vibraphone.
They began with an upbeat original entitled Sailing that created a happy and relaxed mood, whilst the Norah Jones tune Painter Song suited the soft voice of vocalist Ella Hohnen Ford who sounded sublime on Flying Kites where she was accompanied by just cello and Sam Rapley's bass clarinet.
The second set began with Silhouette, a racing piece that had a real sense of urgency with some intricate arranging of punctuated horns and tightly performed unison lines and counter-melodies.
Two pieces that were part of a suite commissioned by Marsden Jazz Festival had a more serious feel to them, with the second one, entitled Two Clocks, giving Mansfield the opportunity to display his prodigous fluency on the vibraphone.
Not surprisingly for such a large ensemble in a small venue, some of the players were often buried in the mix, especially the string players who were frequently drowned out by the horns. But there were some interesting mixtures of timbre and some outstanding soloing notably from Jonny Mansfield, guitarist Jamie Leeming and tenor saxophonist Sam Rapley.
Rapley featured on Mansfield's tune Sweet Potato which was dedicated to his mum and conjured up the sounds of brass bands, before Rapley improvised a blues-inflected solo that built up tension and told an interesting story.
Charlie Anderson
Jonny Mansfield, vibraphone; Ella Hohnen Ford, vocals & flute; Dom Ingham, violin; Adam Chatterton, trumpet and flugelhorn; Tom Smith, alto saxophone; Sam Rapley, tenor saxophone and bass clarinet, Rory Ingham, trombone; Laura Armstrong, cello; Jamie Leeming, guitar; Will Harris, acoustic and electric bass; Boz Martin-Jones, drums.
Photo: Lisa Wormsley