Live Review: Love Supreme Festival 2019
Jazz writer George Richardson reviews his highlight of the 2019 Love Supreme Festival, Chick Corea's Spanish Heart Band, with photos by Lisa Wormsley.
Love Supreme Festival: Chick Corea's Spanish Heart Band
The Big Top, Love Supreme Festival
Saturday 6th July, 2019

A cloudy wet morning preceding the sunny Friday saw the start of 2019's Love Supreme festival off to a promising start. Performances from some of the finest artists on the modern music scene. Including Brighton's own hard-swinging Flash Mob Jazz and London-based congo- jazz outfit Kongo Dia Ntotlia were among the impressive lineup who ensured the weekend started with a bang. After such a promising first night how could you not be ready for what was to be one of the main highlights of this year's Love Supreme. Of all the towering icons who have shaped our musical history, one's hat must go off to the work of pianist, composer and musical icon, Chick Corea. A figure who is one of the few innovators of jazz music to still perform and record to the present day. Known for his collaborations with Miles Davis and for his own contributions towards jazz-rock fusion. Chick also has a leading role in the evolution of latin jazz. Breathing new life into the music of his roots with a collection of outstanding collaborations and compositions. This year's Love Supreme saw the pianist composer at The Big Top stage alongside a new outfit digging deep into the rhythms and traditions of latin music. Surrounded by what the band leader has aptly dubbed The Spanish Heart band. A group featuring some of the most prominent musicians in all the latin speaking world, notably rising Cuban star bassist Carlitos Del Puerto and flautist Jorge Pardo, a member of the Paco de Lucia band. Just two names of an all star lineup.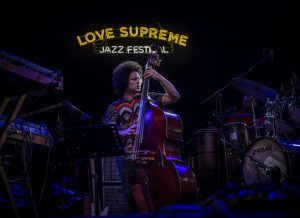 With the recent release of their new album Antidote, Chick Corea and the Spanish Heart Band brought their take on latin jazz to a new extreme much to the delight of a cheering crowd. Running through material both new and old, all with new fiery reinterpretation, audiences saw the band in full swing with exotic rhythms, whirling melodies and relentless energy. Alongside the composer's own works we were also treated to traditional arrangements such as the famous spanish folk tune Duende and timeless bossa standard, Jobim's Desafinado. Chick Corea is, and always has been, a man of many musical faces, each one a face of authenticity and this performance was a salute to that musical legacy.
---
SJM Editor Charlie Anderson reviews each day of the festival, with photos by Lisa Wormsley.
Love Supreme Festival
Friday 5th July, 2019
The late night stage, presented by Jazz In The Round and hosted by Jez Nelson and Chris Philips, began with a lively and joyful set from Cykada, followed by an equally impressive set from Rosie Turton, and ended with an upbeat tribute to William Onyeabor by saxophonist Bukky Leo.
Love Supreme Festival
Saturday 6th July, 2019
The Bands & Voices stage saw Steam Down's Nadeem, Brother Portrait & Wonky Logic radiate love and positivity.
On the Bandstand stage the Mingus Underground Octet performed tunes by Charles Mingus with tenor saxophonist Alex Hitchcock, trombonist Mark Bassey and guest vocalist Sara Oschlag.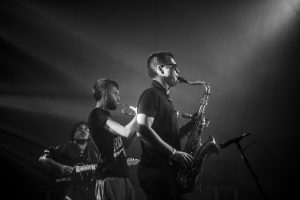 Trumpeter Dylan Jones' Pyjaen group performed an energetic set at the Jazz In The Round stage, followed by solo drummer Chiminyo and Ruby Rushton trumpeter Nick Walters.
Tim Garland's all-star band featured Jason Rebello, Ant Law, Yuri Golubev and Asaf Sirkis. They performed tunes from Garland's Weather Walker album as well as some of Garland's earlier material such as Eternal Greeting.
Love Supreme Festival
Sunday 7th July, 2019
Cassie Kinoshi's SEED Ensemble showcased her composing and arranging skills, particularly on the title track from her album Driftglass.
Simon Spillett and Spike Wells were part of a panel discussion in the Jazz Lounge, focussing on the great Tubby Hayes and his newly discovered album Grits, Beans And Greens: The Lost 1969 Fontana Studio Sessions.
Vocalist Alicia Olatuja gave an impressive Love Supreme debut, utilising her powerful voice and wide vocal range, accompanied by Robert Mitchell, Kevin Glasgow and Asaf Sirkis.
Pianist Christian Sands performed a rousing rendition of his original Song of the Rainbow People, and his interpretation of Thelonious Monk's Evidence, joined by Yasushi Nakamura on bass and Clarence Penn on drums.
Review: Charlie Anderson
Photos: Lisa Wormsley