New Generation Jazz: Shirley Tetteh interview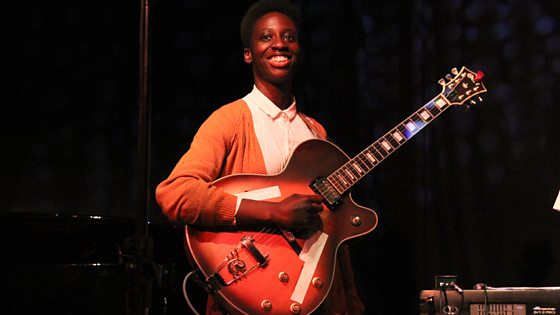 Tell us about your musical upbringing and how you got into jazz.
"I began playing guitar when I was 11, I had classical guitar lessons for about 3 months and then switched to electric guitar. I had a really great music teacher when I was in secondary school who had our school band learning everything from Pat Metheny to the Gorillaz, and I was also playing gospel music outside classes. I eventually got into jazz partly through my music teacher's love for it, and through wanting to discover other kinds of music – eventually I met Gary Crosby, creative director of the Tomorrow's Warriors, and started to attend weekly workshops with them. They really helped me learn the fundamentals of improvising, as well as helping me and many others find our feet as professional musicians."
Where do you find your inspiration for performing and composing?
"Ah everywhere! From artists I look up to like Ambrose Akinmusire and Robert Wyatt, to my peers, who are all doing amazing things, to films I really like – pretty much anything. I really admire people who are unique, so I'd also love to perform and compose in a way that is completely me. I am told this is a lifelong journey!"
You appeared at The Verdict with Gary Crosby's Groundation in October. What's it like playing in that band?
"It's pretty hardcore! Nathaniel Facey is one of the best alto saxophonists in the UK, Moses Boyd is one of the best up and coming drummers in the UK and Gary Crosby to me is one of the pillars of UK jazz and jazz education. They all know so much music between them that I often feel I am catching up with everything they know and can do, and it is an honour to be playing with such incredible musicians."
Tell us about the band Nerija and how that came about.
"The Tomorrow's Warriors began an initiative with the aim of encouraging more girls to play jazz. They had monthly workshops, and quite a few of us attended these sessions. We played a couple of gigs through the initiative, and eventually we started getting our own gigs, composing together, rehearsing more as we were all friends and already playing together in various combinations outside the warriors. We've been a band for about 2 years now."
What plans do you have for 2016?
"Nerija are planning to release an EP so hopefully that will happen this year. I also do a lot of leftfield songwriting and production with others and for myself, so the plan is for the work I've been doing with others to get out there, and hopefully I'll release an EP under my name at some point too! Those are the major plans, so fingers crossed everything goes well!"