November Issue Free To Download
The November issue of Sussex Jazz Magazine is available to download for free via this link: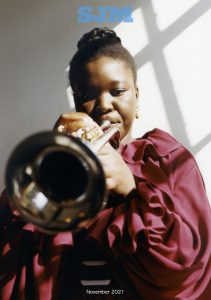 The issue features a piece by Patricia Pascal who writes about London's new venue Woolwich Works, with upcoming performances from trumpeter Sheila Maurice-Grey who is featured on our front cover (photo by Toby Coulson).
Live painter Gina Southgate interviews both Sheila Maurice-Grey and fellow trumpeter Charlotte Keeffe, and includes paintings that Gina has done of them at Jazz In The Round.
Charlie Anderson interviews Mark Lewandowski. The bassist from Nottingham, who is now resident in New York, is releasing his new album Under One Sky this month.
Simon Adams discusses the classic John Coltrane album My Favorite Things in his Jazz Essentials column.
You will also find Big Band Scene, our regular big band column by Patrick Billingham, together with listings for November.