Pete Recommends…Artie Shaw & his Gramercy Five – Summit Ridge Drive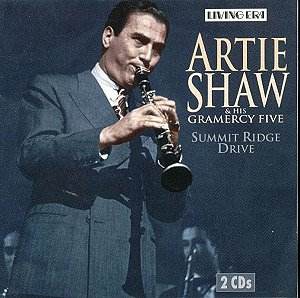 Peter Batten recommends a recording that jazz fans may wish to add to their personal library
Artie Shaw & his Gramercy Five
Summit Ridge Drive
Last month I focussed on one of the key moments in the development of our music. This month I want to offer a suggestion to those who may be building a collection to include some of the major players from the early years.
This double CD from Living Era does an excellent job. It brings together all of Artie's small group recordings. In 1940 he decided to challenge his rival, Benny Goodman, by using a harpsichord instead of the piano for a series of 8 sextet recordings. The results proved very popular and achieved huge sales all over the world.
In 1945 he recorded 6 very different titles with a new sextet including the great Roy Eldridge and a gifted young pianist, Dodo Marmarosa. Though not so successful financially, these recordings produced some fine jazz.
Finally, in 1954, before giving up the clarinet, he recorded a whole series of standards with an outstanding sextet including Hank Jones on piano, Joe Roland on vibes and Tal Farlow on guitar. His relaxed sound and easy improvisation on these titles may surprise you.
[ This outstanding collection was issued on Living Era CD AJS 2007]