Pete Recommends…Buddy de Franco and Sonny Clark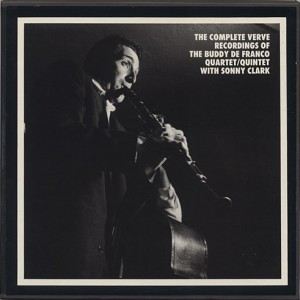 Each month Peter Batten recommends a recording that jazz fans may wish to add to their personal library.
Buddy de Franco and Sonny Clark
Anybody remember these recordings? Are there any young players working hard on the clarinet these days? Buddy De Franco could be a great inspiration.
Over 60 years, from the mid 1940s into the 21st century, his mastery of the instrument and his fluency as a jazz soloist appealed to mainstream jazz fans and to those who loved his interpretation of Charlie Parker.
I was lucky enough to hear him once at the Bull's Head at Barnes, where he was supported by some beautiful drumming by our own Martin Drew. He was at his best in the 1950s, when he led an outstanding quartet with Art Blakey and went on to make this exceptional set of recordings with Sonny Clark. He covers all sorts of material, supported all the way by Clark, one of the best accompanists of his generation.
[These sessions were re-issued on CD as "Sonny Clark and Buddy De Franco Quartet" by Definitive Records – DRCD1 1260 ]