Live Review: Ronnie Scott's All Stars at Rottingdean Jazz Festival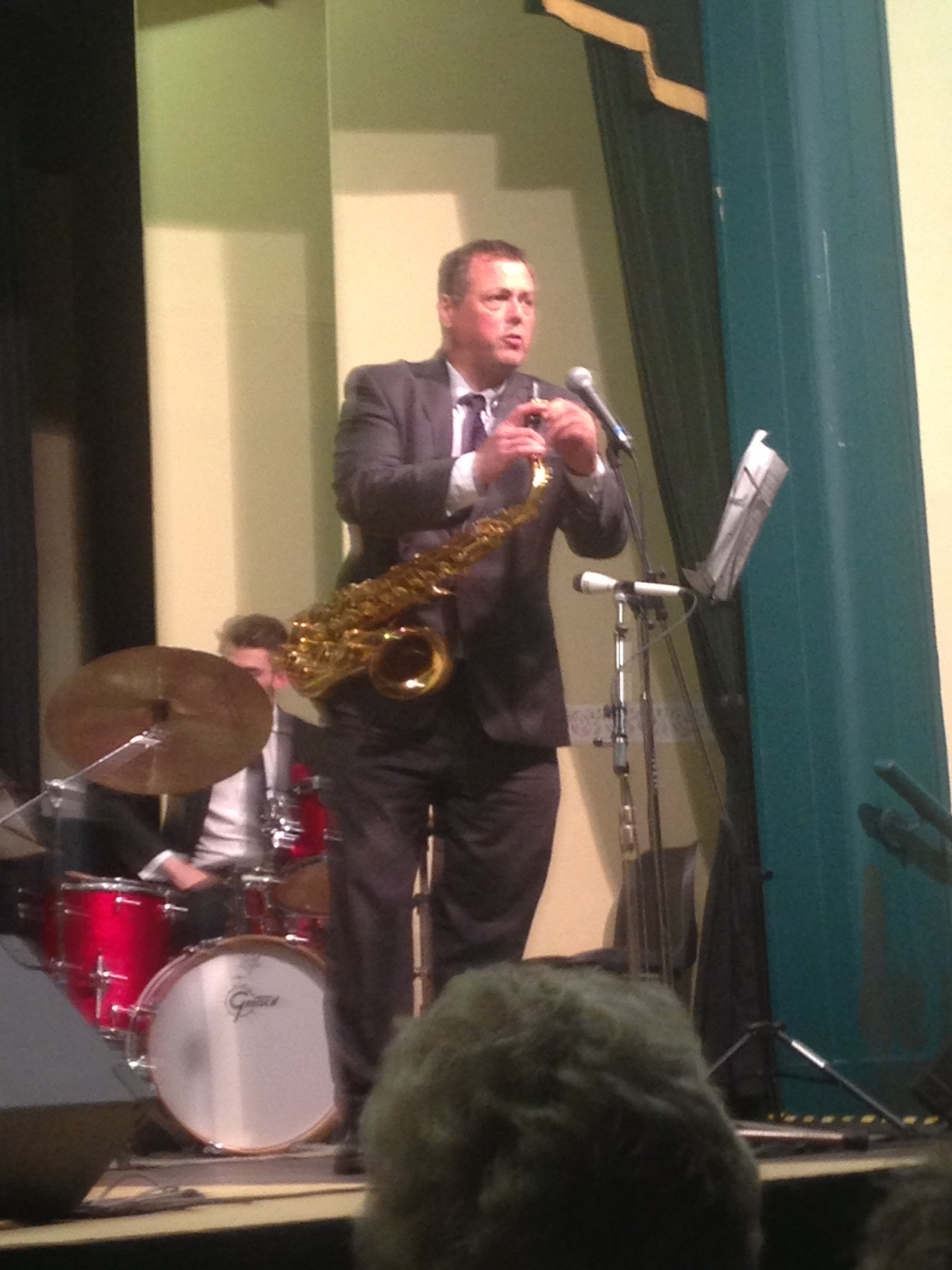 Ronnie Scott's All Stars
Village Hall, Rottingdean
Monday 25th August 2014
The shouts and cheers that greet the final act of the final night, headliners from a longstanding British jazz institution come as close to deafening as Rottingdean gets. The show was amongst one of the first of the Festival to sell out. There is an electric buzz in the air. When Pete Long, saxophonist, enters the stage too early, a roar of excitement goes up from 300 people determined to enjoy themselves. He backs off, but not for long. In a few minutes, all four band members bound onstage in sharp, smart black suits and bow ties, waving.
Oli Hayhurst, well known from recording with several up- and- coming young jazz musicians, stations himself with a smile behind his double bass. Ed Richardson, rising club star, flicks his fringe and sits at the drum kit. Suave, tanned James Pearson, MD of Ronnie Scott's, walks in a neat circle to sit at the upright piano. Bluff Pete Long, from big band Echoes of Ellington, burly as a nightclub bouncer, takes up position at the front of the stage ,sax glinting under the spotlights. People are standing up at the back to get a better view. They have travelled from London, Essex, Milton Keynes, the Midlands, as well as from all over Sussex and Kent. Some of them are Ronnie Scotts aficionados, others have never heard of the place, but one thing is for sure: the glamour of Soho has arrived in the form of the Allstars Band.
So what can we expect ? First up, the Allstars set the tone by tearing with slick but fiery energy into a super-bop version of Bye Bye Blackbird, led by Pete Long on tenor sax, with everyone singing and clapping along.
What the audience is in for, has been kept a big secret. In fact the band themselves didn't know the exact format beforehand. This show, as Long tells me, was thrown together by the four of them at the soundcheck in the afternoon. That spontaneous, improvisational reputation jazz musicians have, is a well- deserved one then.
What follows is a kind of dazzling musical comedy revue-cum-jazz history lecture on the 'golden age' of British jazz. Not having yet dipped a toe in Ronnie Scott's waters, I have everything to learn.
They don't disappoint. Pete Long, first risen through the ranks of the National Youth Jazz Orchestra, has played on the same revival circuit as the Ronnie Scott's Quartet, together with Ronnie himself, John Dankworth, Tubby Hayes; and Victor Feldman, who once had the privilege of turning down a tour with Miles Davis.
A natural frontman and stand-up, Long treats us to a stream of anecdotes from the golden age of British jazz before launching into the first number, Karen, written by Vic Feldman and recorded by Ronnie Scott and John Dankworth. a laid-back meandering tune with a pleasant easy swing feel.
So the history goes, after Ronnie Scott's moved to Frith Street in London's Soho in 1965, Ronnie himself made a point of bringing American musicians over to the UK because it was one of the easiest places for artists to visit. As a result, we hear, this country first got to hear fabulous tenor players like Stan Getz and Zoot Sims. Painting verbal pictures of how the young Ben Webster climbed on stage staggering drunk to play his first show with Stan Getz, Pete Long does a kind of Oscar-winning transformation before our very eyes, demonstrating Webster's invention of a technique called 'subtone', which was the first to introduce that distinctive, breathy tone into modern sax playing. To me, this is definitely 'laydeez' jazz at its best: the female contingent in the audience gives a kind of collective sigh on hearing its familiar, smooth, silky sexy sound. I'm reminded at this point of U.S. players like 'Snake' Davis, a frequent feature on Jazz FM playlists, who could also be a modern proponent of this style.
The band then zips through lightning-fast vignettes which tell of the enormous influence of blind Roland Kirk, a frenetic, frantic master instrumentalist. Famous for his playing of three saxes simultaneously in the course of a show and blowing whistles to mislead police during a drugs raid on the club, Kirk dedicated the lively piece next played, Finky Minky, to actor Peter Sellers. Kirk was innovative in exploring sounds no one had ever heard from a sax before. This included the instrument played using 'circular breathing', where there are no gaps in the solo: Roland Kirk would typically play for 50 minutes without stopping during a performance. Long, an amazing mimic, then solos in a similar vein for five minutes without stopping, interpreting the song for us through the lens of old-school rhythm and blues, a genre characteristic of the Ronnie Scott's era. Perhaps this style has somehow inspired contemporary acts that feature super-speed 'punk' saxophone, such as Polar Bear..
When the spotlight of the music turns to icon Sonny Rollins, who composed the soundtrack to seminal 1960s British movie Alfie, James Pearson, who looks as if he could easily have stepped out of a James Bond film set, asserts himself on piano, clearly showing influences ranging from Rachmaninov to Gershwin. Pearson, himself fresh from composing for films starring comedians such as Steve Coogan in The Look of Love, the biopic of Paul Raymond, owner of the famous Raymond Revue, makes the piano sing with warmth and verve. Long, passionate drum solos from Ed Richardson and sensitively offered bass passages from Hayhurst, punctuate the set, and are received with rapt applause. I can't help wondering whether this show could form the basis of a national tour.
The band's finale is a samba-influenced theme tune by prolific composer Tubby Hayes, taken from his own TV show. A jazz musician getting his own TV show in 2014 may seem far-fetched to us, but it has been done. The early influence of jazz on TV music, featuring composers like John Dankworth, seems to have left a long legacy, with many echoes in what we hear today.
For me, despite their virtuosity or perhaps because of it, all four players display a disarming charm, a sense of humour and willingness to relate in a live setting, a desire to be human not aloof, with their audiences. This brings the Rottingdean crowd to their feet for a deserved ovation that lives up to the legend and leaves us on a real high.
Jasmine Sharif
The 2014 Rottingdean Jazz Festival was held between Friday 22nd – Monday 25th August and presented by Rottingdean Arts.
For more information: www.rottingdeanarts.org.uk
This review was published in issue 28 of The Sussex Jazz Mag available here.