The Column: Eddie Myer – Not a Dry Seat in the House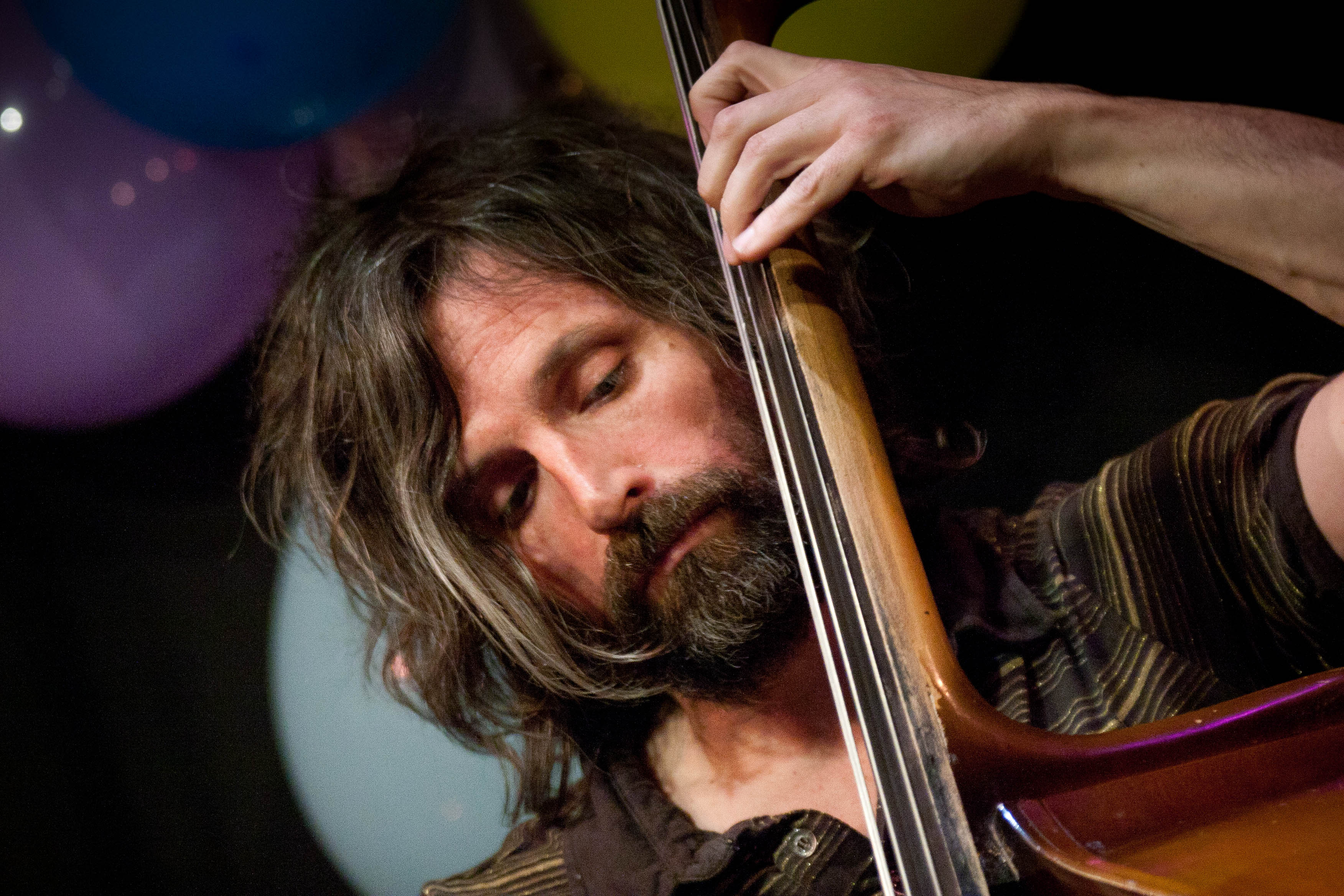 Last year's Jazz FM awards was a memorable occasion, with both glamour and controversy being provided by those perpetual kings of louche Mick Jagger, Ron Woods and Charlie Watts, the former two as elegantly wrinkled as their expensive suits, Mr Watts as well-pressed and inscrutable as ever. The controversy arose due to the magnetic effect their presence had on the attendant press – to the detriment, some felt, of the actual musicians who were ostensibly being honoured.
No-one could reasonably make the same complaint this year, as music, and the new wave of UK jazz in particular, was firmly at the centre of proceedings from the get-go. Once safely inside Shoreditch Town Hall, past Phronesis waiting on the obligatory red carpet for the obligatory press shots from the photographers mesmerised by Anton Eger's haute couture jacket, and past the eminently bonhomous spectacle of Jay Rayner and Liane Carroll hob-nobbing at the bar, we were called to order by hosts Jez Nelson and Chris Philips to witness tributes to what Nelson declared unequivocally to be 'the most exciting time for jazz'. To demonstrate his assertion he introduced the evening's house band, led by pianist Ashley Henry – whom Brighton audiences may remember playing with his trio as part of the 2017 New Generation programme for up and coming artists. Together with the mercurial bassist Fergus Ireland and the explosive and suitably monikered Dexter Hercules on drums, they launched into Henry's trademark mash-up of The World Is Yours by 90s rap superstar Nas and I Love Music by Ahmad Jamal – a compelling template for the link between contemporary and classic sources of inspiration.
Clive Myrie was on hand to present the Vocalist Of The Year award to Zara McFarlane – pausing to express his relief at not having to report on the travails of Amber Rudd any more. 'Message to the home office – my passport has been checked' he commented wryly. Omar presented the Best Soul Act to Moonchild, and Soweto Kinch handed the international artist award to Cécile McLorin Salvant, who then struck silence into the crowded room with one of her remarkable histrionic musical psychodramas, featuring a dazzling display of vocal techniques and oblique melodies. Jazz Innovation went to the ubiquitous Shabaka Hutchings, presented by Esperanza Spalding, from one innovator to another.
Instrumentalist Of The Year was presented by a rumpled Stewart Lee to an even more rumpled Evan Parker, who quipped "I'm truly astonished…that any of you even know who I am…". He must surely find himself casting around for new ways of expressing astonishment, as his stature continues to grow amongst the younger generation of musicians and he edges ever closer to mainstream respectability. In light of her recent Observer front page, it was no surprise when Breakthrough Act went to Nubya Garcia (another New Generation featured artist) – her remarkable rise made more remarkable still by her choosing the self-release path for her latest recording.
But there was a palpable sense of surprise when Pat Metheny was announced winner of the PRS Award by Nitin Sawhney and took to the stage in person to collect it. From under his trademark thatch of hair he expressed himself with his trademark seriousness and humility. Musicians and listeners alike are united in a kinship of creativity, he declared – he resists thinking in terms of genre, but finds some of the freest creativity within the type of music represented here tonight – such is the privilege he feels at being able to live inside this music, that his one sincerest wish is to go home and practice some more. In one of the evening's more bizarre turns that was still totally in keeping with the spirit of diverse inclusiveness, Goldie appeared via videolink to tell us how Metheny has always been a massive influence on Metalheadz – who knew?
Elsewhere, Thundercat appeared via videolink, accompanied by his actual cat Tron, to thank Anoushka Shankar for his Album Of The Year trophy, George Benson did the same to a derby-hatted Tito Jackson for the Impact Award, and Paul Jones treated us to a harmonica jam before handing Blues Act to a virtual Robert Cray, and man of the moment Kamasi Washington watched from the sidelines from beneath his striking tea-cosy style headgear. Digital Initiative Award was presented by Corinne Bailey Rae to Spalding for her innovative use of the impressively unpronounceable oiid platform for her 'Exposure' album release; she graced us with a typically uncategorizable performance, with Henry & co following the many twists and turns of her composition with panache, and Soweto Kinch adding his commanding musical and physical presence to proceedings.
Perhaps the emblematic awards of the evening were those at the end of the ceremony. Ezra Collective picked up two trophies, for Jazz Act Of The Year and Live Performance Of The Year. Femi Koleoso and crew crowded onto the stage to thank the far-sighted booker who took the risk to put them at Ronnie's in April, and then on to a triumphantly sold-out show at Islington Assembly Halls in November. "Shout out to everyone supporting the movement" declared the immaculately suited Koleoso in broadest South London accents, and there was a real feeling of a movement coming to fruition, a vindication of the hard work and belief put in by Tomorrow's Warriors and the many other supporters of the emerging scene.
The climax of the evening was yet to come. After an event that had predominantly celebrated youth and innovation, the final triumph belonged to the stately figure who, unable to ascend the stage, took to the microphone ensconced in a throne-like chair on the floor. Dame Cleo Laine, accompanied by her long-standing pianist John Horler, conjured a timeless magic with her performance of 'I've Got A Crush On You' – at 90 years old, her voice is worn and shaped by the passage of time but still rings clear and pure on the high notes, resonant and thrilling in the lower register, her phrasing and delivery impeccable, every line imbued with the authority of a lifetime's dedication to her art and the cargo of sincerity and conviction that cannot be bought or bestowed but must be earned. Let's hope that today's rising stars are equally able to sustain their careers, and the music they bring, to ensure the continuity for subsequent generations.
Eddie Myer