Live Review: The Impossible Gentlemen at TOM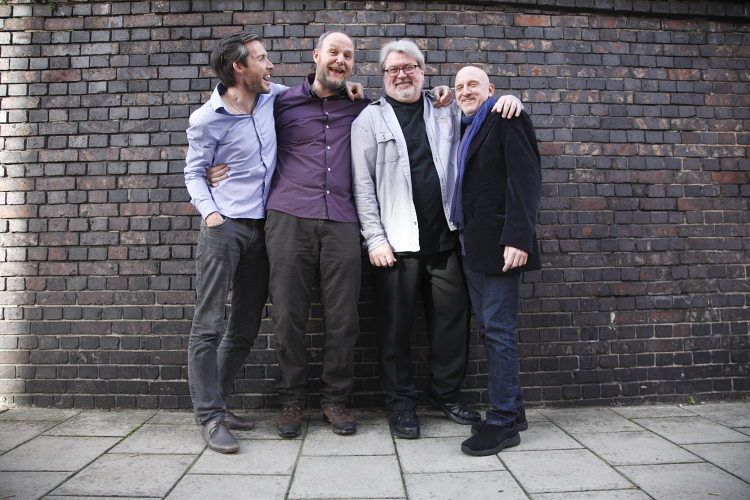 The Impossible Gentlemen
The Old Market, Hove
Tuesday 10th February 2015
It's hard to believe that this was the first appearance in Brighton of The Impossible Gentlemen, but they made the most of their debut, performing pieces that were both refreshing and original.
Beginning with Hold Out For The Sun, it was clear from the start that this was a group that had both creativity and a depth of musicianship combined with a musical empathy garnered from years of experience.
At one point guitarist Walker asked the audience what the sound was like. This could have been a big mistake, given the number of heckles that were received but it worked for the best (as the audience members were very specific!) and the sound improved with a better balance between the instruments.
Showcasing a wealth of new material composed mainly by Walker and Simcock, Walker's Let's Get Deluxe saw the guitarist transform his sound into 1970s funk, combining with Simcock's fluent keyboard lines.
The Mike Walker original Dog Time was certainly very different, with all the members of the band recreating the sounds that dogs make, developing a soundscape of scratching and tapping sounds that also retained its musicality.
The second set saw the band really warmed up and with Nussbaum's meditative Insight and Light featuring Gwilym Simcock playing melodica, contrasting with Gwilym's Earworm, the concert began to feel like a masterclass in group interplay. The set included the tune Terrace Legend, dedicated to Stoke City kit man Neil Baldwin.
The most enjoyable piece, surprisingly, was Miniature, a distilled and carefully crafted short piece that showcased the gentler side of their playing. They ended the last set with Propane Jane.
After a standing ovation, they returned to perform the encore Sure Would, Baby by drummer Nussbaum which was a bluesy 7/4 groove that showcased the drummer's energy and enthusiasm.
The relaxed humour amongst the musicians is the sort of thing that only comes about from extensive time on the road, as well as time in the studio recording their forthcoming album. The solid timekeeping of bassist Steve Rodby and the propulsive drumming of Adam Nussbaum allowed Walker and Simcock to showcase their original compositions and it was good to see so many local musicians in the audience.
Credit should go to David Forman and Ralph Earle for showcasing such a fantastic band. Hopefully we'll see them here more often.
Charlie Anderson
You can read other reviews of this concert in The Argus here and by Eddie Myer for Jazzwise here.
Photo by David Forman.
This review first appeared in the March 2015 issue of The Sussex Jazz Magazine, available here.