Words…Marilyn du Sax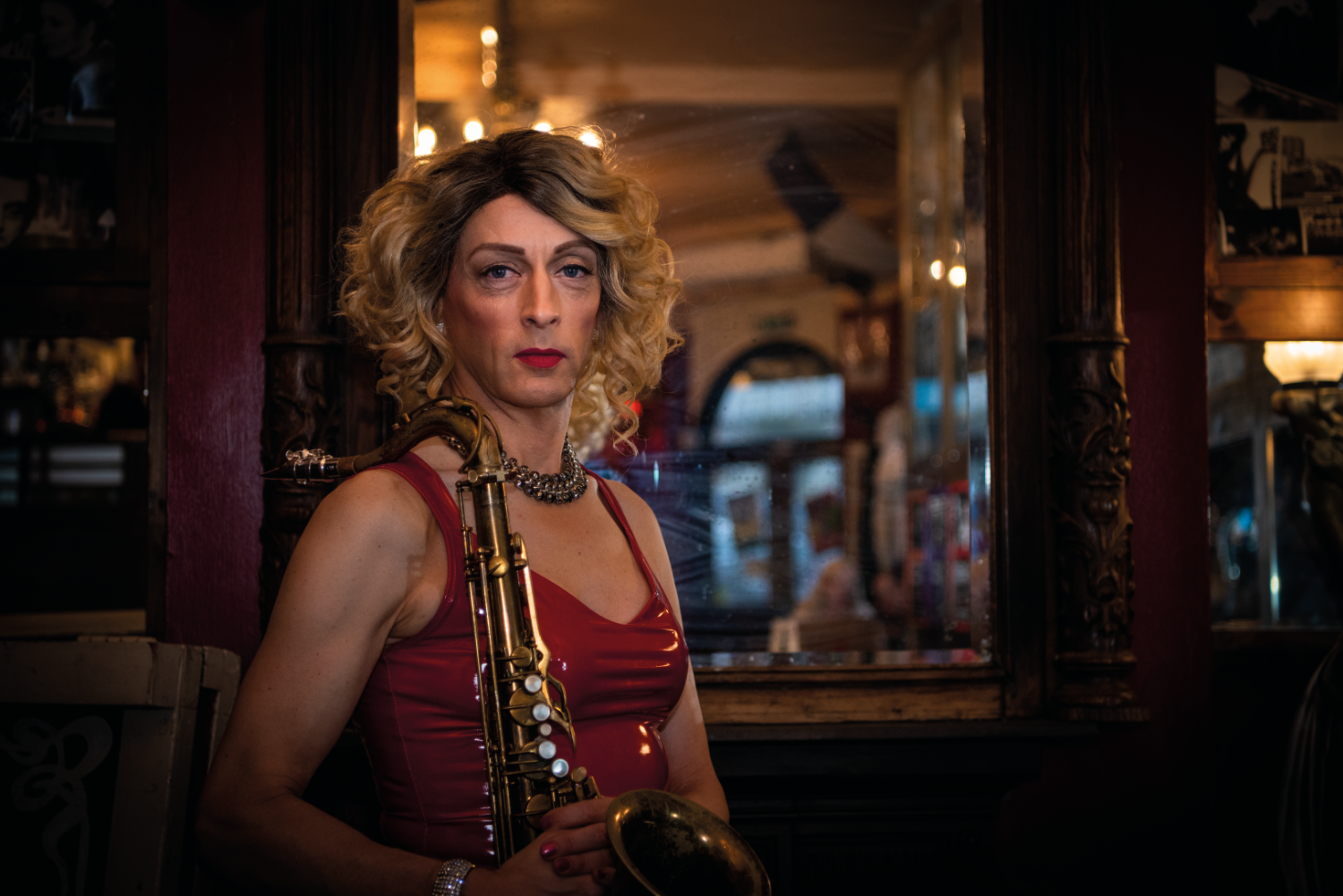 I was born in The Wirral, but moved to Manchester when I was 7. I had 2 sisters and 6 girl cousins who we'd meet at Grandma's house most Sundays. I remember questioning if I was really a boy, but stopped short of thinking I was a girl, which is why I don't think of myself as trans.  
In secondary school my best friend started to play clarinet, this seemed cool, so I persuaded my parents to buy me one. At some point I discovered some of my dad's jazz LPs – Jack Teagarden, Acker Bilk and Duke Ellington's Nutcracker Suite stand out. I was trying to play along with the records most days after school and decided that I really wanted to play saxophone.
I was about 15, and I persuaded my parents to buy an alto sax with the promise that I'd get a Saturday job and pay them back. I had lessons from the husband of my mum's work colleague who'd been an army bandsman. He lent me records and taught me how to play with jazz feel and sound.  
Armed with my alto, a passion for jazz, but little ability I joined the stage band with my friend and began a social life centred on music that continues to this day. This band was amazingly good, being under the leadership of another ex-army bandsman. We played almost every Sunday all around Manchester, once in front of an audience of 2,000 in the Free Trade Hall for Remembrance Sunday. Maybe due to this experience I hardly ever experience nerves or stage fright.
I loved music and wanted to be a musician, but I felt I wasn't good enough and went to university and got a graduate job in a brewery. Several years and employers later I was in Belgium, where I started to play sax more seriously, taking lessons from a few different pro players. In the amateur world I could always hold my head high, but I was aware that professionals were at a completely different level and I wouldn't have dared to do what I'm doing now, until two things changed my mind.  
One was advice about focussing more on rhythm than harmony. To be honest I've always had a greater passion for funk than bebop and found this advice really liberating. The other influence was a quote from Edith Piaf to 'Use your faults, use your defects; then you're going to be a star'.  For decades I'd felt a lack of masculinity, but now I decided to embrace my femininity as a gift, and combine with a simple, rhythmic approach to saxophone and recreate the classic organ/sax/drum line up of the 60s with the stage name Marilyn du Sax.  
There are better sax players than me in Brighton, but when I say that to audience members at gigs they don't seem to care, or even acknowledge it. So I no longer worry about other players – I just do what I do, for the audience, and their reaction is enough. I'm still motivated to improve, but my practice is focussed on conveying more emotion and passion rather than technical or harmonic exercises.
I'm honoured to play with professionals in Brighton. I sometimes explain that I feel like I'm a Sunday League player who is asked to captain a Premier League football club. During a gig I try to be 'in tune' with both the band and the audience – my attention switches between how and what we're playing as a band, and how the audience is reacting – and I try to build a virtuous cycle of positive energy. The more the audience respond, the more freely the band play, letting their passion radiate and fill the room. I think music is unique amongst the arts in having a direct communication to the emotions, by-passing the thinking part of the brain.  Most non-musicians have little language to analyse what they hear, and so they enjoy and respond without thinking, which is a beautiful, spiritual experience.
I am quite influenced by the work of Eckhart Tolle, and part of what I try to do in performance is to make people feel a connection with each other. His work helped me to accept myself how I am. People see that acceptance, and I hope it helps people to feel better about themselves, particularly those who don't fit traditional gender roles. If I can do that, it will be my greatest achievement.
Words: Marilyn du Sax
Photo: Lisa Wormsley