Words… Sudhi S Pooniyil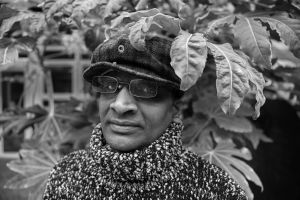 I was born and brought up in a small town, Alappuzha in the Southern Indian state of Kerala. Mine was a creative family: My Dad was a writer and my Mum a musician. Memories of my childhood are rather sober, poignant and chaotic. Although I had a lot of friends, I was lone in a crowd with my strange mind tempting to chase after unreal imaginations and fantasies, I have been a wanderlust: fascination for diverse culture dragged me to hide in compartments of suburban trains across India many times!
My first drum was my Mum's water pot. Those days it was common in my village to fetch water from the ponds or public taps with those epic aluminium pots. I loved the shape of it so I found it fascinating exploring hidden sounds by slapping and punching on it. As a result my poor Mum had to replace new pots every few months. I'd get relentless slaps from her, but I swear it was all made of love. She was a tender soul trapped in a delusive cage of life under the insecure wings of my Dad. She often became the victim of my Dad's wrath from a drunken mind. Her sorrows were dark, deep and desolate. Then one day a sobering wind blew the light of vision away from her eyes forever. I was then about to embark on my rebellious teen age.
School is where my classical music education started. I wanted to study art or music, but as a result of being deluded by my Dad's charisma as a writer I instead studied English Literature at the University of Kerala. He was the librarian, a book worm living among a huge pile of books at the same university. I was full of energy, a rebel strongly involved with politics and all sorts of troubles. I made a lot of friends; musicians and creative people among them. After Uni I lost myself in the colours of Mumbai, working as a correspondent on a broadsheet, often ending up drumming with street kids to popular folk tunes.
My unreal imaginations and fantasies helped me to gather unusual dreams, thus I crossed the oceans and ended up in Manchester. I enjoyed the transitions of the nature, from the dormant winter to spring then the blossoms of summer. Whenever I walked around I felt like I was living in the world of poetries and fictions. I must admit that I didn't have much sense what Wordsworth was trying to portray until I witnessed the magical sight of daffodils and crocuses, along with myriad blossoms around me!
I then moved to Cambridge. Musically and artistically life in that fairytale city played a significant part in my life. I joined with a versatile bunch of musicians playing world music, and I started jamming with some amazing jazz folks. I loved the fabric of intricate melodies and the freedom of expressions and individuality jazz music offered. I am still a toddler in the vast universe of jazz though. I used to play darbuka and Daf (frame drum) with Middle Eastern music enthusiasts in Cambridge too. That was a real joy.
Living as a strand of this close-knit community of musicians in this radical town [Brighton], I get opportunities to engage with some fascinating projects and jamming with a diverse bunch of musicians. I love that freedom of exotic journeys through different cultural elements and expressions. My sense of rhythm is an instinctive one. It has been with me as my other self, a shadow, or my duality. I truly feel this precious opportunity as a gift, being part of this universal language of music. I have a band too if I can claim it, Clandestino. It is a Flamenco fusion band. They are all amazing musicians with a distinctive voice.
Apart from music I am an artist, a poet and a writer. I wish to travel around and portray my vision in watercolours and write about my experiences. Maybe I am lucky that I don't come across such an abyss of emptiness of motivations, rather it transforms as butterflies to fly around my head flapping its wings with much enthusiasm and delight… for me life is a beautiful melody.
Words: Sudhi S. Pooniyil
Photo: Lisa Wormsley
https://sudhispooniyil.com/