A Brief History of Jazz Photography
In the early days of jazz, musicians went to photographic studios to pose for pictures.
During the 1920s there was a craze for 'doing something zany', so some of the photos involved musicians doing unusual things, kind of like a still version of the Harlem Shake.
Other than the posed group photographs, individual musicians often had the classic Hollywood-style headshot taken for publicity purposes.
There are very few photographs of legendary cornetist Bix Beiderbecke, most of which are publicity photos from the 1920s.
Glenn Miller often tried to look cool by smoking a cigarette. (Incidentally, you are more likely to die from a smoking-related illness than from a plane crash.)
Herman Leonard
(1923-2010)
Herman Leonard photographed most of the jazz greats, often with atmospheric lighting and smoke.
Art Kane
(1925-1995)
Like Herman Leonard, Art Kane was a fashion photographer who also took iconic photos of musicians such as Bob Dylan. In the jazz world, he is most famous for the Harlem 1958 photo which can be seen at The Verdict, Brighton.
Roy DeCarava
(1919-2009)
Roy DeCarava, an African American photographer from Harlem, documented America during the civil rights era, and also took some iconic photos of Billie Holiday
http://iconolo.gy/archive/roy-decarava-1919-2009/651
William Claxton
(1927-2008)
Claxton is most famous for his iconic images of Steve McQueen, as well as for pictures of Chet Baker and Donald Byrd, plus Donald Byrd's wife, pictured above.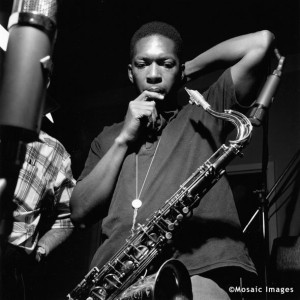 Francis Wolff
(1907/08-1971)
A co-founder of Blue Note records, Wolff took thousands of photos over a thirty year period, mostly recording studio photos and images for Blue Note cover art. (The Blue Note recording studio was actually Rudy Van Gelder's mother's living room and early photos show the sofa and TV in the background.)
William P. Gottlieb
(1917-2006)
Many of Gottlieb's images were used for Downbeat magazine until his retirement from photography in 1948. Although his contribution was largely forgotten, in his will he left all of his jazz photographs to the public domain after his death. Now his images are more well-known, particularly his portrait of Thelonious Monk.
Michael Peto
(1908-1970)
A Hungarian born photojournalist who moved to Scotland before the outbreak of WWII, Peto photographed a wealth of post-war celebrities, including Louis Armstrong on his visit to Scotland. After his death, his son donated all of his photographs and negatives to Dundee University where they languished in an archive room for decades. Recently restored, many of his photographs are on display at The National Portrait Gallery, London until 31 May 2014.
The Jazz Loft Project
Photographer W. Eugene Smith lived at 821 Sixth Avenue throughout the late 1950s and early 1960s, sharing the building with many of the jazz greats of New York. During that time he documented the jazz scene with photographs and reel-to-reel audio recordings of jam sessions in his loft space.
The Jazz Loft Project, under the supervision of the Center for Documentary Studies at Duke University, is committed to preserving this unique archive through radio shows, exhibitions and a book by archivist Sam Stephenson.
http://www.jazzloftproject.org
Bob Campbell
Bob Campbell, who died homeless, left behind a legacy of photographs from the 50s and 60s jazz scene. In 2012, photographer Jessica Ferber began a kickstarter campaign and successfully raised funds to preserve and promote his work.
Brian O'Connor
Brian has taken photos of many of the big names in jazz from Sonny Rollins and Dexter Gordon to Stan Getz and Dizzy Gillespie. His catalogue also includes photos of Sussex musicians such as Liane Carroll, Mark Edwards and Geoff Simkins, together with photos from Love Supreme, including Jack Kendon, Laura Impallomeni, Luke Rattenbury and Eddie Myer.
To see Brian O'Connor's photos, go to www.imagesofjazz.com
Juan Carlos Hernandez
The contemporary jazz photographer has already produced a large number of striking images of musicians young and old, from Kenny Barron and Ahmad Jamal to Gerald Clayton and John Aram.
To see Juan Carlos Hernandez's photos, go to
http://juancarloshernandezjazzphotographer.blogspot.co.uk
"We should embrace the current greats like Ned Radinsky, Michael Garcia, Adriana Mateo, Frank Stewart and Juan Carlos Hernandez while we still can. They need encouragement to use their art to propel this generation of musicians into the spotlight. This surely isn't a bad thing."
– Cicily Janus, Huffington Post, 2010
Find Out More
William Claxton's jazz photographs are collected in the book Jazz Life (Taschen) and Herman Leonard's jazz photos are collected in The Eye of Jazz (Viking). Also see Blue Note: The Jazz Photography of Francis Wolff.
Historian Benjamin Cawthra has also published a history of jazz and photography in his book Blue Notes in Black and White (UoCP).
The documentary A Great Day in Harlem explores the background to the Art Kane photo and is available on LoveFilm.
Charlie Anderson