Album Review: Jeff Williams – Outlier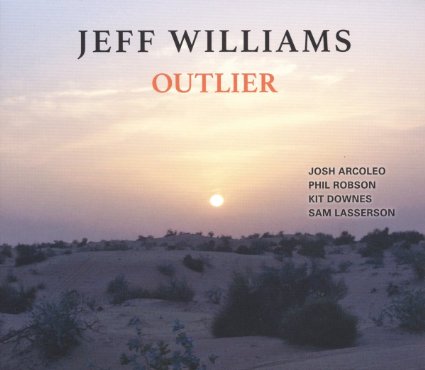 Jeff Williams
Outlier
Jeff Williams – drums, percussion, Fender Rhodes
Josh Arcoleo – tenor saxophone
Phil Robson – guitar
Kit Downes – piano, Fender Rhodes
Sam Lasserson – bass
Whirlwind WR4684
The veteran US percussionist's new release tops up an already extensive discography that stretches from Dave Liebman's seminal 1973 set, Lookout Farm, right through to his two previous releases on Whirlwind, which both featured a wide-open pianoless format with his US band. He relocated to the UK in 2007, a process he describes as ' like starting all over again…. as my name wasn't ringing too many bells'. He's certainly ringing bells now; this album presents him with a top-flight selection of cutting-edge UK players and a selection of exciting original compositions.
Williams' long career is the US has brought him into the orbit of some of the establishing figures of modern jazz, and he brings his influences to bear; atmospheric title track 'Outlier' is directly inspired by Joe Henderson's latin-inspired modernism, with Lasserson setting up an insistent pulse, and Arcoleo impressing with his dark-toned improvisation over the wide-open changes. 'The Interloper' has a jagged, quirky melody linking back to Thelonious Monk, kicked into a higher gear by Williams' tumultuous drumming and a typically free-ranging, intricate solo from Kit Downes; 'Dream Visitor" features the leader on Fender Rhodes in a textural excursion recalling Miles' 70s experiments. It's fascinating to hear how Williams' compositions, rooted as they are in the language of the last 40 years of Great American Music, are picked up and transformed by these young UK players; Downes especially is a highly idiosyncratic voice, his playing incorporating influences from modern classical music alongside the contemporary jazz vocabulary.
"New And Old" is a stand-out, melodic dedication to his father; 'Hermeto" is another tribute, this time to Brazilian maestro Hermeto Pascoal; Partisans co-leader Robson obliges with a superbly inventive Metheny-esque flight. "Oddity" gives the band a chance to burn, and Williams to showcase his highly creative solo skills. His partnership with Lasserson, as also featured on the recent release by Alex Merritt, continues to deepen, but everyone plays so well it's impossible to single out a Man Of The Match. A crisp, clear recording at the Fish Factory captures the excitement of the session – Williams should keep on ringing bells for some time to come.
Eddie Myer