The Column: Eddie Myer – Dark Magus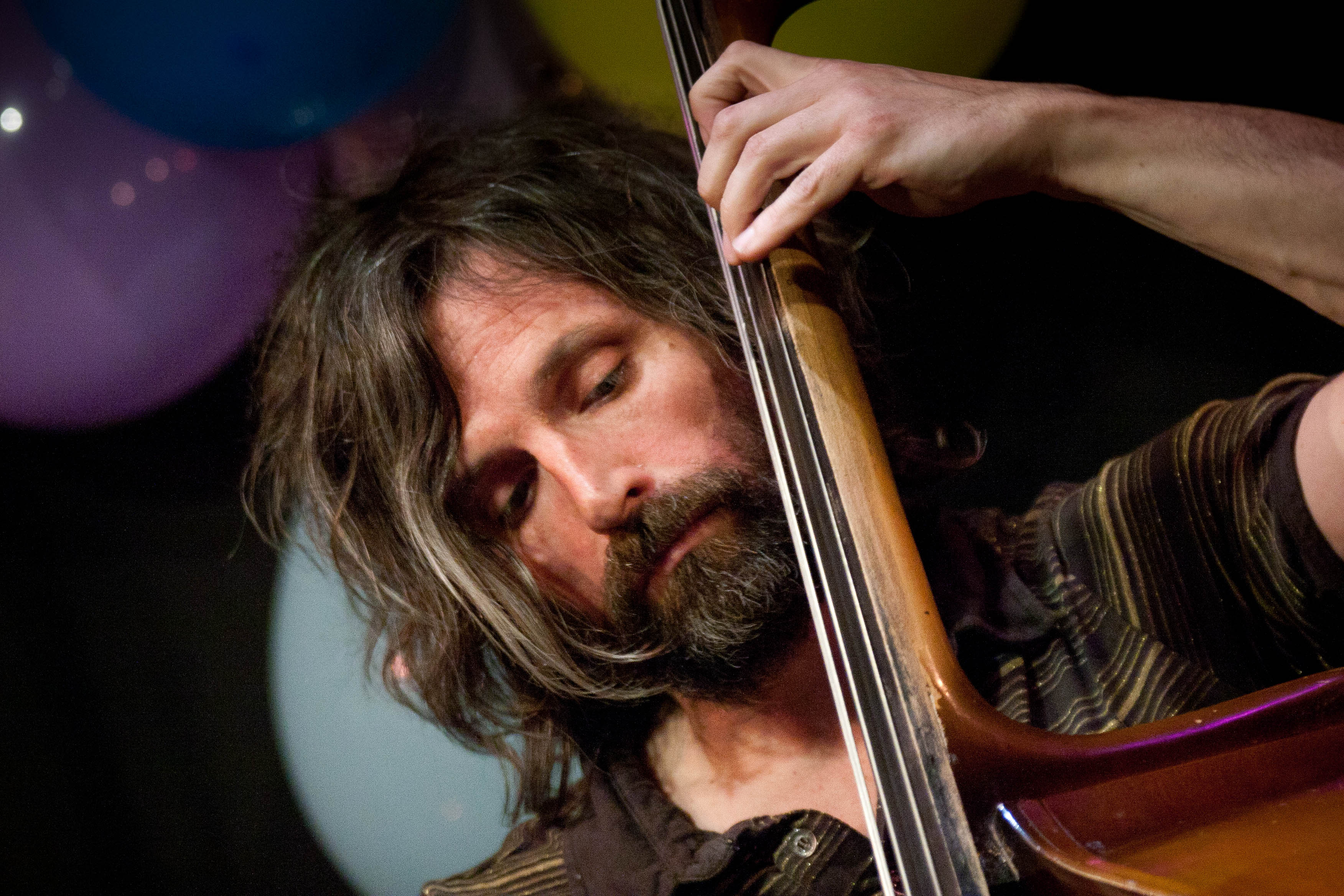 Today, April 30th, is International Jazz day. Of course for our dedicated readers, every day deserves that title – and no doubt many of you will already be physically and spiritually exhausted from celebrating Duke Ellington's birthday the day before. If you feel minded to indulge in a little more celebration, however, the Miles Davis biopic starring Don Cheadle is currently still playing at the Komedia Picturehouse, and whether or not you actually go to see it you must surely agree that it can only serve to bolster the profile of jazz-and-related-music across the public arena.
Jazz music seems to have entered into a fruitful alliance with arthouse cinema, with the Antonio Sanchez soundtracked Birdman, the jazz-as-sports-movie drumathon Whiplash, and a biopic of Chet Baker starring Ethan Hawke all gaining varying degrees of cinema release last year. Of course jazz has already a long-established relationship with highbrow movies – Davis' pivotal collaboration with Louis Malle in the unforgettable Lift To The Scaffold (1958) marked an artistic high point for both men, Frank Sinatra excelled in The Man With The Golden Arm (1955) and laid down a corrosive archetype of the druggie musician at the same time, and Duke Ellington's contributions to Otto Preminger's Anatomy Of A Murder (1959), both musically and in an acting role, helped cement the alliance. Perhaps inevitably, the relationship faded out in a welter of smoky cliches involving breathy saxophones over moody shots of rainy mean streets, and jazz has been noticeably absent from the movie mainstream for many years, though Bertrand Tavernier's 1986 homage Round Midnight and John Altman's 1996 Kansas City deserve honourable mention. A widely-released biopic of one of the music's greatest stars can only be good news for jazz – but there is perhaps an unintended irony in the fact that the movie is set at a point in Davis's career when what little music he was making would barely have been identified as jazz by many listeners, and his own feelings towards the tradition seem to have been ambivalent.
It's sometimes hard to remember, in these post-Marsalis, Lincoln-Centered days, how divided and at odds with itself the jazz community was in the mid 70s. Radical shifts in the cultural zeitgeist had moved the youth audience towards a host of different musical forms, from prog rock to funk. At the same time, the simultaneously iconic and iconoclastic career paths of John Coltrane and Ornette Coleman had lumbered jazz with the onerous burden of having to constantly assert it's forward-looking progressive credentials – everyone was looking for the New Thing, and a generation of master hard-bop musicians, schooled to virtuoso levels in swinging explorations of the blues and Great American Songbook, were left without a gig, struggling to assimilate the politically-charged avant-garde or awkwardly trying to embrace unfamiliar rock rhythms and electric instruments.
Miles famously refused to look back. His 50s quintets established a high water mark of all the jazz values currently now returned to fashion – how many of the repertoire standards are in the book because he started playing them? – and his 60s bands set the template for post-bop chromaticism, even foreshadowing the contemporary attachment to the straight, unswung quaver feel. Come the 1970s though, he'd abandoned swing time, acoustic instruments, the standard repertoire, even chord changes, in a search for what he thought of as the true happening sound of the era. Abandoning the tight control that had typified his 50s bands, he gathered a team of younger players into the studio, sketched out the vaguest of musical goals , and set the tapes rolling. The heavily edited results were released with a groovy Matti Klarwein cover as Bitches Brew, and somehow became a massive seller – doubly surprising as the record, though undoubtedly exciting and original, is definitely not an easy listen, and was totally out of step with the sound of the subsequently emerging generation of fusion players. Miles followed it up with a stream of increasingly peculiar-sounding records – Agharta, Live-Evil, Get Up With It, On The Corner, Big Fun – and bitterly berated commercial black radio for ignoring them. His autobiography records his disappointment when On The Corner didn't take off amongst the Sly Stone and James Brown fans he thought it would attract. Listening to it now, it seems obvious that this record of fifteen-minute, virtually freeform jam sessions over heavy two-note ostinatos, crudely recorded and edited, and awash with heavy handed effects and all sorts of bitonality, would be a total turn off for an audience moving towards the slick, funky pop-fusion of artists like George Benson, The Crusaders or Grover Washington – all players whose musical values of concise, immaculately arranged rhythm tracks and soulful renditions of bop language were ironically much closer in intent if not in execution to the Miles bands of the 1950s. Bitches Brew is often touted as the album that created the fusion movement, on the strength of its personnel, but its ominous murky ramblings are acoustically and artistically miles away from the polished, gleaming precision of a Weather Report album.
Critics of the time were equally ambivalent – my 1978 copy of Rolling Stone Record Guide speaks cuttingly of 'aimless soporific noodling'.As the decade progressed Davis seemed to be chasing trends rather than setting them, and what's worse, getting it wrong; pianist/composer Donald Fagen, a longtime jazz aficionado if not exactly a practitioner, whose band Steely Dan were exemplars of super-tight studio perfectionism, remarked of Bitches Brew, with customary acidity, "To me it was just silly, and out of tune, and bad. I couldn't listen to it. It sounded like Davis was trying for a funk record, and just picked the wrong guys. They didn't understand how to play funk. They weren't steady enough."
Artistic reputations and hindsight exist in a complex relationship, however. By the 1990s the explosion of digital sampling technology and the cut-and-paste ethos spreading out from hip-hop had lead to a widespread plundering and re-evaluation of the era's back catalogue. In this context, music made by editing together strangely matched bits of audio over repetitive beats was now both cutting-edge and widely acceptable, and Miles' 70s oeuvre suddenly seemed to be years ahead of its time. Inspired amateurism was back in vogue, and now it was the super-slick fusion kings who seemed corny and dated. Such diverse dernier cri trendsetters as Bill Laswell and Thom Yorke came out in favour, and a torrent of reissues and unreleased material followed.
Despite this rehabilitation, it's noticeable that jazz today has returned to many of the values championed by Miles' classic quintets of the 50s and 60s, while the effect of his 70s explorations is far harder to detect. Was he exploring a blind alley, or a wormhole to the future? It'll be interesting to see if the movie leads to yet another re-appreciation of one of the music's most compelling yet enigmatic figures.
Eddie Myer