Jazz News (May 2019)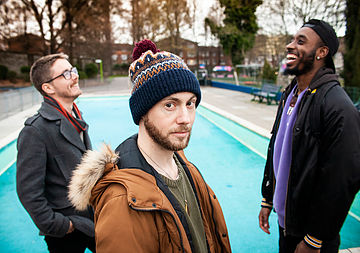 Love Supreme Line Up Announcement
Love Supreme Festival have announced more artists to their line up, with The Cinematic Orchestra joining headliners Ms. Lauryn Hill and Gladys Knight. The Cinematic Orchestra have released their first album in 12 years, To Believe, on the Ninja Tune label. The line up for The Bandstand and Friday night's Arena stage, programmed by New Generation Jazz and The Verdict, has also been announced. More details here.
The new film on the life of jazz cornetist Buddy Bolden gets its US cinema release on 3rd May. The film stars Gary Carr, Erik LaRay Harvey and Ian McShane, with music by Wynton Marsalis. Written and directed by Dan Pritzker who also made Louis, a silent film about Louis Armstrong, back in 2010. A UK release date has yet to be announced.
Brighton record shop Mr. Bongo celebrate their 30th year with a concert as part of Brighton Festival. The Brighton Dome concert on Sunday 5th May features The Skints, Moses Boyd's Exodus, Hollie Cook, Jungle Brown, Mr Thing, DJ Format & Huw Bowles. It starts at 6pm with DJ sets in the foyer.
The Great Escape Festival 2019
The Great Escape, the festival for new music, runs from Thursday 9th to Saturday 11th May. Steam Down appear on Thursday 9th May, downstairs at Patterns. The South East London collective are currently touring and will also be appearing at Cross The Tracks, Love Supreme and We Out Here festivals.
Soundcrash Funk & Soul Weekender
Brighton band Carnival Collective won the competition to perform on the main stage on Brighton Beach on Sunday 19th May at the Soundcrash Funk and Soul Weekender, alongside Kamasi Washington and Cykada. New Generation Jazz will stage local bands Yakul, Yeoja and Howes3 (pictured).
Record label Elemental will be releasing two albums of previously unissued live recordings from Dexter Gordon and Woody Shaw in May. Woody Shaw Basel 1980 is with saxophonist Carter Jefferson, pianist Larry Willis, bassist Stafford James, and drummer Victor Lewis. Dexter Gordon Quartet at The Subway Club 1973 has pianist Irv Rochlin, bassist Henk Haverhoek, and drummer Tony Inzalaco.
George Colligan at Rottingdean
American pianist George Colligan appears at The Plough Inn, Rottingdean on Thursday 9th May. The concert, presented by Rottingdean Jazz Club, sees Colligan reunited with drummer Darren Beckett, who both recorded together for the Steeplechase record label with the likes of Lee Konitz. Irish bassist Dave Redmond completes the trio.
Six-piece band Maisha, who released their debut album There Is a Place last November are appearing at Patterns in Brighton on Tuesday 21st May. Led by drummer Jake Long, the band features saxophonist Nubya Garcia, guitarist Shirley Tetteh and pianist Amané Suganami.
Ezra Collective are doing a three-date UK in-store tour, with tickets only available to those who pre-order their debut album You Can't Steal My Joy. They appeared at The Richmond in Brighton on 23rd April with their album released on 26th April. They will be appearing at Concorde 2 on 27th November as part of their UK tour.
A book on Total Refreshment Centre has now been published. The book charts the history of the building from its origins as an Edwardian chocolate factory to Mellow Mix, a Caribbean social club, before becoming TRC in 2012. The book by Emma Warren is entitled Make Some Space: Tuning Into Total Refreshment Centre. Follow this link to purchase a copy.
Win Tickets for We Out Here Festival
Sussex Jazz Magazine has 3 pairs of tickets to give away this month for the inaugural We Out Here Festival. The four day festival runs from 15th – 18th August in Abbots Ripton in Cambridgeshire and features Gary Bartz, Matthew Herbert, The Comet Is Coming, Sons of Kemet, Nubya Garcia, Theon Cross and many others. Follow this link for details on how to enter.
The annual one-day jazz festival, Jazz Re:Fest, produced by Jazz Re:freshed, returns to Brighton Dome this year on Saturday 27th July. Although the line up is yet to be announced the event always features some of the best of the new generation of jazz artists, together with DJ sets and family friendly activities. Early bird tickets are now available.
New Releases
Claire Martin released her new album Believin' It on 26th April.
Partisans release their new album on 17th May, entitled Nit De Nit on Whirlwind Recordings.
The Norwegian duo Eyolf Dale André Roligheten release their new album, Departure, on 10th May on Edition.
Edition's new signing Kneebody release their 'collaborative digital only EP' By Fire on 3rd May.
Jazz News written by Charlie Anderson.
Photo courtesy of Howes3.