Launching 'Into the Blue' (part 1) by Lou Beckerman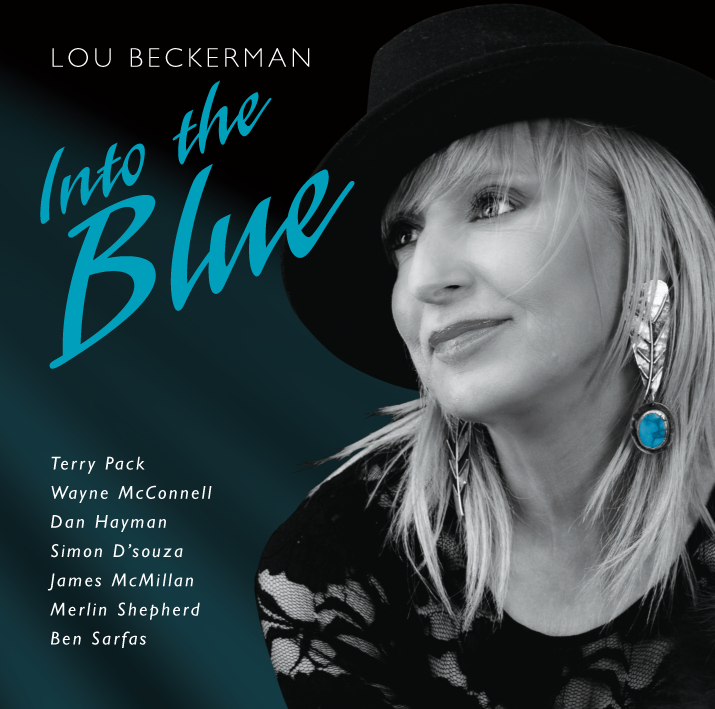 Part 1: Lou Beckerman reflects on wearing an independent recording artist/promoter's hat to launch her new album.
The lorry arrives with a dauntingly high stack of boxes packed with CDs. They're looking and sounding good – no major glitches. A certain sense of accomplishment prevails. The band has had a listening session and it all feels exciting. However that's not the finishing line. Being a musician with an album under her belt (the first since 'My Gift to You' ten years ago) just isn't enough. So what happens next…? As an independent artist with no external backing I've been learning – steeply – how vital it is to have a plan. To do justice to the enormous amount of hours, hard work, energy, expenditure and goodwill that have gone into this project I need to give this recording at least a fair chance of being heard…
It was a difficult time just after the completed album arrived. Our wonderful sax player, support and integral member of this project, Simon D'souza, was ill and in a hospice. This had been his penultimate recording. I remain grateful that Simon was able to hold, see and listen to the album and gave his seal of approval. Certain tracks will always have an air of poignancy, especially Skylark where his playing is hauntingly lovely.
I'd reached an impasse; time was passing and although the CDs were selling through my website, at my gigs and workshops, I wasn't entirely honouring all that had brought the album to fruition. People were asking about 'The Launch'. One day jazz vocalist Claire Martin and I went for a walk over the Downs to the Chattri and I was saying how I enjoyed playing in sacred spaces (my first big gig was to an audience of several hundred in Westminster Cathedral). The idea of a 3-church 'mini-tour' was mooted and the seed of a plan – if not the CD – had been launched! I decided on a trio of showcase gigs but in very contrasting settings, reflecting different aspects of the music and to suit varying audiences. Finding the venues then fell into place. I've previously enjoyed singing in all three settings and it wasn't too difficult to turn a couple of pre-existing bookings into launch gigs. One of them is also a charity fundraiser. Now, whether you feel posh, prayerful or playful (or even stately, spiritual or sassy), from the Grand Hall of a gracious country home via a church to a gig venue – there's a launch for you! (See posters below.)
Launch events are only part of a CD promotion – just the tip of the iceberg. Much has to be considered and worked hard at. Here are some of the myriad of other factors I've had to think about and act on:
Making the physical album available for digital distribution on iTunes, Amazon and Spotify. I used CD Baby.

Making a short promotional film and thinking about building more of a presence on social media sites.

Writing a press release. (Elaine Crouch of '

Buy Some Time

' provided valuable assistance with the above.)

Overhauling my website: updating home page/ bio/photos/ music player / events diary / adding links.

Designing posters/ flyers for print and web and getting them out there.

Keeping an eye on an already overspent budget!
Promoting my heart out: organising radio interviews / sending packs to the press / sending the album for reviews.

Flagrant unabashed promoting through friends and family.

Then following up all of the above…

Making sure all of the technical requirements for the gigs are met.

Sorting new charts; planning the sets (each event a little different in content and line-up) and fitting in rehearsal time to suit everyone.

And so on…
And while all this is going on it's been important to pay attention to the music itself. I'm feeling excited and creative, and ready for the album material to continue to grow. The recording was a snapshot in time and standing still isn't an option.
You'll appreciate that all this has called for more than a little staying power. Initially I hadn't really thought beyond completion of the album. Lesson learned. I'm not at all pushy by nature – and quite private – but I can be determined (especially for a band – or if a charity is involved), and I can, and do, graft. I'm so looking forward to the gigs with band members Wayne McConnell: piano, Terry Pack: double bass, Dan Hayman: drums, Björn Dahlberg: saxes, Merlin Shepherd: clarinet, Steve Thompson: double bass, me on vocals and perhaps a guest or two – and partying – jazz-style!
We'll be letting you know how it's all progressing…
This article was published in Issue 30 of The Sussex Jazz Mag, available here.