Preview: Offie Mag at Patterns with Chloe Bodur, Yadasofi and Ebi Soda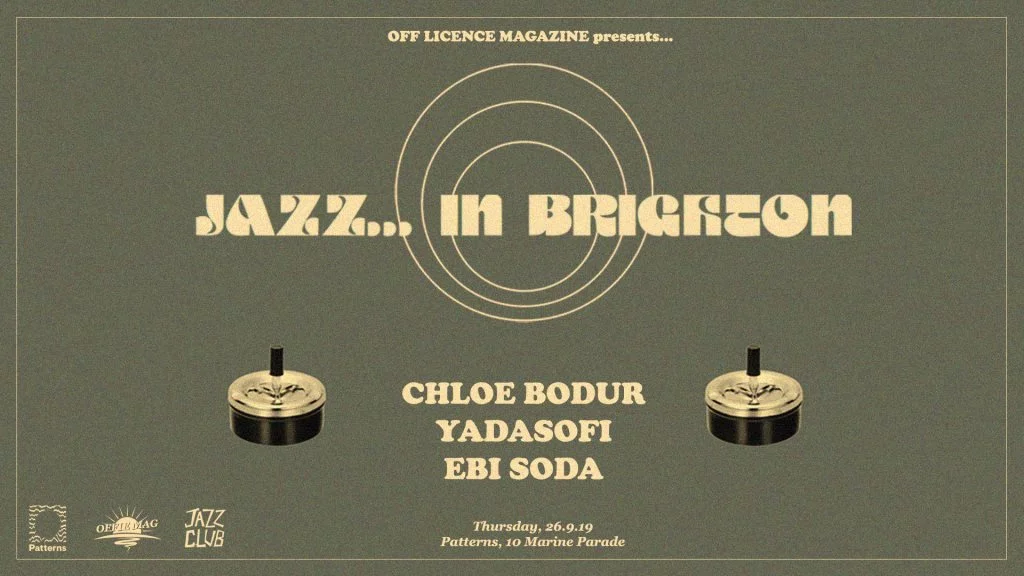 Brighton's Offie Mag have taken over the jazz club at Patterns for a few months, beginning on Thursday 29th September with a trio of promising talent.
Singer-songwriter Chloé Bodur was born and raised in North West London but moved to Brighton a few years ago to study music. Shortly after her first performance she was signed by Brighton label QM Records and released her debut single Glory in 2017.
Last November she supported Yazmin Lacey at Patterns and next month she's supporting Raheem DeVaughn at London's Jazz Cafe.
Her new EP Money Is My Medicine has been getting airplay from the likes of Jamz Supernova on BBC 1Xtra and has already been played on Radio 1.
You can see Offie Mag's video interview with Chloé Bodur here.
Jazz ensemble Yadasofi were formed last year by drummer Nadav Schneerson and perform his fusion of hard bop jazz and Middle Eastern music. A horn section of Tommy Peach on trumpet and Will Heaton on trombone performs Nadav's original compositions that can be heard on their recently released EP Negev. You can read our interview with Yadasofi drummer Nadav Schneerson and bassist George Richardson in the October issue of Sussex Jazz Magazine, and get their EP on Bandcamp here.
Trombonist Will Heaton can also be heard in Brighton-based septet Ebi Soda where his melody lines blend with guitarist Conor Knight and keys player Louis Jenkins. They recently performed live in session on Erica McCoy's Worldwide FM show and their seven-track album Bedroom Tapes was released earlier this year. Like all of their vinyl releases it features the distinctive artwork of Azee Gumi. Next month Ebi Soda perform at Jazz Re:freshed's night at the Mau Mau Bar in London on Thursday 17th October.
Offie Mag Presents Chloé Bodur, Yadasofi and Ebi Soda
Thursday 26th September, 2019